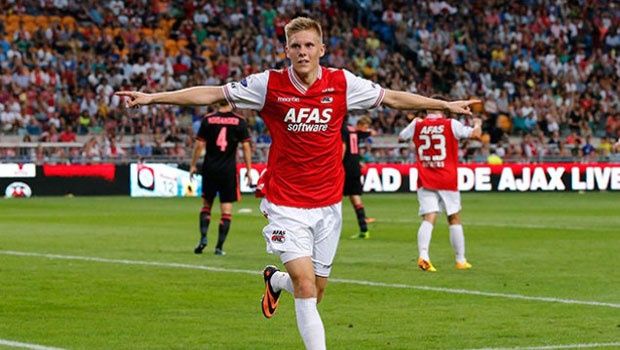 When the United States Men's National Team faces off against Scotland later this week, there is a possibility that Eric Lichaj, an American outcast under Jürgen Klinsmann, will be given the start at right back, even though Brad Evans has been the favored right back under Klinsmann.
Conventional wisdom would seem to indicate that Tim Howard will start in goal, but there is a very remote possibility that Sean Johnson or Bill Hamid could start in goal.
Looking over the center back options, Geoff Cameron and John Anthony Brooks will likely start together, but it's possible that Omar Gonzalez will pair with one or the other instead.
Given the fact that Fabian Johnson is listed as a midfielder on the USMNT roster, it's unclear whether or not DaMarcus Beasley or Fabian Johnson will start at left back. Beasley has been the preferred choice under Klinsmann in recent months, but maybe Klinsmann would like to get another look at Johnson at left back with Brooks and Cameron at center back.
Therefore, a possible starting Back Four against Scotland could be Lichaj (right back), Cameron (center back), Brooks (center back), and Johnson (left back).
Michael Bradley and Jermaine Jones are Klinsmann's preferred two-man defensive midfielder partnership, but perhaps Klinsmann will just start Bradley as the lone defensive midfielder to make room for both Jozy Altidore and Aron Jóhannsson to start at striker.
The most likely scenario would be for both Bradley and Jones to start as defensive midfielders with Jóhannsson being placed somewhere in the line of three attacking midfielders in front of the two-man defensive midfield.
Clint Dempsey is likely a lock in the starting line-up, as he should be, but where Dempsey will be deployed in the midfield is unclear. Dempsey could start out left, out right, or in the center.
As the line of three attacking midfielders (assuming Klinsmann uses this formation), Clint Dempsey, Mix Diskerud, and Alejandro Bedoya or Brek Shea is a possible option.
Unless Klinsmann wants to give another striker the start, Jozy Altidore will likely be starting as the lone striker.
Taking all of this into account, it's possibly that the following USMNT Starting XI will take the field against Scotland:
Tim HOWARD; Eric LICHAJ, Geoff CAMERON, John Anthony BROOKS, Fabian JOHNSON; Michael BRADLEY, Jermaine JONES; Aron JÓHANNSSON, Mix DISKERUD, Clint DEMPSEY; Jozy ALTIDORE.
Predicting the Starting XI that Jürgen Klinsmann will select is difficult to do, but World Soccer Source would like to see the following Starting XI:
Tim HOWARD; Eric LICHAJ, Geoff CAMERON, John Anthony BROOKS, Fabian JOHNSON; Michael BRADLEY; Brek SHEA, Mix DISKERUD, Clint DEMPSEY; Jozy ALTIDORE, Aron JÓHANNSSON.
The World Soccer Source USMNT Starting XI uses only one defensive midfielder (Bradley), in order to have both Altidore and Jóhannsson starting as center forwards, and the World Soccer Source Starting XI includes Shea, in order to deploy an aggressive winger who has a history of attacking opposing defenses with gusto.
This writer's proposed Starting XI includes two-way outside backs, complete central midfielders, a defensive midfielder with excellent technical ability, a line of three attacking midfielders including a playmaker, and two first strikers who are excellent goal-scorers.