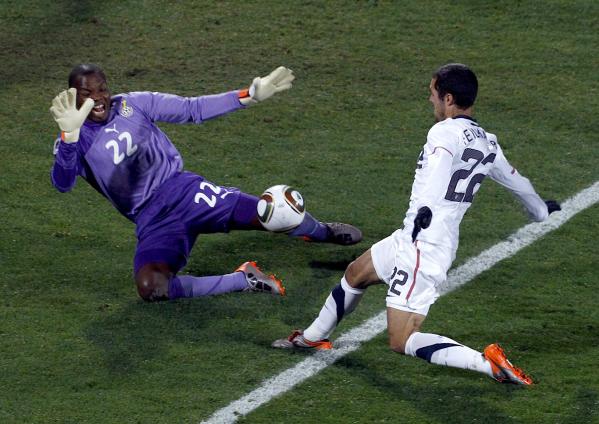 Jürgen Klinsmann can easily improve the United States Men's National Team before the 2014 World Cup. It is within his power.
Amidst all the talk of time running out before the World Cup, Klinsmann does have an excellent core group of players, a large amount of video evidence of new talents, reports from scouts, and prior knowledge of the skill-level of several American players that he has either somewhat or totally frozen out of his rosters.
Many improvements wouldn't require much risk or radical changes, but there is a strong argument to be made that many new American talents have a lot to offer toward the improvement of the United States.
World Soccer Source has been very critical of Jürgen Klinsmann because he was an outstanding German striker with 11 World Cup goals, but he has not taken all of that skill and experience to field balanced and effective starting line-ups that can play one-to-two touch soccer against top national teams or even mediocre national teams.
Klinsmann received a lot of praise for his win record as the coach of the United States, but the quality of the soccer was poor by international standards, which means that Klinsmann's typical rosters and line-ups won't do well in the 2014 World Cup because Tim Howard, Geoff Cameron, Michael Bradley, Clint Dempsey, Landon Donovan, Aron Jóhannsson, and Jozy Altidore can't pick up the slack for the four other players in the Starting XI.
People should expect someone of Klinsmann's background to not select players without the technical ability or the athleticism to produce quality and effective soccer against strong competition.
If Bob Bradley was able to field line-ups like the ones that performed well in the later rounds of the 2009 Confederations Cup and at the World Cup, then an ex-player of Klinsmann's level should be even better at fielding players who can play top national teams straight up with the ability to win.
Looking at the players in the American player pool, Klinsmann can improve his rosters and line-ups either by calling in the right combination of players that he has favored using or by selecting new players who in one way or another demonstrated what they are capable of.
For all of the voices claiming that new outside backs in MLS like Chris Klute, DeAndre Yedlin, and Andrew Farrell aren't ready despite the fact that all three of those players are 20 or older, Eric Lichaj really is an outside back option that Klinsmann has taken too long to call up to the national team.
Even a small change such as starting Eric Lichaj at right back and Fabian Johnson at left back is a big improvement over Brad Evans and DaMarcus Beasley.
Klinsmann's insistence on claiming that Evans and Beasley are his first-choice outside backs for the World Cup really is quite ridiculous, considering the fact that Klinsmann has natural outside backs that are not only visibly better but that are professionals who are paid to play as outside backs at the club level.
The United States and Klinsmann really do have a very strong core group of starters who would greatly benefit from some real adjustments being made to the starting line-up, and it's important to look at that core group of players and see which other players can help them to perform their best by being added to the starting line-up.
Therefore, Klinsmann's work before the 2014 World Cup involves simply starting a balanced starting line-up made up of many of the players that he has already used, and it also involves filling the rest of the roster with capable, if not equally as skilled substitutes.
By examining the core group of essentially world-class (albeit not super elite) players, it becomes clear that the United States has a team build on strong pillars in the defense, in the midfield, and in the attack.
Tim Howard or Brad Guzan, Geoff Cameron, Michael Bradley, Clint Dempsey, Landon Donovan, Jozy Altidore, and Aron Jóhannsson do make for a line-up where seven of the eleven starting line-up spots are occupied by players who have proven that they can compete and excel against top national teams.
This reality in and of itself makes for a United States Men's National Team that is one in which the primary task is to fill the rest of the roster with players at the remaining positions who can perform at a level that is equal to or close enough to the level of the players listed above.
While no one in the pool is going to be better than Clint Dempsey as far as technical ability, the insertion of a playmaker into the Starting XI will allow Landon Donovan and Clint Dempsey to play their natural roles.
Simply by inserting Mix Diskerud, Benny Feilhaber, or Joe Corona into the Front Six as a playmaker makes for a balanced and effective Front Six made up of Bradley, Donovan, Feilhaber or Diskerud or Corona, Dempsey, Altidore, and Jóhannsson.
Klinsmann has never even bothered to field something as obvious as that combination of players, which is odd considering how simple it would be to field a Front Six with a defensive midfielder, two free-roaming attacking midfielders out wide, a playmaker in the middle of the park behind the strikers, and two center forwards.
Certainly, one doesn't need to be a World Cup winner or the scorer of 11 World Cup goals for Germany to field a Front Six where a defensive midfielder plays as an anchor and orchestrator behind three attacking midfielders (including a playmaker) and two first strikers.
Whatever Klinsmann's excuse is for not fielding the type of line-up that most of the world's best club and national teams use, it is quite shocking from an ex-player of Klinsmann's ability.
At times, Klinsmann has been close to fielding a legit Starting XI, but there always appears to be one or two fatal flaws whether they be the failure to start a playmaker to link the defensive midfielders to the attack or the failure to start natural outside backs or the failure to start center backs with not only the speed but the skill to compete against better international attackers.
While the coach of the United States has made a lot of mistakes as far as his player selections or his Starting XIs, drastically improving these problems before the World Cup is something that Klinsmann has within his power to fix.
At the very least, Klinsmann can start Tim Howard or Brad Guzan in goal, Eric Lichaj and Fabian Johnson as outside backs, Geoff Cameron and John Anthony Brooks as center backs, Michael Bradley as a defensive midfielder, Landon Donovan, Mix Diskerud, and Clint Dempsey as a line of three attacking midfielders, and Jozy Altidore and Aron Jóhannsson as center forwards.
Klinsmann can easily do that and improve the performances of the United States, and he can do it without starting any players who he is tossing into the deep end with no experience or proven ability. Neither Lichaj, Brooks, or Diskerud are players without the ability or the experience to play on soccer's biggest stage.
With the Starting XI above as a first step to improving the United States Men's National Team before the 2014 World Cup, Klinsmann can proceed to decide who else should be on his rosters and perhaps who else might make for better starters than the players listed above.
Nevertheless, raising the quality of play of the United States quickly is not something that would require any outrageous risks to be taken or any drastic measures to be made, but new or different players should be evaluated and fielded in friendlies as well as camps to truly decide who really has the ability to perform and compete at the international level.
When it truly comes down to fielding a competent Starting XI, Klinsmann could simply start Howard, Lichaj, Cameron, Brooks, Johnson, Bradley, Donovan, Feilhaber, Dempsey, Altidore, and Jóhannsson, and he could be sure that all of those players have the ability and the experience to play quality soccer as a group and produce effective soccer.