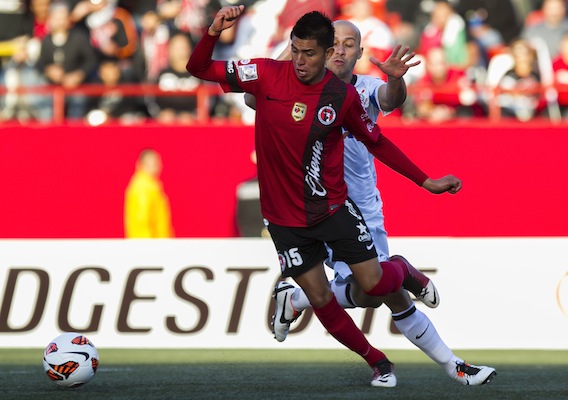 With Jürgen Klinsmann's January Camp for the United States Men's National Team approaching, there are a number of American players from Major League Soccer or other leagues that need to be evaluated and incorporated into the national team.
The number of international-caliber American players is increasing, and they need to be added to the USMNT for the United States to continue to improve as a soccer nation.
While a small number of the best United States internationals are quite frankly players who weren't a product of American soccer, they nevertheless qualify for American citizenship.
In addition to these players, there are a number of American products like Benji Joya, Joe Corona, Juan Agudelo, Shane O'Neill, Chris Klute, DeAndre Yedlin, Kofi Sarkodie, Kellyn Acosta, and Andrew Farrell that need to be added to the roster now.
Here are some of the players who should be considered for the USMNT's January Camp (including players who will not be available due to their club schedules):
GOALKEEPERS: Tim HOWARD, Brad GUZAN, Nick RIMANDO, Clint IRWIN, Luis ROBLES, Dan KENNEDY, Tally HALL, Bill HAMID, Sean JOHNSON
CENTER BACKS: Geoff CAMERON, John Anthony BROOKS, Shane O'NEILL, Michael OROZCO, Andrew FARRELL, Gale AGBOSSOUMONDE, Maurice EDU, Omar GONZALEZ, Matt BESLER, Amobi OKUGO, George JOHN
OUTSIDE BACKS: Chris KLUTE, Andrew FARRELL, DeAndre YEDLIN, Eric LICHAJ, Jonathan SPECTOR, Steve CHERUNDOLO, Timothy CHANDLER, Fabian JOHNSON, Edgar CASTILLO, Kofi SARKODIE, Kellyn ACOSTA
DEFENSIVE MIDFIELDERS: Michael BRADLEY, Jermaine JONES, Perry KITCHEN, Jared JEFFREY, Amobi OKUGO, Dax MCCARTY, Ricardo CLARK, Maurice EDU, Will TRAPP, Jeremy HALL
ATTACKING MIDFIELDERS: Clint DEMPSEY, Landon DONOVAN, Benny FEILHABER, Mix DISKERUD, Joe CORONA, Benji JOYA, Freddy ADU, Paul ARRIOLA, Brek SHEA, Junior FLORES, Joe GYAU, Luis GIL, Daniel CUEVAS, Dillon POWERS, Alejandro BEDOYA, Sacha KLJESTAN
FORWARDS: Jozy ALTIDORE, Aron JÓHANNSSON, Juan AGUDELO, Terrence BOYD, Mario RODRIGUEZ, Alonso HERNANDEZ, José VILLARREAL, Herculez GOMEZ, Tony TAYLOR, Gyasi ZARDES, Eddie JOHNSON
The Top USMNT Options By Position:
GOALKEEPERS: HOWARD, GUZAN, IRWIN, ROBLES
CENTER BACKS: CAMERON, BROOKS, O'NEILL, FARRELL, AGBOSSOUMONDE
OUTSIDE BACKS: LICHAJ, KLUTE, YEDLIN, SARKODIE, ACOSTA, SPECTOR
DEFENSIVE MIDFIELDERS: BRADLEY, JONES, OKUGO, KITCHEN, JEFFREY, EDU, CLARK
ATTACKING MIDFIELDERS: DEMPSEY, DONOVAN, FEILHABER, CORONA, DISKERUD, JOYA, ADU, HERNANDEZ, F. JOHNSON, VILLARREAL, SHEA, ARRIOLA
STRIKERS: ALTIDORE, AGUDELO, JÓHANNSSON, BOYD, RODRIGUEZ, ZARDES