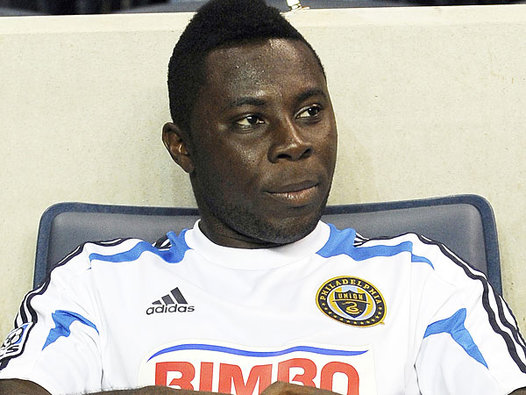 While the American defense has been a problem for the United States Men's National Team, the midfield has also been an enormous problem because the U.S. hasn't showcased quality passing and combination play at a level that's good enough for a deep World Cup run.
Setting the defense to the side for the moment, the American midfield is something that can be examined with some basic math.
Normally, a World Cup roster would have eight or perhaps nine midfielders, with three or four of those players being defensive midfielders. If one accepts that Bradley, Jones, Donovan, Diskerud, and Dempsey should all be on the USMNT roster, then three midfield spots are open.
Any honest evaluation of the United States Men's National Team's player pool in the midfield reveals Michael Bradley, Jermaine Jones, Landon Donovan, and Clint Dempsey to be players that are probably just too talented and way too capable of playing well against strong competition to leave off the roster.
Therefore, if one looks to add another defensive midfielder to that list, a player like Kyle Beckerman is too big of a liability from an athletic standpoint to put on a World Cup roster.
Beckerman isn't just a player who isn't quite quick enough or fast enough to put on a World Cup roster, but he is a player that is totally overmatched in terms of speed, quickness, and agility to really compete outside of MLS and CONCACAF.
Given this reality, the United States needs an additional defensive midfielder on the roster, and the only options are Maurice Edu, Amobi Okugo, Ricardo Clark, Perry Kitchen, Jared Jeffrey, Will Trapp, or Jeremy Hall.
Of course, Geoff Cameron, who has been listed as a defender, can play the midfield destroyer probably better than any American except Bradley, and Cameron has the defensive skills, the technical ability, and the athleticism to perform at the World Cup.
Additionally, another option would be to list Shane O'Neill as a midfielder, in which case he could play as a defensive midfielder, as a center back, or as an outside back.
O'Neill is probably a better defensive midfielder than all of the options listed above with the exception of Cameron, but selecting Beckerman to represent the United States in a World Cup would be a very unrealistic expectation of his ability to really keep up with the speed of international play.
With this information in mind, selecting Shane O'Neill to be the third defensive midfielder along with Bradley and Jones would likely be the wisest course of action, even if many people view it as a risky or crazy selection. O'Neill proved his worth not only in MLS but also for Tab Ramos's U-20 side.
Turning to the attacking midfielders, by selecting Dempsey and Donovan, the United States is left with two to three roster spots for attacking midfielders, and Mix Diskerud, Joe Corona, and Benny Feilhaber stand out as players who have clearly shown that they have the tools to play at the international level with players like Bradley, Dempsey, and Donovan.
Whether one looks at Brad Davis, Graham Zusi, or Alejandro Bedoya, any realistic examination of the touch, vision, passing ability, and general playing style and technical ability reveals them to be quite a few levels below Diskerud, Corona, and Feilhaber in terms of their ability to receive and release the ball quickly enough to not be overrun by better national teams.
Based on the number of roster spots in the midfield, by selecting Bradley, Jones, O'Neill, Dempsey, Donovan, Feilhaber, Corona, and Diskerud, the USMNT has eight players who fulfill needed roles.
Players like Bradley, Jones, and O'Neill provide defensive coverage in the midfield and serve as passing outlets for the defenders, and they also are key elements to the midfielders' ability to pass well and keep possession.
With these players providing quality defending and excellent technical ability directly in front of the defense, the need is then to have attacking midfielders who can foster quality passing that leads to possession and the creation of goal-scoring opportunities.
Dempsey, Donovan, and Corona are all attacking midfielders who can play centrally, out right, or out left, but Donovan and Dempsey are really better suited to line up out wide with lots of freedom to roam or as second strikers with the same freedom.
On the other hand, Corona is also a true playmaker like Diskerud and Feilhaber, and the inclusion of Dempsey, Donovan, Corona, Diskerud, and Feilhaber on the roster gives the USMNT many line-up options in the midfield in front of the defensive midfielders.
Even Feilhaber and Diskerud are capable of playing on the right or on the left because their style of play is predicated on showing for the ball and moving into space wherever they are needed.
Any brand of soccer based on confining attacking midfielders to a specific side of the attacking half or the attacking third eliminates any fluidity or quality to the passing play of the team.
Diskerud, Corona, and Feilhaber are players who allow the United States to field a Front Six where players with excellent technical ability, creativity, and agility can play in front of defensive midfielders like Jones and Bradley who provide a combination of defensive ability, running endurance, and passing ability that the attacking midfielders don't have.
When it comes time to select midfielders for the USMNT's World Cup roster, players like O'Neill, Diskerud, Corona, and Feilhaber are needed both as support and as substitutes for players like Bradley, Jones, Dempsey, and Donovan.
Diskerud's international play in recent months seems to have convinced the American soccer media and the American fan base of his importance as a playmaker, and the play of Feilhaber and Corona for club and country greatly overshadows anything Brad Davis, Graham Zusi, or Alejandro Bedoya have ever done.
Stuart Holden showed just how important a complete midfielder can be for the United States, and young or not, Benji Joya is the only other midfielder in the American player pool who brings Holden's combination of attacking and defending to the midfield.
While Michael Bradley is often described as a box-to-box midfielder, his attacking ability and creativity aren't on par with Holden's or Joya's, and this is why Joya would be an inspired and needed selection for the 2014 World Cup.
Like it or not, there's no room for Zusi, Davis, Bedoya, or Kljestan on the USMNT's World Cup roster because they can't outplay Diskerud, Corona, Feilhaber, Joya, and O'Neill.
Jozy Altidore, Aron Jóhannsson, and Juan Agudelo will need attacking midfielders and playmakers who can provide them with the service they need to score in the World Cup, and the likes of Davis, Zusi, and Bedoya just don't match up to the U.S.' better attacking midfielders that have proven that they can perform at a higher level.
To explain this gap in skill more clearly for the purpose of avoiding any misunderstanding, consider the following:
If Bradley, Dempsey, or Donovan are injured or suspended, the United States will need players like Shane O'Neill, Joe Corona, Mix Diskerud, Benny Feilhaber, and Benji Joya to compete against quality opposition.
On the off chance that Bradley, Dempsey, and Donovan couldn't play, the U.S. could field a Front Six made up of O'Neill, Joya, Corona, Diskerud, Feilhaber, and Altidore and still be competitive, but the same thing couldn't be said of fielding Jones, Kljestan, Bedoya, Zusi, Davis, and Altidore.
The collective thinking of the American soccer media and the American fan base is largely a parroting of Jürgen Klinsmann's own opinions, and the reason that this is so is because many people feel that Klinsmann's playing resume makes his coaching decisions infallible.
This refusal to question Klinsmann's selections or to evaluate players based on their physical gifts and skills is probably the root of the problem of the United States' tendency to underperform as far as the quality of the soccer goes.
Many people use Klinsmann's win/loss record as evidence of the success of his methods and of his player selections, but consistent winning against better national teams requires improving the United States' quality of play, and the steady improvement of Bradley, Dempsey, and Altidore has nothing to do with Klinsmann.
The collective skill-level of the players on the national team is directly related to the ability of the United States to begin to consistently challenge and beat better national teams.
If you were to ask a cross section of American soccer journalists who they thought should be the midfielders on the roster, you would likely find that the responses were consistent with whichever players Klinsmann had most recently called up to the national team.
Therefore, the collective thinking is probably that Michael Bradley, Jermaine Jones, Kyle Beckerman, Landon Donovan, Clint Dempsey, Graham Zusi, Mix Diskerud, and Fabian Johnson should be the USMNT's midfielders, but Beckerman and Zusi can be immediately removed from the roster in favor of Corona and O'Neill, Okugo, Kitchen, or Edu.
The problem with the collective thinking is that if Bradley, Donovan, or Dempsey is unavailable for a game, then the national team is without viable substitutes.
By putting Feilhaber, Corona, and Diskerud on the roster, you ensure that those three players are available to allow the United States to pass well and create scoring chances.
While the collective thinking is that Bradley, Jones, Beckerman, Dempsey, Donovan, Zusi, Diskerud, and F. Johnson should be the USMNT's midfielders, World Soccer Source believes that Bradley, Jones, O'Neill, Joya, Dempsey, Donovan, Corona, Feilhaber, and Diskerud represent a group of players who have the tools necessary to compete in the World Cup.
The decision is yours, but there isn't any real evidence that Zusi and Beckerman can outperform talented and proven players like Corona, Feilhaber, Joya, or O'Neill against higher-level competition.
Then, there's always Freddy Adu who has shown the ability to open up games and create scoring chances against top competition. Not a bad option to put on the roster given the lack of technical ability and creativity on the United States Men's National Team.
Can Graham Zusi and Alejandro Bedoya really outplay Freddy Adu? The evidence says they can't.
The good thing about Adu is that he can be listed as a forward in place of Terrence Boyd, which gives the USMNT four forwards: Jozy Altidore, Juan Agudelo, Aron Jóhannsson, and Freddy Adu.
This group of players leaves 10 rosters spots open for seven defenders and three goalkeepers, and O'Neill and Cameron triple as center backs, as defensive midfielders, and as outside backs.