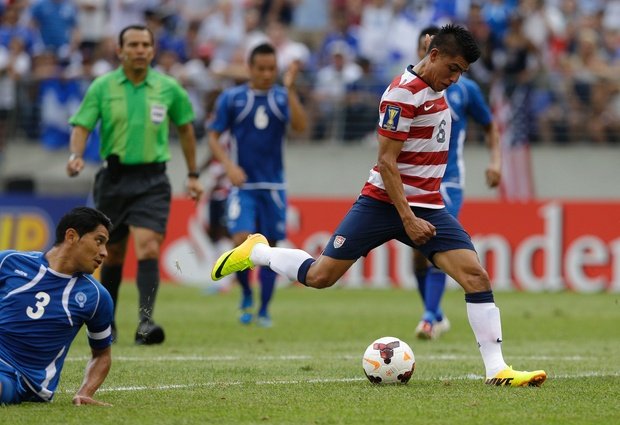 Joe Benny Corona is important to the United States Men's National Team not only because of his abilities as an attacking midfielder but also for his ability to play out right, out left, and in the center as a central attacking midfielder.
Corona is also the logical substitute for Landon Donovan and Clint Dempsey as Corona has the ability to bring lots of technical ability, creativity, and quickness to their roles, which have largely been described as irreplaceable.
Given the choice of selecting Joe Corona, Alejandro Bedoya, or Graham Zusi to replace an injured or suspended Donovan or Dempsey, Corona has to be the logical choice due to his ability to fill the roles of Donovan or Dempsey, which requires a combination of quickness and a very high-level of technical ability.
Bedoya's style of play is more based on cutting to the inside of the field at pace, and Zusi's style of play is largely based on playing lots of crosses into the penalty box. On the other hand, Corona's style of play is more based on a combination of quick passing, movement off the ball, and actively looking to score.
In short, Corona can fill Dempsey's and Donovan's roles better than Bedoya and Zusi who are each one-dimensional in their own ways. Corona is the obvious substitute for Dempsey and Donovan, and Corona is also a player who can actually play as a central attacking midfielder in between Donovan and Dempsey.
Both Dempsey and Donovan were pioneers for American soccer because of their combination of 1v1 skills, scoring ability, and a fluid style of play that was in lines with elite soccer seen outside of the United States.
Jürgen Klinsmann and the United States Men's National Team cannot afford to leave Joe Corona off the roster in favor of Graham Zusi or Alejandro Bedoya because they don't offer the same complete package of attacking midfielder skills that can be used all over the attack.
Mix Diskerud has begun to win Klinsmann's approval, and it's time that Klinsmann realizes that he also needs Corona not only for his skill-set and smooth and fluid style of play but also for Corona's ability to replace Dempsey or Donovan without exposing the United States Men's National Team to a huge drop in skill out left or out right.
Playmakers are rare, and American playmakers are more so. Joe Corona is a natural playmaker that can also play in wide positions without being a one-dimensional winger who hugs the sideline, dribbles into crowds, or plays blind crosses one after another.
Joe Corona has earned his national team spot, and it's time that Klinsmann made him a fixture on the USMNT for the good of American soccer.