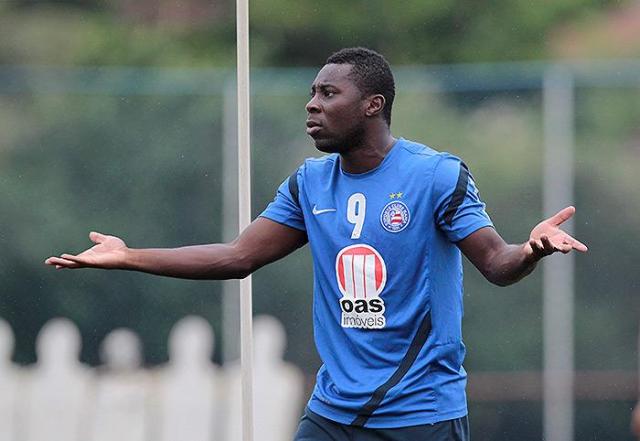 One of the weak areas for the United States Men's National Team is the absence of quality passing and significant possession against quality opponents.
Given Michael Bradley's ability to help to orchestrate passing from the defensive midfielder position, starting three playmakers in a line of three with a second striker and first striker in front of them would be an excellent way to improve the quality of the United States' passing.
If the United States were to employ this system, it would mean that Michael Bradley would sit directly in front of the Back Four with Joe Corona, Benny Feilhaber, and Mix Diskerud in front of him. Bradley, Corona, Feilhaber, and Diskerud all display lots of movement off the ball, and starting them together would foster a style of fluid passing, which is something that the United States has never displayed unless Freddy Adu or Benny Feilhaber are playing.
Despite the lack of club playing time with Bahia, Freddy Adu is another playmaker who could play in a line of three attacking midfielders at any of the three positions. Adu is controversial due to his lack of club playing time and the amount of clubs that he has played for, but Adu has always performed at the international level for the United States.
Looking more closely at this concept of using a line of three attacking midfielders, starting only one defensive midfielder in front of four defenders is a perfectly acceptable formation that has plenty of defensive-minded players in the line-up. By only using one defensive midfielder, the United States would elevate its play to a superior brand of soccer that produces more scoring chances and more goals.
Based on the teams that have qualified for the 2014 World Cup, the United States will have to look to improve the level of its play in any way that it can in order to keep up with an enormous list of incredibly talented and deep national teams.
With Corona, Feilhaber, and Diskerud playing behind Altidore and Dempsey, the USMNT can make a real attempt to field most of its most talented attacking players without being too weak on the defensive front.
The key to starting three 10s in a line of three is that the players listed as right or left midfielders on paper aren't wingers or players who are confined to one side of the field; the system is based on the constant movement of all three 10s all over the field with Bradley being heavily involved in the passing of the United States while playing deep to provide the defensive coverage that is needed in front of the Back Four.
Another key to this system is Clint Dempsey's freedom to go wherever he wants as opposed to just floating around Jozy Altidore. Altidore is a first striker, and his job is to constantly make runs into space and to look to get into scoring positions.
With three playmakers and Dempsey, Altidore doesn't need to concern himself with dropping deep to receive the ball where his back would be to goal. Altidore should be the focal point of the attack without having to waste his time and energy by shielding defenders off him with his back to goal.
Not many defenders are going to be able to outrun or outmuscle Altidore, and these qualities should be directed toward the goal instead of having Altidore post defenders up like a center or power forward in basketball.
No top national team has their strikers playing with their back to goal except for the rare times that a striker receives a pass with his back to goal and takes the defender off the turn.
Strikers playing with their backs to goal is a very English and long ball style of play that always gets destroyed by elite national teams on the international level. The purpose of using multiple creative midfielders who are playmakers is to set the striker free to hunt with his eyes toward the goal.
The attacking midfielders are there for possession, creativity, and quick ball movement. Altidore is there to put the ball in the back of the net, and he has shown that his finishing has become more clinical and more deadly.
Players like Bradley, Dempsey, Corona, Feilhaber, and Diskerud don't need any charts or strategy explained to them, they just need to be allowed to play the way they want to play: one-to-two touch soccer with constant movement off the ball.
Starting a line of three number 10s makes this style of play possible without being tactically unsound.