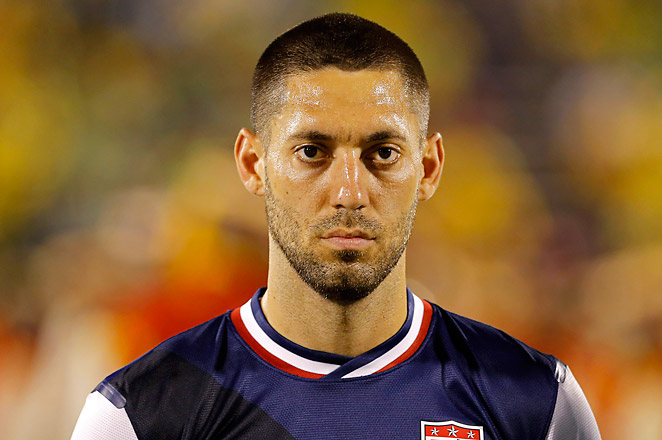 In general, the American soccer media seems to rank American players based on how much they are used by Jürgen Klinsmann, as opposed to how skilled or capable the players are.
This writer finds Klinsmann's player selections and the criteria that many American soccer observers use or value to be highly questionable.
World Soccer Source's rankings include MLS players, non-MLS players, USMNT regulars, USMNT veterans, uncapped American players, Americans who refused to play for the United States, and players who weren't born or raised in the United States.
The players below are all well-known names to American soccer fans, and none of these players are unknown players that no one has seen play. American soccer players have improved over time, so many of the best players are quite young with the exception of players like Clint Dempsey, Michael Bradley, Landon Donovan, Jozy Altidore, Tim Howard, and Geoff Cameron who are easily some of the best players every produced by the United States.
New MLS players like Chris Klute, Andrew Farrell, DeAndre Yedlin, Shane O'Neill, José Villarreal, and Gyasi Zardes are players who have seen lots of playing time, which has allowed people to see how good they are.
Therefore, none of these players have been placed on this list for the purpose of being controversial or disagreeing with the collective thinking of the American soccer media. These are professional soccer players that the media has seen play either at the club or international level.
One of the good things about MLS is that it compiles so many videos and statistics about all of its players that no one can really argue that players like Chris Klute, Andrew Farrell, DeAndre Yedlin, and Shane O'Neill haven't earned a national team call-up. Even soccer fans who only watch MLS know that those players have started and excelled for an entire season at positions at which the USMNT is weak.
Whether you look at international performances, club performances, skill-level, or performances with the U.S.' youth teams against quality competition, all of the players below are legit talents who earned their way into these rankings.
Without excluding Freddy Adu, here is World Soccer Source's Best American Soccer Player Rankings for December 2013:
1. Clint DEMPSEY (Seattle Sounders)
2. Giuseppe ROSSI (Fiorentina)
3. Michael BRADLEY (Roma)
4. Aron JÓHANNSSON (AZ Alkmaar)
5. Landon DONOVAN (LA Galaxy)
6. Benny FEILHABER (Sporting KC)
7. Mix DISKERUD (Rosenborg)
8. Jozy ALTIDORE (Sunderland)
9. Geoff CAMERON (Stoke City)
10. Juan AGUDELO (Work Permit for Stoke City denied)
11. Freddy ADU (E.C. Bahia)*
12. Joe Benny CORONA (Tijuana)
13. Benji JOYA (Santos Laguna)
14. Fabian JOHNSON (Hoffenheim)
15. Terrence BOYD (Rapid Wien)
16. Jermaine JONES (Schalke)
17. Tim HOWARD (Everton)
18. Brad GUZAN (Aston Villa)
19. Julian GREEN (Bayern Munich)
20. Mario RODRIGUEZ (Borussia Mönchengladbach U-23)
21. Alonso HERNANDEZ (Monterrey)
22. Paul ARRIOLA (Tijuana)
23. Shane O'NEILL (Colorado Rapids)
24. Eddie JOHNSON (Seattle Sounders)
25. José VILLARREAL (LA Galaxy) 
26. Junior FLORES (Borussia Dortmund*)
28. Andrew FARRELL (New England Revolution)
28. DeAndre YEDLIN (Seattle Sounders)
28. Chris KLUTE (Colorado Rapids)
30. John Anthony BROOKS (Hertha Berlin)
31. Gyasi ZARDES (LA Galaxy)
32. Herculez GOMEZ (Tijuana)
33. Michael OROZCO (Puebla)
34. Dax McCARTY (New York Red Bulls)
35. Brek SHEA (Stoke City)
36. Eric LICHAJ (Nottingham Forest)
37. Gale AGBOSSOUMONDE (Toronto FC)
38. Kofi SARKODIE (Houston Dynamo)
39. Jonathan SPECTOR (Birmingham City)
40. Kellyn ACOSTA (FC Dallas)