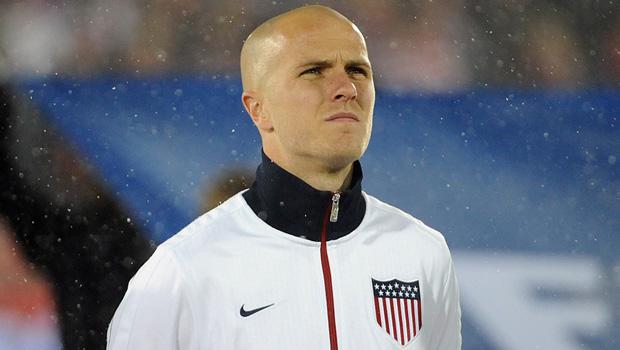 A United States Men's National Team 23-man Roster for the 2014 World Cup (December 2013 Edition)
GOALKEEPERS: Tim HOWARD, Brad GUZAN, Clint IRWIN
CENTER BACKS: Geoff CAMERON, John Anthony BROOKS, Shane O'NEILL, Andrew FARRELL, (Amobi OKUGO)
OUTSIDE BACKS: Chris KLUTE, (Andrew FARRELL), DeAndre YEDLIN, Kofi SARKODIE
DEFENSIVE MIDFIELDERS: Michael BRADLEY, Jermaine JONES, Amobi OKUGO, (Geoff CAMERON), (Shane O'NEILL)
ATTACKING MIDFIELDERS: Clint DEMPSEY, Landon DONOVAN, Benny FEILHABER, Mix DISKERUD, Joe CORONA, Freddy ADU, Benji JOYA
STRIKERS: Jozy ALTIDORE, Juan AGUDELO, Aron JÓHANNSSON
*Player's listed twice are in parentheses
Roster Explanation:
-The skill-level and the depth of the national teams in the 2014 World Cup is going to be off the charts, and the USMNT will have to shake up its status quo roster and line-ups.
-This roster is a combination of proven veterans like Clint Dempsey, Michael Bradley, Landon Donovan, Benny Feilhaber, Tim Howard, Jozy Altidore, and Geoff Cameron along with new talents being thrown into the deep end due to their skill level and athleticism.
-Geoff Cameron and Shane O'Neill both excel as center backs and as defensive midfielders, and Cameron is also a skilled outside back, which is a position that O'Neill has also shown that he can play.
-The roster features roughly five outside backs: Lichaj, Cameron, Klute, Yedlin, and Farrell.
-There are five center backs: Cameron, Brooks, O'Neill, Farrell, and Okugo. Michael Bradley and Jermaine Jones also have all the qualities to play as center backs if for some reason the United States decided that it needed them as center backs to beat some opponent like Brazil.
-The selection of midfielders contains various types of midfielders who can play in various formations. The roster has the personnel to play three playmakers in a line of three, and the roster also has the players to play two defensive midfielders of either variety: the midfield destroyer variety or the box-to-box variety.
-Three first strikers give this roster three complete out-and-out strikers who can score against elite defenders.
-With plenty of center backs, outside backs, defensive midfielders, attacking midfielders, and forwards, this is a balanced roster with skilled and athletic players who can be deployed in various formations.
-Unlike many Jürgen Klinsmann rosters, this roster actually has enough natural outside backs including both left backs and right backs, as well as players who can play on either side.
My Preferred USMNT Starting XI:
HOWARD; YEDLIN, FARRELL, O'NEILL, KLUTE; CAMERON, BRADLEY; DONOVAN, FEILHABER, DEMPSEY; ALTIDORE
Starting XI Rationale:
With Geoff Cameron as a midfield destroyer, Michael Bradley has more freedom to participate in the attacking and passing of the three attacking midfielders, and Cameron can take advantage of his own technical ability, speed, and endurance more so than he can in the defense.
Juan Agudelo, Jozy Altidore, or Aron Jóhannsson up top makes for a Front Six with a balance of skilled defensive midfielders and skilled attacking midfielders who have one of those talented strikers as the focal point of the attack.
Agudelo, Altidore, and Jóhannsson are all excellent strikers who are basically complete in regards to their physical gifts, technical ability, and playing style, but this writer views Agudelo as the the striker with the best combination of technical ability, athleticism, size, and the willingness to attack the goal and take risks. For the time being, Altidore has earned his starting spot, but Jóhannsson and Agudelo deserve heavy minutes.
The Back Four proposed is a hypothetical attempt to improve the American defense with better young players. In addition to Chris Klute (who has been playing as a left back), Farrell and Yedlin are likely the two best American right backs, but Farrell is naturally a center back where he can use his technical ability, speed, and tackling to improve the center of the American defense.
Shane O'Neill is the logical partner for Andrew Farrell if the goal is to improve the overall skill level and effectiveness of the center of the American defense. Omar Gonzalez and Matt Besler are many people's default picks for center back due to Klinsmann's habit of starting them, but Farrell and O'Neill are more skilled players and better defenders with more athleticism while still being tall and strong.
With the exception of Geoff Cameron, Yedlin, Farrell, O'Neill, and Klute are upgrades to the current USMNT Back Four.