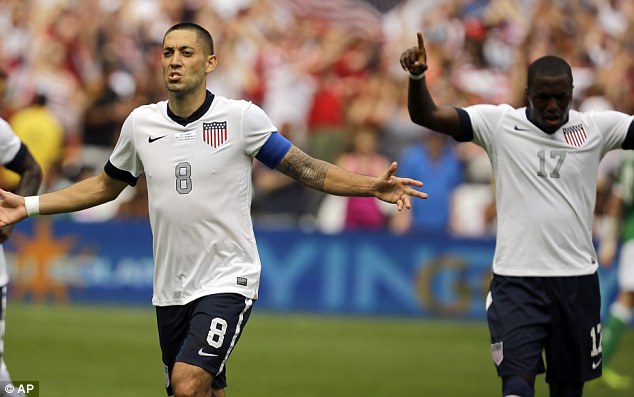 This United States Men's National Team XI isn't a status quo Starting XI meant to tell people what they want to hear. This is a Starting XI option made up of players with the skill-set and athleticism to play the position listed. Matt Besler, Omar Gonzalez, Landon Donovan, Graham Zusi, Brad Evans, DaMarcus Beasley, and Fabian Johnson aren't on this list.
The best way forward for the USMNT is to take a Front Six made up of Geoff Cameron, Michael Bradley, Joe Corona, Benny Feilhaber, Clint Dempsey, and Jozy Altidore and combine it with a new Back Four made up of DeAndre Yedlin, Andrew Farrell, Shane O'Neill, and Chris Klute.
Sticking to the Status Quo Starting XI won't work in the 2014 World Cup, and American soccer has been waiting for talents like Corona, Diskerud, Yedlin, Farrell, O'Neill, and Klute to take the United States to the next level in world football.
USMNT XI: 4-2-3-1
GOALKEEPER: Tim HOWARD
Tim Howard is the best American goalkeeper, and he recently showed an improvement in the one weakness in his game: the failure to come off his line enough to clear out or rip down balls played in the air around his six-yard box. Brad Guzan is probably as good as Tim Howard and as deserving of the starting spot, but Howard has a habit of making game-saving stops against tough opponents.
RIGHT BACK: DeAndre YEDLIN
In his rookie season, DeAndre Yedlin (along with Andrew Farrell) showed an ability at right back that probably hasn't been seen out of an American right back since Steve Cherundolo. Only a real contest between Jonathan Spector, Eric Lichaj, DeAndre Yedlin, Kofi Sarkodie, and Andrew Farrell will show who the best American right back is. Yedlin's ability to defend, track down, and tackle attackers now equals his technical ability and his skill as an offensive player.
CENTER BACK: Andrew FARRELL
By playing right back for the New England Revolution, Andrew Farrell showed that he had the technical ability to play a position that arguably required more skill on the ball than the center back position. Nevertheless, Farrell is really a center back, and his athleticism, defending, size, and technical ability make for a combination of physical gifts and skills at the center back position that allows the United States to defend better attackers. Skeptics will call Farrell young and inexperienced on the international level.
CENTER BACK: Shane O'NEILL
Shane O'Neill's performances this season in MLS coupled with Tab Ramos' opinion of him make O'Neill a legitimate center back option for the United States. Real improvement for the United States will require using better players, and O'Neill is a new talent who is a more complete center back than Omar Gonzalez and Matt Besler.
LEFT BACK: Chris KLUTE
Chris Klute is likely the best American left back, and not just because left back is a weakness that the United States Men's National Team has failed to improve. Klute is an excellent defender and elegant tackler with world-class speed, and he uses both feet interchangeably. Speed kills, and Klute's combination of attacking skill and defensive ability combined with his agility, height, and electrifying speed makes him a defender that the United States needs to start. Using the new crop of young defenders doesn't guarantee an absence of mistakes, but it's a real attempt to field the players with the tools to compete.
DEFENSIVE MIDFIELDER: Geoff CAMERON
Even as the midfield destroyer or the more stay at home defensive midfielder, Geoff Cameron gets to maximize his combination of smooth running, endurance, defensive prowess, and technical ability. Cameron is a skilled passer who performs his best when he has a lot of touches on the ball. Someone with Cameron's size, technical ability, defensive skills, and athleticism directly in front of the defense not only strengthens the defense but it provides the defense protection when Bradley makes attacking forays. Cameron has the speed and skill to be actively involved in the attack, but a player with his qualities is a great asset patrolling the back of the midfield in front of the Back Four.
DEFENSIVE MIDFIELDER: Michael BRADLEY
Michael Bradley is a defensive midfielder who likes to take advantage of his passing ability and his natural endurance as a runner to make marauding runs forward. Bradley's speed, defending, and technical ability makes him ideally suited to play as the deepest defensive midfielder, but by playing Cameron as the midfield destroyer, the United States can use two defensive midfielders that are excellent passers and that know how to play as a unit.
RIGHT ATTACKING MIDFIELDER: Joe Benny CORONA
Joe Corona brings better playmaking abilities than Donovan brings, and Corona can also score. If the goal is have the United States passing better and creating more scoring opportunities, then Corona excels at this more than Donovan who is gifted at using his speed and technical ability to run at defenders. Donovan and Corona are different, and Corona's creative passing and movement off the ball give the United States an attacking midfielder who allows the United States to facilitate more possession than Donovan.
CENTRAL ATTACKING MIDFIELDER: Benny FEILHABER
Benny Feilhaber is the most proven American playmaker, but many people want him to change his style of play to one that doesn't correspond to his natural position. With one or two defensive midfielders behind him, Feilhaber should be allowed to play his own brand of creative soccer and imaginative playmaking because it's what Clint Dempsey and Jozy Altidore need to score. Pushing American playmakers out of the national team has been Jürgen Klinsmann's default policy, and several wins courtesy of Clint Dempsey or a few headers doesn't change the fact that the United States still doesn't pass the ball well enough as a unit. Pretending that Landon Donovan or Clint Dempsey are playmakers isn't fooling anyone.
LEFT ATTACKING MIDFIELDER: Clint DEMPSEY
Ever since the 2006 World Cup and in the qualification leading up to it, Clint Dempsey has been the best American soccer player ever. Dempsey is the most-gifted American player, and his technical ability, his will to win, and his work rate are a key element of the United States Men's National Team.
STRIKER: Jozy ALTIDORE
Aron Jóhannsson is as good or better than Jozy Altidore, but Altidore's technical ability combined with his speed and physicality are an excellent weapon to stretch opposing defenses and make them defend a striker who combines skill with size and athleticism. Altidore is a monster of a first striker who now attacks with more aggression, and the only thing holding him back in the past was a gap between his physical gifts and his technical ability. Amidst the debate over whether Altidore or Jóhannsson should start or whether they should start together, Juan Agudelo is lurking with a combination of both players' best qualities, but with more creativity and trickery.