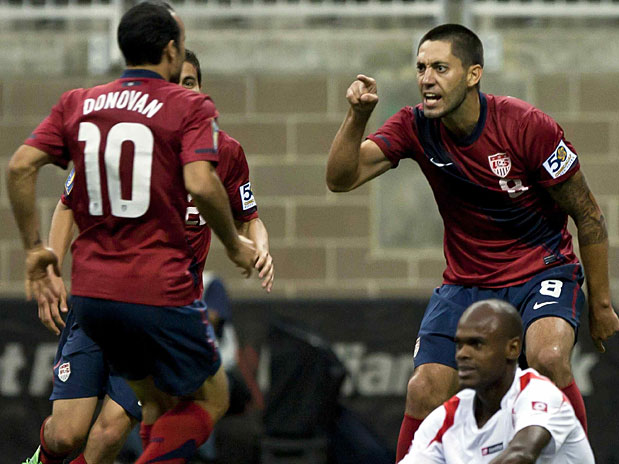 Landon Donovan and Clint Dempsey Are Not Playmakers
Clint Dempsey and Landon Donovan are excellent attacking midfielders or second strikers, but they aren't playmakers.
The best way to get the most out of both Landon Donovan and Clint Dempsey is to start them as the right and left attacking midfielders with a true playmaker in between them.
Joe Corona won over a lot of American fans and members of the American soccer media with his play in the 2013 Gold Cup, but Corona had already proven himself way before the Gold Cup, particularly with his play against Corinthians in the Copa Libertadores.
With the coaching change at Corona's club, Tijuana, Corona has found himself in the doghouse struggling to get club minutes, but for the purposes of the United States Men's National Team, this shouldn't matter given his skill-set as a playmaker who can also play on the right or left side of the field.
Mix Diskerud has also begun to win more plaudits due to his playmaking abilities and his clear ability to perform well against strong competition. Recently, Diskerud has reminded people of how Donovan and Dempsey aren't playmakers and that they somewhat lack the true traits of a playmaker or central attacking midfielder.
Then, there is Benny Feilhaber. It's unfortunate that after a season of quality passing and good form (not to mention his international record with the United States) that Feilhaber has only been praised or even discussed by the media or the majority of the American fan base after several excellent playoff games for Sporting Kansas City.
Furthermore, many of the people who praised Feilhaber after writing him off for so long seem to have been more interested in the amount of running he put into the second leg of the MLS Cup Semifinal against the Houston Dynamo than his technical ability, passing skills, and vision.
In short, Feilhaber garnered praise recently mostly by running a lot, and for Klinsmann's entire tenure as coach, there has never been much support for using Feilhaber as a central attacking midfielder between Donovan and Dempsey.
The United States Men's National Team has seen the most success when Michael Bradley was used as a defensive midfielder and when Landon Donovan and Clint Dempsey flanked Benny Feilhaber who was used in the center to orchestrate the passing of the United States and create more scoring opportunities.
Given Freddy Adu's almost total lack of playing time with Bahia, Adu has been scoffed at by Americans and non-Americans alike, but there's never been much to suggest that the United States has the collective technical ability as a team to mock or freeze out skilled playmakers who haven't lived up to people's expectations or even seen a reasonable amount of club minutes.
When the 2014 World Cup comes around, the only thing that will matter is if the players that are started or used by Jürgen Klinsmann are physically fit to play and if they have the skill level to compete at the international level.
Feilhaber, Diskerud, Corona, and Adu are all skilled players with various club situations and form, and each player is different. The USMNT's World Cup roster will probably need two or three of those players on the roster as they can all play left, right, or center, and they all bring playmaking qualities that Michael Bradley, Clint Dempsey, and Landon Donovan don't bring.
With strikers like Jozy Altidore, Aron Jóhannsson, and Juan Agudelo in the American player pool, using a playmaker behind Altidore and in between Donovan and Dempsey with Michael Bradley and Geoff Cameron or Jermaine Jones in front of the Back Four is a strong tactical set-up to give the USMNT a balanced and talented Front Six that can compete in a World Cup.
Whether one prefers Feilhaber, Diskerud, Corona, or Adu playing as a central attacking midfielder, the United States really does need one of them to connect the defensive midfielders to Dempsey, Donovan, and Altidore. The playmaker will strengthen the passing and the attack of the United States, and it's time for more people to accept that the use of one is vital to World Cup success and American soccer progress.
With the 2014 World Cup coming up next summer, at the very least Jürgen Klinsmann and Americans should support starting Geoff Cameron and Michael Bradley as a two-man defensive midfield where Cameron hangs back more than Bradley, and Americans should support playing a true playmaker in between Landon Donovan and Clint Dempsey behind Jozy Altidore.
This set-up gives the United States defensive coverage and quality passing deep in the American midfield, and it gives the United States three attacking midfielders including a playmaker who can not only pass and attack well but who can ensure that Altidore receives enough service.
The key to this set-up is making a point of starting a true playmaker because no one has any major doubts about the efficacy of Cameron, Bradley, Donovan, Dempsey, and Altidore, even if observers have their own Starting XI preferences.