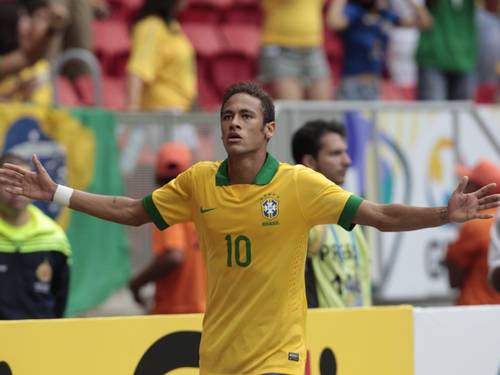 Under Dunga and Mano Menezes, the Seleção were never playing Brazilian football the way Brazilians and lovers of Brazilian football wanted them to play, and Brazil's coaches stopped using the greatest advantage Brazil had over any national team or club team: superior skill and creativity.
Under Felipão who was obviously not new to coaching Brazil, other national teams, or high-profile club teams, Brazil combined three things: 1.) elite defenders with the technical skill of elite midfielders; 2.) intimidating and highly-skilled defensive midfielders who weren't just providing defensive coverage; and, 3.) attacking midfielders and forwards who returned Brazil to the glory days of the likes of Pelé, Sócrates, Zico, Ronaldo, Rivaldo, Ronaldinho, and Kaká.
Brazil now has the best defenders in the world, and Brazilian defenders and defensive midfielders are by and large tall and strong athletes who are also technical masters.
What Felipão and Brazil did was use bigger, faster, and more athletic defensive players who were also highly-technical and creative players who played soccer the Brazilain way, which has proven to be the best and most successful form of football in all of world football.
While not all of the Starting XI is set in stone, Felipão has formed a cohesive group of players while still allowing some minor adjustments and changes in players depending on circumstances and the form of the players.
Brazil's line-ups and tactics make sense, and the players who are often the substitutes are honestly better than most players starting for other national teams.
With Julio Cesar in goal and Maicon or Daniel Alves, Thiago Silva, David Luiz, and Marcelo forming the Back Four, the Brazilian defense is a cohesive unit of players who are very difficult to beat with skill, speed, or quick combination play.
Furthermore, all of the Brazilian defenders can dribble and pass their way out of trouble in the back with ease, and many of the nonchalant passes that Brazilian defenders easily execute like routine passes would be passes that would send defenders on other teams to the bench.
The back-up defenders are almost equally as good as the starters with players like Maicon or Daniel Alves, Dedé, Dante, Marquinhos, Adriano, and Maxwell, so even the second-choice players are all elite footballers who can effectively defend anyone while still playing the Brazilian way.
Despite the lack of a really elite and lethal first striker, the Front Six of the Brazilian national team is a perfect combination of defensive midfielders who defend, collect the ball from the defense, and link up well with the attack with attacking players who are either primarily playmakers, goal-scorers, or a combination of the two.
At times, Brazil starts Paulinho and Ramires at the same time, who are really box-to-box midfielders, but by and large, Brazil combines a more stay at home defensive midfielder (cabeça de área) with a box-to-box midfielder who supports the cabeça de área while also being actively involved in the attack through excellent passing, running and dribbling that penetrates and rattles the opposition, and that also scores goals.
This defensive midfield combination is generally Luiz Gustavo as the cabeça de área with Paulinho as the volante, and it allows Brazil to get as physical and defensively intense as needed while still playing futebol arte.
In addition to these two players, Brazil also has Casemiro (cabeça de área) and Ramires (volante), the latter of the two is in all fairness a box-to-box midfielder who is equal to Paulinho.
Only the Chilean master, Arturo Vidal, is superior to Ramires and Paulinho as far as box-to-box midfielders go, and Paul Pogba, the French prodigy, is likely as good or better than all three.
Before even discussing the more attack-minded players, one can see that Brazilian football and the player pool for the Seleção is an embarrassment of riches, so much so that this writer didn't even discuss Fernandinho.
For this writer, the three attacking midfielders and the striker playing in front of the defensive midfielders is less set in stone with the exception of Oscar as the playmaker (meia-armador) and Neymar as whatever position it is that he's playing; whatever it is, it's name doesn't matter because it can't be easily boxed up into a category. Neymar is basically the player who tears your team apart with passing, dribbling, movement of the ball, and goals—lots of them.
Looking at the Front Six, the Seleção is Luiz Gustavo and Paulinho behind Neymar out left with Oscar as the central attacking midfielder, but the other two spots are up for grabs. Robinho is a probably starter, but so is Willian of Chelsea. Futhermore, Lucas of Paris Saint-Germain is just way too dangerous and fast to ignore. Lucas' performances with Brazil haven't received rave reviews, but he has shown that he truly is an elite attacker who is hard to defend or slow down without fouling him.
With Brazil, the list of players goes on and on. Bernard has become something of a backup for Oscar, and he too looks too talented as a playmaker to leave off the squad.
Who knows what will happen with Brazil's other playmakers like Felipe Anderson of Lazio and Ganso in the coming months?
Hypothetically, a Seleção Front Six (for lack of a matter term) made up of Luiz Gustavo, Paulinho, Lucas, Oscar, Neymar, and Fred or Jô or Pato or Leandro Damião would be the strongest Front Six.
As a side note, more and more attacking midfielders are being listed as "atacantes" or forwards by the Brazilian press, so many of the players who are attacking midfielders but not playmakers are often seen listed as forwards or attackers.
The Brazilian Back Four and Front Six described in the paragraphs above form a Starting XI that is second to none, but the book isn't closed yet on Ronaldinho, Kaká, and Robinho. Robinho and Kaká probably deserve spots on the Seleção, and Ronaldinho's skill level is still arguably unmatched by anyone, even by Neymar.
Ronaldinho has shown the ability to still outperform any opponent when he is in the mood, and Ronaldinho would be a very useful player for the Seleção to use.
Given Zinedine Zidane's master class in the 2006 World Cup at Ronaldinho's current age and Ronaldinho's continued ability to perform at a high level, dazzle people, and win, Brazil might be wise to find a way to fit Ronaldinho onto the Seleção. Playing in his home country, Ronaldinho has the ability to outshine Neymar on world football's biggest stage.
In many ways, Brazil has made its defense as strong as its offense without leaving futebol arte behind. When Brazil pulverized Spain in the 2013 Confederations Cup Final, it showed that it could not only outclass opponents, but Brazil also showed it was capable of intimidating opponents with physicality without playing dirty. Skill soccer combined with mental and physical toughness is a scary combination for a national team.
The myth that Brazilian players were somehow soft was always just that: a myth.
Any European or American that calls Brazilian players divers or soft players is completely uninformed about the toughness required to make it through the ranks of the Brazilian youth academies and grow up in the areas where most of the Brazilian footballers come from.
The Brazilian playmaker, Diego, blessed with skill and imagination, has probably been unlucky to not have been more involved in the Seleção, but only time will tell if Ronaldinho, Kaká, and Robinho win over Felipão and make their way back onto the Seleção as key players.
The fact that such players are on the bubble or even totally out of the picture for the Brazilian national team shows just how deep and talented the Brazilian player pool is, and one of the main story lines will be the battle between the new prodigies and the seasoned masters for Seleção roster spots in the attack.