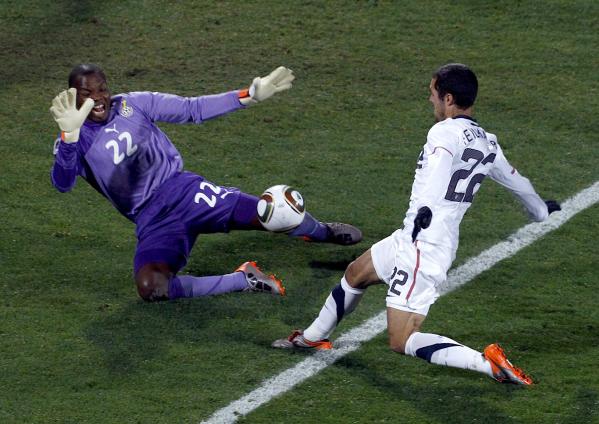 The American soccer media revived their interest in Benny Feilhaber after his impressive outing against the Houston Dynamo in the second leg of the MLS Cup Semifinal, which caused many observers to realize that that game was part of a series of influential playoff games.
Benny Feilhaber and Freddy Adu seem to attract the same American critics with the difference being that Feilhaber has been used more by the United States Men's National Team and thus has more quality international performances to cite as evidence of his playmaking skill and efficacy against something close to the highest level of competition.
While many people value Feilhaber for his playmaking skills and his technical ability, which the USMNT needs, other people are very critical of his playing resume and his playing style.
By beating the Houston Dynamo recently, Feilhaber outlasted both Landon Donovan and Clint Dempsey in the MLS Cup Playoffs. Of course, Feilhaber is a different type of player than Dempsey and Donovan, but Feilhaber's play has highlighted the importance of playmakers.
One thing that Feilhaber showed was that no matter what critics said or wrote about him that he was willing and able to rise to the occasion in another important game when he was needed.
Feilhaber's performances disprove the belief that skilled American players who Klinsmann hasn't really used have no place on the national team.
The United States Men's National Team will need to fit the various types of players together to form a balanced and skilled national team, and Feilhaber offered a glimpse of how the United States could improve by playing Geoff Cameron, Michael Bradley, Landon Donovan, Benny Feilhaber, Clint Dempsey, and Jozy Altidore together as the Front Six.
The qualities that Feilhaber brings as a playmaker are missing from the United States Men's National Team, and by garnering so much praise for his play against Houston, Feilhaber reminded people of how highly-skilled and creative playmakers can heavily impact and decide the outcome of games.
In the end, the fact that Jürgen Klinsmann over the course of two years hasn't really used Feilhaber more than playing him for basically just one half didn't change the fact that Feilhaber has a skill-set that the United States can use.
Feilhaber or a playmaker like him is really the missing piece in the Front Six for the United States because using Bradley, Donovan, or Dempsey as a playmaker causes them to not be deployed in the positions where they can maximize their talents. Feilhaber shouldn't be some sort of super sub that the United States brings on when it needs a goal or better passing, but he should be a key component in the tactical set-up of the United States.
While Bradley, Dempsey, and Donovan are technically-skilled players who pass well, the way to have the United States performing at a higher level is to introduce a playmaker into the line-up that can link the defensive midfielders to Dempsey and Donovan, in order to bring a level of creativity and a style of passing that can be the deciding factor in scoring and winning games.
Benny Feilhaber's Passing Statistics from the 2013 MLS Season:
http://www.mlssoccer.com/news/article/2013/11/12/inside-numbers-breaking-down-50-most-accurate-passers-mls-2013
Benny Feilhaber's Best Goals from the 2013 MLS Season: