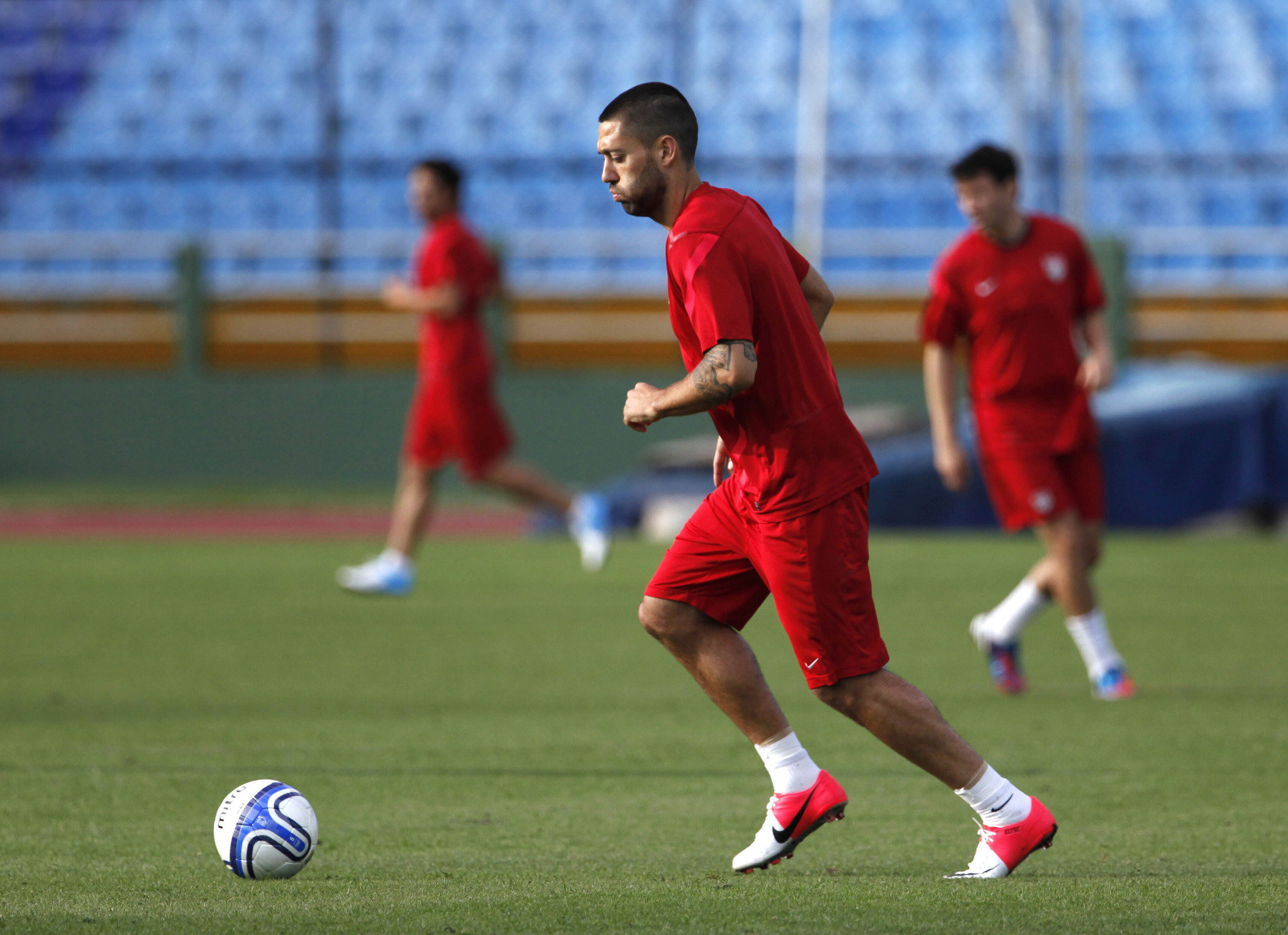 The United States Men's National Team is close to becoming a Giant Killer.
Granted, there is a big talent gap between the technical ability of the United States as a collective unit, but someone like Clint Dempsey is a world-class soccer player, even if someone like Robinho is much better.
Furthermore, a defensive or box-to-box midfielder like Michael Bradley isn't anywhere close to Paul Pogba in terms of skill or athleticism, but that certainly doesn't take anything away from Bradley's qualities and physical gifts.
For the United States to become a Giant Killer, the entire Starting XI needs to be players who are close to or equal to Dempsey's and Bradley's level.
The key is a team comprised of technically-skilled and athletic players who have different and complimentary skills that allow them to play their own natural positions better than other American players.
There has been real progress in American soccer, and even if Jürgen Klinsmann isn't using the best outside backs at his disposal and even if he doesn't seem to be entirely convinced that he needs to start a playmaker, the talent and athleticism is there in the core group of United States internationals.
To be fair, it was already there when Bob Bradley was coach because Tim Howard, Michael Bradley, Landon Donovan, Clint Dempsey, and Jozy Altidore were all regulars during his tenure.
The good news is that Bradley and Altidore are drastically better than they used to be, and Bradley was somewhat close to being a finished product before Klinsmann took the reins as coach of the United States.
Altidore is really the player who has seen an enormous improvement in his technical ability, his smoothness on the ball, his finishing, and the aggression with which he attacks the goal, but the reason for these improvement was his time spent in Dutch football.
On the other hand, Dempsey is a player who has just progressively become better over time, but Dempsey's skill-level and his ability to excel against top competition was already excellent when he first started playing for the United States and before he went to play in the English Premier League.
Of all the core group of strong U.S. internationals, Donovan has been around the longest, and players like Bradley and Dempsey provided skills and qualities that he didn't have or they served as needed support. Dempsey and Donovan play the same position, and they can just be started together on opposite sides of the field and allowed to roam free.
Looking really closely at Bradley, Dempsey, Donovan, and Altidore, what one sees is a defensive midfielder, two attacking midfielders who aren't playmakers but who can score, and finally a first striker who combines athleticism with size and technical ability.
These four players along with Tim Howard give the United States half of a Starting XI minus the Back Four and a playmaker, and the role of playmaker has a front-runner: Benny Feilhaber, a proven and experienced central attacking midfielder.
Giant Killing is the next step for the United States.
Jürgen Klinsmann needs to start Bradley as a defensive midfielder behind Donovan, Feilhaber, and Dempsey as a line of three attacking midfielders with Altidore as the first striker.
If Klinsmann does that, which he hasn't done, then he simply needs to find four quality defenders and either a second defensive midfielder or an additional center forward or a second striker, the latter of which can play off Altidore as a sort of secondary playmaker to compliment Feilhaber.
Once Klinsmann fields something like the Starting XI proposed in the paragraph above, then the United States Men's National Team is inching closer to becoming a Giant Killer.
There are probably very few people in the American soccer media or in the American fan base who would strongly doubt the logic of starting Bradley, Donovan, Feilhaber, Dempsey, and Altidore together, especially if Geoff Cameron was inserted into the Front Six to be the midfield destroyer in place of Jermaine Jones so that Bradley had more license to go forward and attack.
Although Brazil, Spain, Germany, Italy, and the like would be better in terms of collective team skill, starting Cameron, Bradley, Donovan, Feilhaber, Dempsey, and Altidore together is certainly a competitive and legit Front Six that national teams would take seriously.
The Front Six proposed is strong because it has a more stay-at-home defensive midfielder or midfield destroyer, a defensive midfielder with more licence to attack, a playmaker flanked by free-roaming attacking midfielders who can score, and a first striker that has the skill and speed to stretch the opposition's defense. The Front Six is also all players who can keep possession by playing one-to-two touch soccer with purpose.
Despite the skill of the Front Six, the weak area is thus the American defense because no matter how well that American Front Six does, what happens when really first-rate midfielders and attackers terrorize the American Back Four?
This is the true impediment to American success because Tim Howard or Brad Guzan can only make so many game-saving saves before top national teams or second-tier national teams eventually find the back of the net. Howard and Guzan cannot be expected to stop every shot off the feet or head of elite players.
Klinsmann has Brad Evans, Omar Gonzalez, Matt Besler, and DaMarcus Beasley as his preferred Back Four, but questioning their ability to stop the type of competition in the World Cup is a fair question, and it is a question that needs to be taken seriously.
Many people have placed too much trust in the ability of those four defenders (two of which aren't defenders) to stop elite attackers or even merely international-caliber attackers, and this mentality could doom the United States in the World Cup.
American soccer and the United States Men's National Team has improved, although not really because of Klinsmann, but the American defense is a problem and a matter of concern.
There are two solutions to the problems with the USMNT's Back Four: 1.) Start a more proven Back Four such as Jonathan Spector, Michael Orozco, John Anthony Brooks, and Eric Lichaj; or 2) Start a Back Four made up of DeAndre Yedlin, Andrew Farrell, Shane O'Neill, and Chris Klute.
Of course, the obvious third solution is some combination of the more-proven defenders with the newer MLS defenders.
Plenty of people will contend that the young MLS defenders are unproven and inexperienced, but at least they are defenders that are both skilled and athletic. Their youth or their lack of international inexperience doesn't change the fact that they have the skill and the athleticism to compete at the international level, and their youth and inexperienced shouldn't be used against them.
How long until the U.S lets the better defenders play?
The real question is not which players Klinsmann prefers, but rather who are the best American players at each position?
Given the amount of teams in the 2014 World Cup that are frankly much better than the current preferred Klinsmann starting line-up, the United States would be wise to start the Front Six advocated in this article and use a new Back Four that has the ability to compete with the types of players who will be in this World Cup.
The United States won't be a Giant Killer in this World Cup if Klinsmann's makeshift defenses are used or if no playmaker is used.
These two things need to change because starting Cameron, Bradley, Donovan, Feilhaber, Dempsey, and Altidore as the Front Six at the very least makes for a competitive group of players with the skill and the athleticism to do well in the 2014 World Cup.
No one will know how good the United States Men's National Team really is until Klinsmann fields the best American players at the same time in a balanced formation that tactically makes sense.
Brad Evans, Matt Besler, Omar Gonzalez, DaMarcus Beasley, Graham Zusi, and Brad Davis are solid MLS players, but they are not Giant Killers.
They really aren't as good as other American options such as DeAndre Yedlin, Andrew Farrell, Shane O'Neill, Chris Klute, Joe Corona, and Mix Diskerud.
Many of Jürgen Klinsmann's first-choice starters hold players like Cameron, Bradley, Dempsey, Feilhaber, Donovan, and Altidore back, and this needs to change.