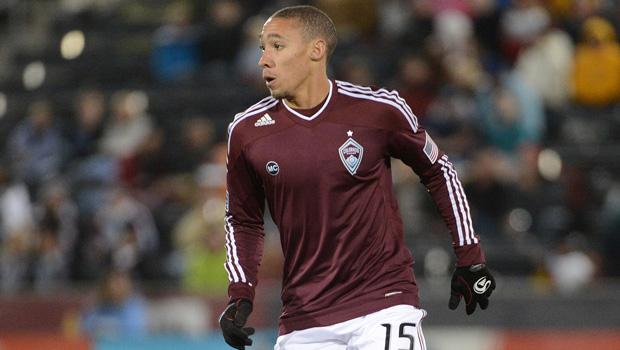 Can the United States Men's National Team survive Group G, the Group of Near-Death?
Yes, the United States can survive the Group of Near-Death, but Germany, Portugal, and Ghana are all better than the United States, and the real Group of Death is Group B, which is comprised of Spain, Chile, and The Netherlands—plus Australia.
The United States certainly isn't as good as Germany, Portugal, or Ghana, but the United States can certainly beat all three of those teams with the right roster and the right Starting XI.
If Jürgen Klinsmann starts Geoff Cameron and Michael Bradley as a line of two defensive midfielders with Landon Donovan, Benny Feilhaber, and Clint Dempsey in front of them as a line of three attacking midfielders with Jozy Altidore as the lone striker, then the United States can field a Front Six with players that can keep possession and pass the ball well, provide enough defensive coverage in the midfield, and create enough scoring opportunities.
This Front Six contains a midfield destroyer (Cameron), a defensive midfielder of the box-to-box variety (Bradley), a playmaker (Feilhaber), and two free-roaming attacking midfielders who line up on paper out wide (Donovan (right) and Dempsey (left)), and a first striker (Altidore).
Klinsmann's Preferred USMNT Back Four made up of Brad Evans, Omar Gonzalez, Matt Besler, and DaMarcus Beasley is a different story, as it is an enormous weak spot for the Americans.
That Back Four is truly a subpar group of defenders who can't defend World Cup opposition. It's fair to openly call them inadequate.
Furthermore, if Jürgen Klinsmann starts his normal Front Six, which is arguably Jermaine Jones, Michael Bradley, Graham Zusi, Clint Dempsey, Landon Donovan, and Jozy Altidore, then the United States won't have two defensive midfielders that cover for each other and play as a unit, and the United States will have no true playmaker to orchestrate the passing of the United States and play final balls.
The use of a real playmaker is key to keeping possession and allowing Michael Bradley, Landon Donovan, and Clint Dempsey to play their naturals positions, none of which is the playmaker position.
The level of American soccer is now at the point where the United States has plenty of technically-skilled players that are defenders, midfielders, or forwards, but the collective-skill one sees out of the United States Men's National Team or your average Major League Soccer team falls short of elite-level soccer.
One of the differences between the United States Men's National Team and elite national teams and elite club teams is the passing is still too chaotic and out of control because the gifted players' passing and movement off the ball is essentially ruined by players who play lots of long balls or that can't receive and release the ball quickly.
The key for the United States now is to play its most technically-skilled players together, in order to produce a brand of soccer where the ball is passed around the field quickly and under control.
Taking all of this into account, the United States can beat Germany, Portugal, and Ghana, but it's a tall order.
Certainly, Tim Howard, Geoff Cameron, Michael Bradley, Landon Donovan, Benny Feilhaber, Clint Dempsey, and Jozy Altidore can play against anyone, even if other teams might have better players.
Therefore, the main key for American success in the 2014 World Cup will be starting enough technically-skilled players together, so that the United States can maintain possession and not be overrun by Germany, Portugal, and Ghana.
If the United States learned anything from the 2009 Confederations Cup and the 2010 World Cup, it should have been that using a Front Six that was either too defensive or not defensive-minded enough was a recipe for disaster.
When Michael Bradley played with another defensive midfielder but no playmaker, the passing wasn't good enough to break down the opposition.
Additionally, when Bradley was suspended against Brazil in the final of the 2009 Confederations Cup, Feilhaber played well, but there wasn't a defensive midfielder who was good enough to prevent the Brazilians from storming back to score three goals in the second half.
Along with a few other options like Aron Jóhannsson, Juan Agudelo, Mix Diskerud, Joe Corona, and Freddy Adu, the Front Six discussed above is probably the only American Front Six that can compete with the likes of Germany, Portugal, and Ghana.
No matter how one wishes to look at the United States Men's National Team, what Klinsmann is doing is using Jones and Bradley as defensive midfielders with Donovan, Dempsey, and Altidore as attackers, which creates a dynamic where there is no link between the defensive midfielders and the attack and where there isn't enough possession or scoring chances created.
That's really the problem with the American Front Six: sub-par passing and not enough scoring chances created.
Using Cameron and Feilhaber with Bradley, Donovan, Dempsey, and Altidore eliminates these two problems because Cameron allows Bradley to play better in addition to contributing quality defending and passing himself, and playing Feilhaber frees Donovan and Dempsey up to constantly roam around, combine with other players, and make runs into scoring positions.
Using Feilhaber also gives Altidore a playmaker who can play him a wide assortment of quality passes and final balls mostly to his feet and in stride, as opposed to using players who just send crosses into crowds in the penalty box.
Defense is going to be a problem for the United States in the 2014 World Cup.
Evans and Beasley aren't skilled enough defenders to defend Cristiano Ronaldo, Thomas Müller, Kevin-Prince Boateng, and other players in Group G, and Gonzalez and Besler are lacking some important qualities needed from World Cup center backs.
The United States has used young players in World Cups before, and Klinsmann's current Back Four (even with the Front Six proposed in this article) won't stand a chance in Group G.
The USMNT needs to incorporate some combination of Eric Lichaj, Jonathan Spector, Steve Cherundolo, John Anthony Brooks, Michael Orozco, Shane O'Neill, Gale Agbossoumonde, Andrew Farrell, Chris Klute, and DeAndre Yedlin into the defensive Back Four or be prepared to lose to the teams in Group G, which many have dubbed the Group of Death.
Jürgen Klinsmann's fate and the United States' fate are inextricably bound up with how well the new and young defenders are able to perform because Evans, Gonzalez, Besler, and Beasley as a Back Four will mean certain defeat.
The United States can play well in the World Cup and get out of Group G, but the Back Four needs to change and a more balanced Front Six like the one proposed in this article needs to be used.
From an American perspective, it's time to applaud the emergence of better defenders, and it's time to use the new defenders who have the tools and skills needed to compete in Group G because Evans, Gonzalez, Besler, and Beasley don't have the tools to perform at the next level.
World Soccer Source recommends this USMNT Starting XI in a 4-2-3-1 formation to survive Group G:
Tim HOWARD; DeAndre YEDLIN, Andrew FARRELL, Shane O'NEILL, Chris KLUTE; Geoff CAMERON, Michael BRADLEY; Landon DONOVAN, Benny FEILHABER, Clint DEMPSEY; Jozy ALTIDORE.
Furthermore, World Soccer Source recommends filling the rest of the roster with the following players:
GOALKEEPERS: Brad GUZAN, Clint IRWIN
DEFENDERS: John Anthony BROOKS, Gale AGBOSSOUMONDE, Kofi SARKODIE
MIDFIELDERS: Amobi OKUGO, Joe CORONA, Mix DISKERUD, Freddy ADU, Benji JOYA
FORWARDS: Aron JÓHANNSSON, Juan AGUDELO
*ELIMINATED FROM THE ROSTER: Kyle BECKERMAN, Brad EVANS,  DaMarcus BEASLEY, Clarence GOODSON, Brad DAVIS, Brek SHEA, Matt BESLER, Omar GONZALEZ, Graham ZUSI, Alejandro BEDOYA, Eddie JOHNSON, Fabian JOHNSON, Jermaine JONES, Terrence BOYD.