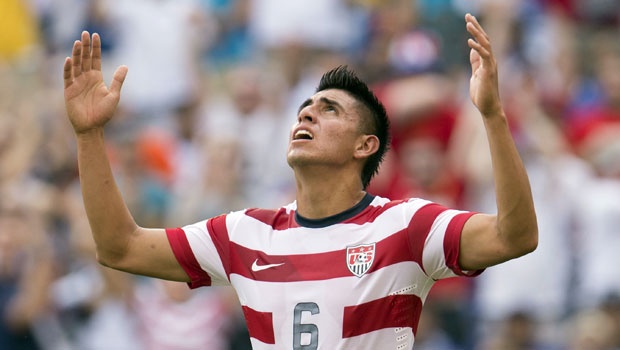 The typical United States Men's National Team Starting XI as picked by Jürgen Klinsmann will be a recipe for defeat in the 2014 World Cup, and the United States has progressed too far as a footballing nation and developed too many technically-skilled players to field mediocre starting line-ups, especially in Brazil with Neymar on the rise. The United States needs to take advantage of its new talents and all of its progress over the past 20 years, so that the USMNT can play to win.
Whether one proposes using a greater number of the United States' more-skilled proven players at the same time or whether one favors inserting some of the new American talents, something has to change in Klinsmann's line-ups, and the United States has plenty of Starting XI options.
Below are some ideas ranging from experienced Starting XIs to even a Starting XI if all of the core group of American players are unavailable.
Option 1:
4-2-3-1 Formation with Experienced Players:
GOALKEEPER: Tim HOWARD
RIGHT BACK: Jonathan SPECTOR
CENTER BACK: Michael OROZCO
CENTER BACK: John Anthony BROOKS
LEFT BACK: Eric LICHAJ
DEFENSIVE MIDFIELDER: Geoff CAMERON
BOX-TO-BOX MIDFIELDER: Michael BRADLEY
RIGHT ATTACKING MIDFIELDER: Landon DONOVAN
CENTRAL ATTACKING MIDFIELDER: Benny FEILHABER
LEFT ATTACKING MIDFIELDER: Clint DEMPSEY
STRIKER: Jozy ALTIDORE
Option 2:
4-2-3-1 Formation with Experienced and New Players:
GOALKEEPER: Tim HOWARD
RIGHT BACK: DeAndre YEDLIN
CENTER BACK: Andrew FARRELL
CENTER BACK: Shane O'NEILL
LEFT BACK: Chris KLUTE
DEFENSIVE MIDFIELDER: Geoff CAMERON
BOX-TO-BOX MIDFIELDER: Michael BRADLEY
RIGHT ATTACKING MIDFIELDER: Joe Benny CORONA
CENTRAL ATTACKING MIDFIELDER: Benny FEILHABER
LEFT ATTACKING MIDFIELDER: Clint DEMPSEY
STRIKER: Jozy ALTIDORE
Option 3: 
4-2-3-1 Formation with Experienced and New Players and Juan Agudelo as the Striker:
GOALKEEPER: Tim HOWARD
RIGHT BACK: DeAndre YEDLIN
CENTER BACK: Andrew FARRELL
CENTER BACK: Shane O'NEILL
LEFT BACK: Chris KLUTE
DEFENSIVE MIDFIELDER: Geoff CAMERON
BOX-TO-BOX MIDFIELDER: Michael BRADLEY
RIGHT ATTACKING MIDFIELDER: Joe Benny CORONA
CENTRAL ATTACKING MIDFIELDER: Benny FEILHABER
LEFT ATTACKING MIDFIELDER: Clint DEMPSEY
STRIKER: Juan AGUDELO
Option 4: 
4-1-3-2 Formation with Jozy Altidore and Juan Agudelo as Strikers:
GOALKEEPER: Tim HOWARD
RIGHT BACK: Andrew FARRELL
CENTER BACK: Geoff CAMERON
CENTER BACK: Shane O'NEILL
LEFT BACK: Chris KLUTE
DEFENSIVE MIDFIELDER: Michael BRADLEY
RIGHT ATTACKING MIDFIELDER: Joe Benny CORONA
CENTRAL ATTACKING MIDFIELDER: Benji JOYA
LEFT ATTACKING MIDFIELDER: Clint DEMPSEY
STRIKER: Jozy ALTIDORE
STRIKER: Juan AGUDELO
Option 5:
4-3-2-1 Formation with One Defensive Midfielder and Two Box-To-Box Midfielders:
GOALKEEPER: Tim HOWARD
RIGHT BACK: DeAndre YEDLIN
CENTER BACK: Andrew FARRELL
CENTER BACK: Shane O'NEILL
LEFT BACK: Chris KLUTE
BOX-TO-BOX MIDFIELDER: Benji JOYA
DEFENSIVE MIDFIELDER: Geoff CAMERON
BOX-TO-BOX MIDFIELDER: Michael BRADLEY
RIGHT ATTACKING MIDFIELDER: Joe Benny CORONA
LEFT ATTACKING MIDFIELDER: Clint DEMPSEY
STRIKER: Juan AGUDELO
Option 6: 
4-2-3-1 Formation with Experienced and New Players and Juan Agudelo as the Striker and Freddy Adu as the playmaker:
GOALKEEPER: Tim HOWARD
RIGHT BACK: DeAndre YEDLIN
CENTER BACK: Andrew FARRELL
CENTER BACK: Shane O'NEILL
LEFT BACK: Chris KLUTE
DEFENSIVE MIDFIELDER: Geoff CAMERON
BOX-TO-BOX MIDFIELDER: Michael BRADLEY
RIGHT ATTACKING MIDFIELDER: Joe Benny CORONA
CENTRAL ATTACKING MIDFIELDER: Freddy ADU
LEFT ATTACKING MIDFIELDER: Clint DEMPSEY
STRIKER: Juan AGUDELO
Option 7:
If Tim Howard, Geoff Cameron, Michael Bradley, Landon Donovan, Benny Feilhaber, Clint Dempsey, and Jozy Altidore are all injured or suspended:
GOALKEEPER: Brad GUZAN
RIGHT BACK: DeAndre YEDLIN
CENTER BACK: Andrew FARRELL
CENTER BACK: Gale AGBOSSOUMONDE
LEFT BACK: Chris KLUTE
DEFENSIVE MIDFIELDER: Shane O'NEILL
RIGHT ATTACKING MIDFIELDER: Benji JOYA
CENTRAL ATTACKING MIDFIELDER: Mix DISKERUD
LEFT ATTACKING MIDFIELDER: Joe Benny CORONA
STRIKER: Juan AGUDELO
SECOND STRIKER: Freddy ADU