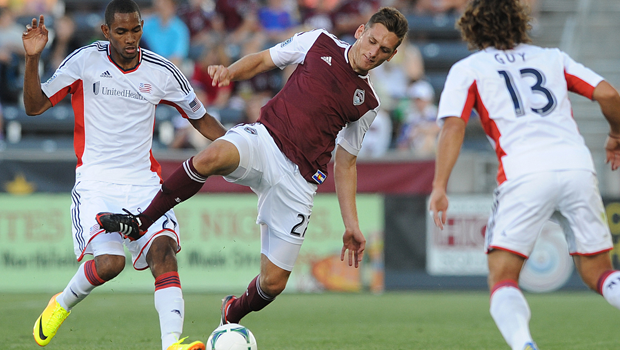 Jürgen Klinsmann has a great opportunity to see how many of the new or young Major League Soccer talents stack up to many of his regular Major League Soccer selections. With a very tough World Cup Group G coming up this summer, the January camp gives the coaching staff of the United States the chance to evaluate multiple players at every position to see their strengths and their weaknesses as well as trying to approximate how they will do against World Cup competition.
Players like Clint Dempsey, Landon Donovan, Benny Feilhaber, Eddie Johnson, and Juan Agudelo should allow Klinsmann to gain some sort of perspective of the quality of his defensive options in terms of positioning, tackling, quickness, speed, technical ability, and aerial ability.
Furthermore, defenders like Omar Gonzalez and Matt Besler who have performed pretty well by international standards in 2013 will allow the coaching staff to evaluate attacking midfielders and forwards.
Given Kyle Beckerman's lack of sufficient athleticism, despite his sound technical ability, finding another defensive midfielder to add to the list of Michael Bradley, Jermaine Jones, and Geoff Cameron should also be a priority.
Technically, the players playing their club soccer in Mexico and Europe should mostly be unavailable with the exception of Scandinavia-based players or players in between clubs in any league.
Klinsmann probably won't call up a group bigger than 23 players for the January camp, but the camp allows the coaching staff an extended look at an assortment of internationally-experienced or internationally-inexperienced players.
Additionally, Clint Dempsey could possibly be loaned out to a European side during the January camp.
Below is a long list of likely or not-so-likely January camp player options for the United States Men's National Team:
GOALKEEPERS: Nick RIMANDO; Clint IRWIN; Dan KENNEDY; Tally HALL; Bill HAMID; Sean JOHNSON
CENTER BACKS: Omar GONZALEZ; Matt BESLER; Shane O'NEILL; Andrew FARRELL; Chris SCHULER; Amobi OKUGO; Gale AGBOSSOUMONDE, Clarence GOODSON, Michael PARKHURST, George JOHN
OUTSIDE BACKS: Chris KLUTE; DeAndre YEDLIN; (Andrew FARRELL); Kofi SARKODIE; Seth SINOVIC; Zach LOYD; Sheanon WILLIAMS; Brad EVANS; Chance MYERS; Kellyn ACOSTA
DEFENSIVE MIDFIELDERS: Amobi OKUGO; Perry KITCHEN; Jared JEFFREY; Kyle BECKERMAN; Dax MCCARTY; Jeremy HALL; Ricardo CLARK
ATTACKING MIDFIELDERS: Clint DEMPSEY; Landon DONOVAN; Benny FEILHABER; Mix DISKERUD; Luis GIL; Graham ZUSI; Dillon POWERS; Brad DAVIS; Freddy ADU; Mike MAGEE; Kelyn ROWE
STRIKERS AND FORWARDS: Juan AGUDELO; Eddie JOHNSON; Gyasi ZARDES; José VILLARREAL; C.J. SAPONG; Teal BUNBURY, Chris WONDOLOWSKI
World Soccer Source's Preferred 25-man January Camp Roster:
GOALKEEPERS: IRWIN, KENNEDY, HALL
DEFENDERS: BESLER, GONZALEZ, O'NEILL, SCHULER, AGBOSSOUMONDE, FARRELL, KLUTE, YEDLIN, SARKODIE
MIDFIELDERS: DEMPSEY, DONOVAN, DISKERUD, FEILHABER, ADU, OKUGO, KITCHEN, MCCARTY, POWERS
FORWARDS: AGUDELO, VILLARREAL, ZARDES, JOHNSON
World Soccer Source's USMNT Starting XI Proposal:
IRWIN; YEDLIN, FARRELL, O'NEILL, KLUTE; KITCHEN/OKUGO, MCCARTY; DONOVAN, FEILHABER/DISKERUD, DEMPSEY; AGUDELO
Were there any players that were overlooked from the player pool listed above? What are your thoughts on the proposed Starting XI?