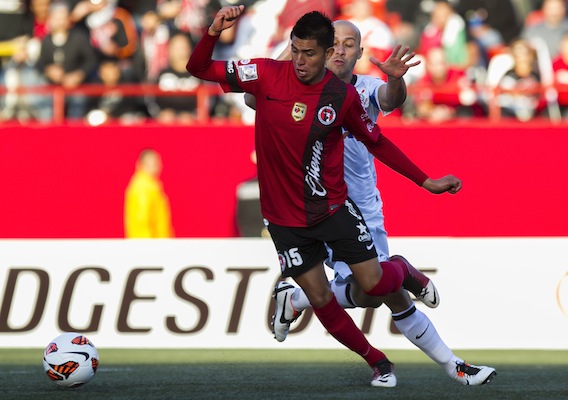 Running, work rate, and defending have always been important soccer fundamentals that have always snuck into the conversation when discussing the performance and importance of playmakers – and also strikers for that matter.
Playmakers are sometimes referred to as luxury players or non-essential players because there is a belief that many people have which holds that playmakers are a liability for their lack of work rate, defending, and their lack of overall distance covered, and this opinion has an important element of truth to it, which is that running and movement without the ball or off the ball are a vital quality for any soccer player.
No matter what one's personal opinion is about the amount and the type of running that one should expect out of a playmaker, running and movement off the ball is part and parcel with being a good playmaker.
Take for example the games Zinedine Zidane played for France in the knockout rounds of the 2006 World Cup. Zidane was demonstrating a great deal of running and movement off the ball because it was essential to one of his greatest qualities as a footballer: constantly being a passing option or outlet for his teammates.
Zidane was most effective when he constantly presented himself as a passing option for his teammates, and this required constant movement and running. The Magician of Marseille was lethal to opponents when he dictated the tempo of the game by essentially receiving seemingly every other pass, and he did this by playing passes to his teammates and instantly showing for the ball or moving into space to receive the ball back.
When Zidane played like this, he even made Brazil look mediocre.
Turning to American soccer and the United States Men's National Team, it's important to expect lots of running from American playmakers, but it should be the right type of running.
Constantly moving all over the field to provide one's teammates with a player to whom the ball can be played is essential to dictating the tempo and style of the game, and American playmakers should make a major effort to use their touch, vision, ball control, and creativity all over the field.
American playmakers should show just how valuable they are to American soccer fans and Jürgen Klinsmann by constantly involving themselves in the passing all over the field because this displays how the skill-set that playmakers bring to games is vital to producing quality passing and imposing the United States' will on opponents, as opposed to being played out of games when opponents boss the midfield and pressure the American defense.
While the purpose of the United States using playmakers is to produce a better quality of play and create more scoring opportunities, American playmakers like Mix Diskerud, Joe Corona, Benny Feilhaber, and especially Freddy Adu must make a conscientious effort to be actively involved in the passing of the United States all over the field to win over the fans and the coaching staff.
Technically, a system with two defensive midfielders should somewhat cut out some of the running needed from a central attacking midfielder or a number 10, but fair or not, it looks as if American playmakers will need to take their work rate and running to a level above and beyond what is normal.
At its core, soccer is a sport based on constant movement in addition to ball control and vision, and American playmakers will need to be virtually omnipresent on the field, in order to convince many people of their importance in the long term success of American sides against competition on the club and international level.
To win over an American audience and the coaching staff of the United States, it would appear that American playmakers will have to fight their way onto the national team and prove their worth through lots of running for the purpose of forcing a superior brand of passing and soccer to be played by the United States Men's National Team.
If the 2013 MLS Cup playoff taught Americans anything, it was that Benny Feilhaber's increased work rate and distance covered won over a lot of people and silenced a lot of critics.
With the 2014 World Cup approaching, the United States' roster will probably need two true playmakers to really be able to keep possession and effectively attack Germany, Portugal, and Ghana. Mix Diskerud, Joe Corona, Benny Feilhaber, and the controversial Freddy Adu are all part of the American player pool, and the United States needs two of them on the roster with one starting.
Many people will not want Adu on the roster because of his lack of club playing time and his club limbo (which is a valid point), but the United States needs to pick two playmakers from the following options: Feilhaber, Diskerud, Corona, and Adu.
Michael Bradley, Jermaine Jones or Geoff Cameron, Landon Donovan, Clint Dempsey, and Jozy Altidore or Aron Jóhannsson need a playmaker to fire on all cylinders, and the idea that the United States can really produce quality soccer without a playmaker starting with the other players in the Front Six is a fantasy.