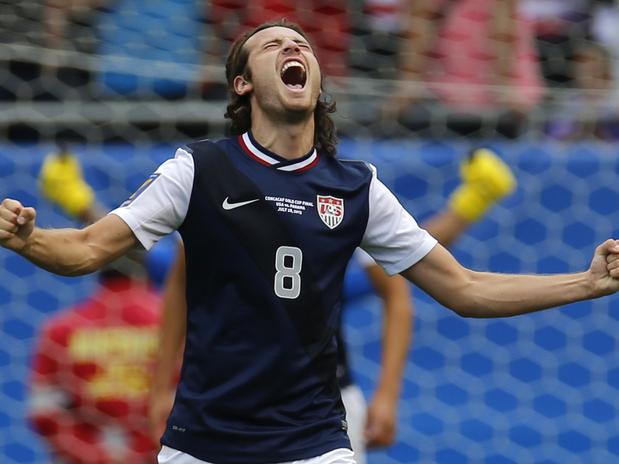 Beating Germany, Portugal, and Ghana in the 2014 World Cup is possible for the United States Men's National Team, if the right Front Six or the right type of Front Six were to be used.
While the United States Men's National Team's Back Four for the 2014 World Cup is a matter of great concern for American soccer fans, the Front Six should be a fairly straight forward decision for Jürgen Klinsmann.
There might be ways to improve or modify the Front Six for certain tactical reasons, such as a desire to use two strikers, but the United States is capable of fielding a Front Six made up of a mixture of defensive-minded players, attack-minded players, or both that can really compete with Germany, Portugal, and Ghana in the 2014 World Cup.
Jürgen Klinsmann has been using a 4-2-3-1 formation, and that's a sound tactical set-up to produce effective soccer that is also quality soccer. World Soccer Source has frequently discussed the combination of players discussed below, but the United States continues to use the wrong combination of defensive midfielders, in addition to not using a playmaker and using a striker as an outside attacking midfielder.
Aron Jóhannsson and Eddie Johnson have oddly been stuck out on the right or left in the line of three attacking midfielders, which essentially negates the point of using three players who excel at creativity and passing in front of two defensive midfielders.
When strikers like Jóhannsson and Johnson are used, they need to be used up top as the focal point of the attack, as opposed to sticking them out wide where they aren't able to utilize their skills and qualities in the right way.
Under Klinsmann, the United States has essentially never started a playmaker between Landon Donovan and Clint Dempsey and part of the reason for that has been when one player or the other was unavailable, but playing either player as a playmaker or using a striker as a right or left attacking midfielder is holding the United States back.
Amidst all the decisions about players that need to be made before the 2014 World Cup, Klinsmann has the ability to field a Front Six made up entirely with players that he has used before and that he rates.
The best way for this to occur is for Klinsmann to do the obvious, which is to start Cameron and Bradley behind Donovan, Diskerud, and Dempsey with Altidore up top.
Tactically, this set-up makes sense, and it's likely better than anything the United States has even used before.
Using Cameron as a midfield destroyer gives Bradley more freedom to make attacking forays, and starting Diskerud in between Donovan and Dempsey allows for better possession and a higher number of goal-scoring chances.
No matter how straight forward using that Front Six appears, it nevertheless is something that the United States has never used, and it allows the United States to showcase a higher level of soccer that should be more effective against the likes of Germany, Portugal, and Ghana.
Klinsmann has shown that Cameron, Bradley, Donovan, Diskerud, Dempsey, and Altidore are all players that are in his plans, but he needs to start them together if he wants to make good on his promise of delivering better soccer that can improve the level and reputation of American soccer.
None of the players mentioned above need any change in mentality or special motivation because they are all competitive players who are experienced enough and skilled enough to play with the ability, athleticism, and mental intensity that's needed in the World Cup.
The benefit of this Front Six is that none of the players are players who can be dismissed as too slow for the international game or not technically-skilled enough for the international game.
While Joe Corona, Aron Jóhannsson, Benny Feilhaber, Jermaine Jones, and Juan Agudelo all have an argument to make as players that should be part of the Front Six, the Front Six proposed in this article is nevertheless qualified to face off against strong international competition and do well.
This is a legitimate Front Six made up of players who are athletic and calm and skilled on the ball and that can play well when the speed of play goes up at the international level in the World Cup.
There are other American players who can also do the same as part of the Front Six, but this is a group of players with which American soccer fans should feel comfortable.
The United States shouldn't overcomplicate things, but it should change some aspects of the Front Six.
Tim Howard plus the following Front Six is a solid starting point for the improvement of the USMNT in the lead up to the 2014 World Cup:
Defensive Midfielder: Geoff CAMERON
Box-To-Box Midfielder: Michael BRADLEY
Right Attacking Midfielder: Landon DONOVAN
Central Attacking Midfielder: Mix DISKERUD
Left Attacking Midfielder: Clint DEMPSEY
Striker: Jozy ALTIDORE