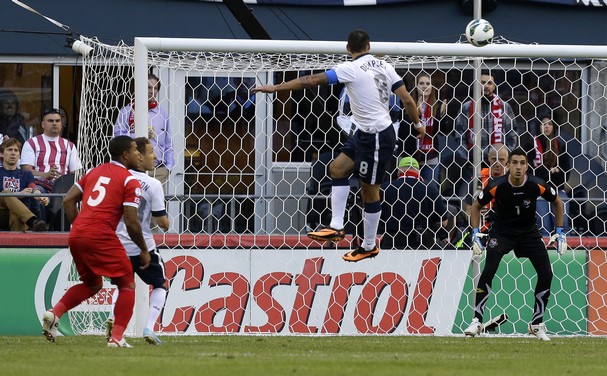 The Best American Soccer Players (January 2014)
These rankings aren't a scientific ranking of players according to skill, club form, international form, or experience, but rather they are a subjective ranking of players using a variety of criteria such as those listed above.
A higher or lower ranking doesn't indicate a higher or lower amount of skill.
The group of names as a whole is more important the rankings because some players are clearly more skilled than others, and others are experiencing a better run of form than others.
In general, the American soccer media seems to rank American players based on how much they are used by Jürgen Klinsmann, as opposed to how skilled or capable the players are, and the rationale behind this is understandable given Klinsmann's fame and playing resume.
This writer finds Klinsmann's player selections and the criteria that many American soccer observers use or value to rank players to be questionable, but everyone is entitled to his or her own opinion in something as subjective as soccer.
These rankings were done by Colin Reese before the announcement of the USMNT's January camp. All attempts were made to not accidentally overlook or omit any worthy player.
Here are the rankings of the Best American Soccer Players or Footballers For January 2014:
1. Clint DEMPSEY (Seattle Sounders)
2. Giuseppe ROSSI (Fiorentina)
3. Michael BRADLEY (Roma)
4. Aron JÓHANNSSON (AZ Alkmaar)
5. Landon DONOVAN (LA Galaxy)
6. Benny FEILHABER (Sporting KC)
7. Mix DISKERUD (Rosenborg)
8. Jozy ALTIDORE (Sunderland)
9. Juan AGUDELO (Work Permit for Stoke City denied)
10. Joe CORONA (Tijuana)
11.Geoff CAMERON (Stoke City) 
12. Terrence BOYD (Rapid Wien)
13. Jermaine JONES (Schalke)
14. Benji JOYA (Santos Laguna)
15. Steve CHERUNDOLO (Hannover)
16. Fabian JOHNSON (Hoffenheim)
17. Brad GUZAN (Aston Villa)
18. Tim HOWARD (Everton)
19. Freddy ADU (E.C. Bahia; May or May Not be leaving)*
20. Alonso HERNANDEZ (Monterrey)
21. Mario RODRIGUEZ (Borussia Mönchengladbach U-23)
22. Paul ARRIOLA (Tijuana)
23. José VILLARREAL (LA Galaxy)
24. Shane O'NEILL (Colorado Rapids)
25. Eddie JOHNSON (Seattle Sounders)
26. John Anthony BROOKS (Hertha Berlin)
27. Junior FLORES (Borussia Dortmund II)
28. DeAndre YEDLIN (Seattle Sounders)
28. Chris KLUTE (Colorado Rapids)
28. Andrew FARRELL (New England Revolution)
31. Eric LICHAJ (Nottingham Forest)
32. Herculez GOMEZ (Tijuana)
33. Gyasi ZARDES (LA Galaxy)
34. Michael OROZCO (Puebla)
35. Jared JEFFREY (DC United)
36. Dax McCARTY (New York Red Bulls)
37. Graham ZUSI (Sporting Kansas City)
38. Jonathan SPECTOR (Birmingham City)
39. Kofi SARKODIE (Houston Dynamo)
 40. Kellyn ACOSTA (FC Dallas)
41. Perry KITCHEN (DC United)
42. Gale AGBOSSOUMONDE (Toronto FC)
43. Chris SCHULER (Real Salt Lake)
44. Matt BESLER (Sporting Kansas City)
45. Omar GONZALEZ (Los Angeles Galaxy)