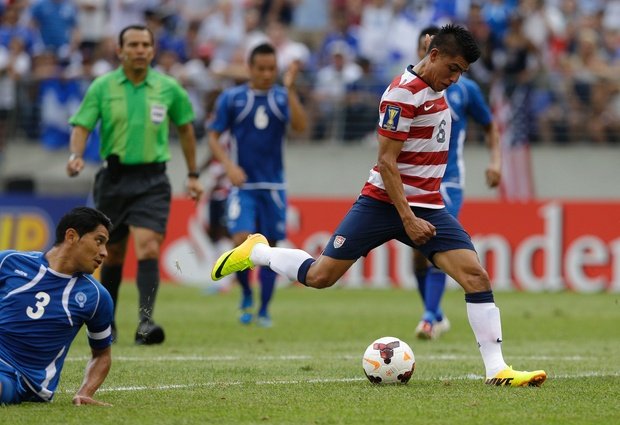 The World Soccer Source USA Best XI (January 2014)
This United States Men's National Team (USMNT) Best XI is this writer's opinion of the best American players and/or the best combination of American players, but this Best Current USMNT XI is not a selection of the most in-form, the most experienced, or the most popular American players at each position.
World Soccer Source's USMNT Best XI for January of 2014 is a 4-2-3-1 formation to balance possession, defending, and attacking in the American midfield, in addition to conforming with USA coach Jürgen Klinsmann's formation of choice.
GOALKEEPER: Tim HOWARD
Tim Howard is a monster of a goalkeeper whose only flaw is staying rooted to his line too much, but he seems to have eliminated that flaw from his game several months ago. Howard is somewhat vulnerable to shots from distance, but Howard is an essentially complete goalkeeper. Howard delivers lots of game-saving stops, and Howard has prevented the United States from losing or losing by a lot of goals on dozens of occasions
RIGHT BACK: DeAndre YEDLIN
DeAndre Yedlin is probably the best American right back with the obvious exception of the 34-year-old Steve Cherundolo who has recently returned from injury. Yedlin is part of a new crop of two-way outside backs who represent an improvement in American outside backs. Yedlin has electric pace, great technical skill, and solid defensive fundamentals and instincts. Andrew Farrell is probably as good as Yedlin at right back, but Farrell's brand of two-way play has different strengths and weaknesses than Yedlin's.
CENTER BACK: Andrew FARRELL
It's time to put a player like Andrew Farrell at center back. Farrell has the size and physicality of Jay DeMerit with much more speed and better technical ability. Farrell is key to improving the defending, speed, and skill of the center of the American defense.
CENTER BACK: Shane O'NEILL
Shane O'Neill is fully-endorsed by Tab Ramos, and O'Neill is the best kind of center back, which is the type that has been converted from being a defensive midfielder. O'Neill is tall, quick, calm and skilled on the ball with both feet, and his tackling and distribution are excellent. Farrell and O'Neill as a center back partnership would be new, but it would likely be better than the Omar Gonzalez and Matt Besler partnership, as effective as that has been against CONCACAF opponents.
LEFT BACK: Chris KLUTE
Chris Klute is likely the fastest American soccer player, and his two-footed skill is abundantly apparent whether he's attacking or defending. Klute is a modern outside back who is a tall and smooth athlete with a high level of technical skill. Klute is an excellent tackler and marker. Like Yedlin, Farrell, and O'Neill, Klute has a full season of starting almost every game and playing every minute for his MLS side.
DEFENSIVE MIDFIELDER: Geoff CAMERON
Geoff Cameron's qualities as a footballer extend way beyond solid marking and tackling as Cameron is a very technical player who excels at passing and covering lots of ground with his tall and athletic physique. Cameron is the perfect type of player to roam the back of the midfield to break up the passing of the opposition in addition to being heavily involved in the passing of the United States. Cameron allows Bradley to go forward without leaving the Back Four without protection.
BOX-TO-BOX MIDFIELDER: Michael BRADLEY
Michael Bradley has developed into more of a box-to-box midfielder as his career as progressed and as he has improved. Playing for a Serie A team like Roma that is famous for attractive, attacking soccer is no small achievement for an American. Bradley is an excellent passer and defender with an almost unmatched engine, but Bradley isn't a playmaker or a high-caliber shooter of the ball by international standards, even if he has scored a fair amount of goals with excellent technical ability. Nevertheless, Bradley isn't a playmaker by any means, but his ability to keep possession and distribute the ball while also providing defensive coverage is just as important as other players' ability to set up goals.
RIGHT ATTACKING MIDFIELDER: Joe CORONA
Out with the old or older and in with the new. Joe Corona is essentially a goal-scoring playmaker who can play on both sides of the field and in the center. Corona is more of a quick-passing player than Landon Donovan, and his youth, creativity, and aggressive play should help to foster more of a one-to-two touch style of attractive, effective, and attack-minded soccer than Donovan brings, as talented, fast, and accomplished as Donovan is.
CENTRAL ATTACKING MIDFIELDER: Benny FEILHABER
Benny Feilhaber won over a lot of observers and American soccer fans with his play in the 2013 MLS Cup playoffs for Sporting Kansas City, which won the 2013 MLS Cup. Feilhaber covered more distance than he had done in the past, which is one of the complaints that some people had with his style of play. Nevertheless, the Brazilian-American who was born in Rio de Janeiro reminded many people why his skill-set is an important asset for the United States. There needs to be a real competition between Benny Feilhaber, Joe Corona, Mix Diskerud, and Freddy Adu to see who is the best American playmaker. Nevertheless, Feilhaber should be reincorporated into the USMNT and the Starting XI to bring the type of playmaking and orchestration that has been missing from the United States under Jürgen Klinsmann unless Diskerud was playing. Klinsmann seems to have some issues with Feilhaber's play.
LEFT ATTACKING MIDFIELDER: Clint DEMPSEY
The best American soccer player of all-time and the most technically-skilled American player is on his way back to play with Fulham FC on a two-month loan deal. Dempsey is a free-roaming attacking midfielder or a second striker, and starting him out left (just on paper) should allow him to go where he sees that he's needed and play the way that he sees fit to play. Dempsey should flourish with Feilhaber and Corona as attacking midfield partners.
STRIKER: Juan AGUDELO
Juan Agudelo is a tall, fast, and smooth striker who brings a more elegant and more creative style of play than Jozy Altidore, an excellent and complete striker in his own right, and Agudelo should help to spice up the American attack with effective and attractive play that makes defenders work while freeing up Agudelo's teammates to receive balls. Agudelo has a knack for scoring goals and creating an environment where more goals are scored on the international level. Agudelo more or less brings Altidore's size, strength, and speed while also displaying more skill and trickery.
SNUBS: Aron JÓHANNSSON, Jozy ALTIDORE, Mix DISKERUD, Landon DONOVAN, Steve CHERUNDOLO, Jermaine JONES, Eric LICHAJ, Benji JOYA