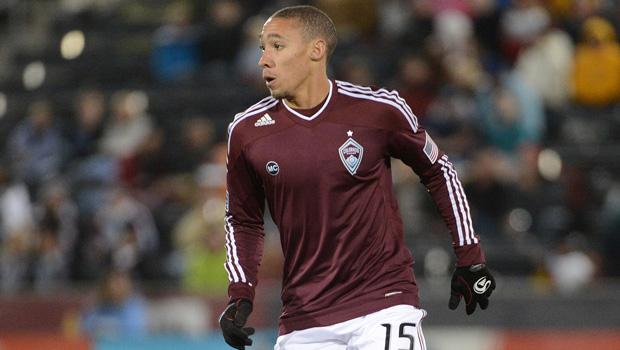 Should the USA Use a Diamond Formation in the 2014 World Cup?
Group G will be a major obstacle for the United States Men's National Team at the 2014 World Cup, so the United States should roll the dice and use a new formation to face its opponents straight up like soldiers.
Respect has to be earned, and the United States should use the 2014 World Cup to really go all in on its opponents and play without fear.
The United States can do this by doing the following:
1.) Use a totally new Back Four comprised of DeAndre Yedlin, Andrew Farrell, Shane O'Neill, and Chris Klute. This is a very internationally-inexperienced Back Four, but it is a talented and athletic Back Four made up of skilled defenders.
2.) Give Jermaine Jones' defensive midfielder spot to Geoff Cameron, and start both Michael Bradley and Benji Joya as box-to-box midfielders.
Joya is a young player without a single appearance for the main United States Men's National Team, but he is a fearless and complete midfielder who can give the United States a second two-way central midfielder to partner with Michael Bradley.
When Joya performed well against Paul Pogba, he proved that he was a USMNT prospect to be taken seriously, and that performance should not be downplayed or dismissed as just a one-off demonstration of skill. That was a legitimate proof of skill and athleticism against one of the jewels of world football.
3.) Give Clint Dempsey attack partners like Joe Corona and Juan Agudelo who play with the same desire to beat opponents with technical skill, creativity, flair, and bravado. Both Corona and Agudelo are legit young footballers who have done more than enough to be seriously considered as starters for a United States side that is regarded the world over as a national team without collectively technical ability, guile, or imagination.
The Rationale For the Starting XI Proposed Below:
From an American perspective, why should the United States continue to give world football fans reasons to openly dismiss the United States as a national side that runs a lot but that can't beat you with pure skill?
The United States should use skill, combination play, and creativity to make Ghana, Portugal, and Germany run like crazy to defend a squad that no longer accepts boring and unimaginative play as an acceptable way to play international soccer. The United States should silence its soccer critics once and for all by giving Clint Dempsey and Michael Bradley more-skilled teammates.
The USA 4-1-2-1-2 Starting XI Formation:
GOALKEEPER: Tim HOWARD or Brad GUZAN
Either American net minder is a complete and fundamentally sound goalkeeper that also excels at making very difficult saves and game-saving stops.
RIGHT BACK: DeAndre YEDLIN
Fast, two-footed, and a modern outside back. DeAndre Yedlin has become a solid defender over the course of his rookie season in Major League Soccer, and his world-class speed combined with his ability to dribble and pass out of the back with both feet outweighs his youth and his international inexperience.
CENTER BACK: Andrew FARRELL
Andrew Farrell might be a better right back than Yedlin, but Farrell brings the speed, skill on the ball, and defensive ability to the center of the defense to not be victimized by World Cup attackers, especially the ones who play for Germany, Portugal, and Ghana.
CENTER BACK: Shane O'NEILL
Shane O'Neill is a defensive midfielder who has been converted to a center back, and he has Tab Ramos' stamp of approval. All the best center backs in the world are players with the skill, speed, and playing style of skilled defensive midfielders.
LEFT BACK: Chris KLUTE
Chris Klute is arguably the only left back in the entire American player pool that has the tools to hold his own against Group G attackers, and if Yedlin and Farrel have electrifying pace, then Klute teleports. Klute's a tall and smooth athlete, and he's a clean defender that also sets up goals in the attack. Klute needs to start in the World Cup.
DEFENSIVE MIDFIELDER: Geoff CAMERON
Geoff Cameron's technical ability is as smooth as his athleticism, and unlike Jermaine Jones (an excellent defensive midfielder in his own right), Cameron is better at covering for Michael Bradley when Bradley makes attacking forays. Cameron helps the team more by his smooth passing and his defensive coverage and prowess deep in the American midfield.
BOX-TO-BOX MIDFIELDER: Benji JOYA
Being a 20-year-old member of a famous Mexican side like Santos Laguna is no small feat. They say that form is fallacy, and Benji Joya's lack of club playing time as a 20-year-old box-to-box midfielder in La Liga MX has absolutely no bearing on whether or not Joya can be an asset or influential starter for the United States as a box-to-box partner for Michael Bradley. Joya complements Bradley's running, tackling, and skilled passing because Joya is more technically-skilled, more creative, and more of an attacking threat than Bradley.
BOX-TO-BOX: Michael BRADLEY
The United States has never had a holding midfielder of Michael Bradley's skill-level, and his skill is amplified by his tireless running and defensive prowess. With Geoff Cameron playing as a midfield destroyer, Bradley can play as the box-to-box variety of defensive midfielder.
CENTRAL ATTACKING MIDFIELDER: Joe CORONA
This is a tactical decision to use a player whose game is based on one-to-two touch creative play and less on attacking players at speed to dribble past them, pass, or shoot. Joe Corona has shown that he is a player that not only brings technical-skill, creativity, possession-style play, and goal-scoring ability, but he's also a player that puts a lot of defensive pressure on the opposition.
STRIKER: Juan AGUDELO
Given Jozy Altidore's incredible improvement in his goal-scoring ability, his technical ability, his movement off the ball, and his desire to go straight to goal, it seems off base to exclude the American striker from the starting line-up, but Juan Agudelo brings more skill, more smooth athleticism, and more magic than Altidore. Agudelo is a more dangerous, more creative, and a more technical player than Altidore, and a player of Agudelo's guile, speed, and athleticism is the sort of striker you want if you get stuck in a difficult group for the group stage of a World Cup.
SECOND STRIKER: Clint DEMPSEY
Clint Dempsey is an obvious starter for the 2014 World Cup, and he has the playing resume, the skill, the bravado, and the undeniable will to win that has made him an American soccer trailblazer that eclipsed every American attacking player that came before him.