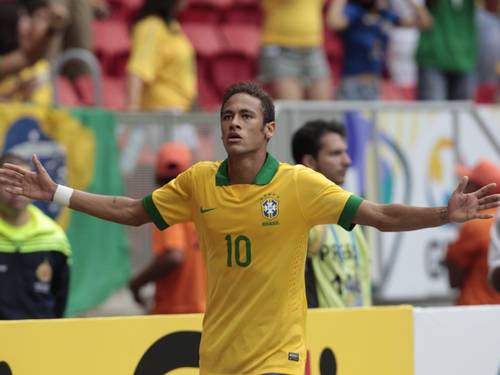 World's Best XI (December 2013)
GOALKEEPER: Manuel NEUER (Bayern Munich)
The Bayern Munich goalkeeper and Germany number 1 is a total monster in goal. Victor Valdés is arguably playing just as well or better. Both Gigi Buffon and Iker Casillas are still arguably the two best goalkeepers.
RIGHT BACK: MAICON (Roma)
Maicon the Marauder is back to playing his best football full of attacking assaults and ferocious defense. Maicon's supposed decline and drop in speed and fitness was off base. The Brazilian right back is still better defensively than Daniel Alves, and Maicon perhaps is more influential when playing for the Seleção than Daniel Alves.
CENTER BACK: Raphaël VARANE (Real Madrid)
The French prodigy is only surpassed by Thiago Silva, and both David Luiz and Dante are more experienced and arguably better.
CENTER BACK: Thiago SILVA (Paris Saint-Germain)
Hands down the best center back in the world. Almost universally considered the best center back in the world. The skill level of Brazilian center backs is becoming ridiculously good.
LEFT BACK: MARCELO (Real Madrid)
David Alaba has a major bone to pick here with Marcelo, and Alaba is equally as deserving. Nevertheless, Marcelo is a remarkably fast and skilled left back whose defensive skill and ability to use both feet have skyrocketed in recent years.
CENTRAL MIDFIELDER: Paul POGBA (Juventus)
The French prodigy is listed as a central midfielder because he is a totally complete midfielder who is hard to box up into a restrictive category such as defensive midfielder, box-to-box midfielder, or possibly as a soon-to-be regista.
CENTRAL MIDFIELDER: Arturo VIDAL (Juventus)
The Chilean box-to-box midfielder is regarded by many as the most complete midfielder in the world. The Juventus midfielder is arguably the best defensive midfielder in the world, and his technical-ability and his attacking skill are as good or better than his defending. Every club wants Vidal.
RIGHT ATTACKING MIDFIELDER: Cristiano RONALDO (Real Madrid)
Cristiano Ronaldo uses both feet with the same perfect technique and his speed is virtually unmatched. The Portuguese winger or forward is a goal-scoring machine and arguably the best and most-skilled player in the world.
CENTRAL ATTACKING MIDFIELDER: Thomas MÜLLER (Bayern Munich)
Thomas Müller is easily the most-gifted and best current German footballer. Müller can play any position in the attack, and as a central attacking midfielder his style of play is very similar to Kaká's, which uses a combination of attacking at pace with exceptional passing and vision. Other players might be better pure playmakers, but Müller is a gifted playmaker and complete attacker without any flaws. Müller is a big game player, and he backs up what he says before games.
LEFT ATTACKING MIDFIELDER: NEYMAR (Barcelona)
Neymar is the New King of World Football. The Brazilian sensation is a dazzling footballer, and he is the jewel of world and Brazilian football.
STRIKER: Mario BALOTELLI (Milan)
For many people, several strikers are better than Mario Balotelli, but the Italian and Milan striker is technically-perfect with both feet and the best athlete in world football. Italy's number 9 has the size and athleticism of an NBA player while still being a graceful magician with the ball at his feet. Balotelli is a big game player, and his abilities range from being a dead ball specialist to being a clinical finisher. Balotelli has a full arsenal of tricks and a thunderous shot with both feet. The Italian is the only striker with a chance of being in Ronaldo's league as far as first strikers go.
Fabio Caressa once said that Balotelli could play every position in the attack.