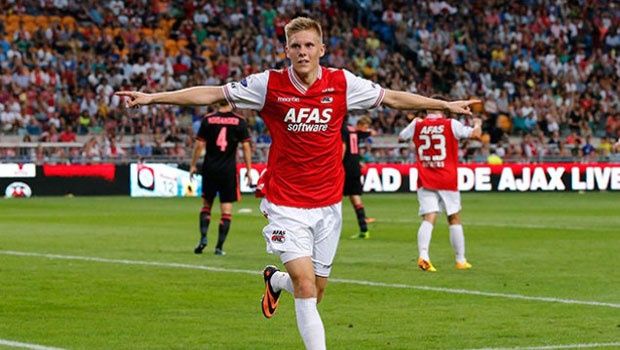 The USMNT Should Consider Starting Two Strikers in a 4-1-3-2
Choosing between two defensive midfielders or two strikers is a toss up, unless a 4-4-2 formation is used, but the United States Men's National Team would be wise to test out how starting two strikers would affect the United States' attack.
Using two strikers is an attack-minded line-up, but attacking the opposition with more urgency is also a form of defense where one's weakness becomes one's strength – if one attacks one's opponent more then that opponent has to defend more and has less time to attack.
Jozy Altidore and Aron Jóhannsson starting together as strikers with a line of three attacking midfielders including a playmaker behind them is a strategy that Jürgen Klinsmann might consider using to improve the potency and goal-scoring capabilities of the United States.
Klinsmann has started both players together, but Klinsmann has deployed Jóhannsson as an attacking midfielder out wide, at least on paper.
Starting both players together as center forwards would require starting only one defensive midfielder in a 4-1-3-2 or one less attacking midfielder in a Brazilian 4-2-2-2.
Altidore and Jóhannsson have demonstrated that they can combine well together and that they are complementary, and starting two strikers of their caliber would force opposition defenses to focus their attention on both players – assuming both strikers received adequate service from a playmaker and at least one additional attacking midfielder.
The USMNT's line-ups under Klinsmann have been mostly based on a 4-2-3-1 formation, which is a strong tactical approach, but the coach of the United States for the most part hasn't really used three attacking midfielders behind the striker because often one of the outside attacking midfielders has been a striker forced to play out wide and out of position.
Using Altidore and Jóhannsson together is a weapon, and the logical midfield adjustment to allow for it is to deploy only one defensive midfielder, which would be Michael Bradley. This change would be best be accounted for by using Geoff Cameron as a center back where he could use his skill on the ball, his athleticism, his size, and his defensive skills in the center of the American defense.
With Altidore and Jóhannsson starting as center forwards, the rest of the line-up should feature Tim Howard in goal, Geoff Cameron at center back, Michael Bradley as a defensive midfielder, and Landon Donovan or Joe Corona, Mix Diskerud or Benny Feilhaber, and Clint Dempsey as the line of three attacking midfielders.
The other open positions in the Back Four are a matter of debate just as the line of three attacking midfielders is, but provided that Altidore and Jóhannsson receive adequate service and Bradley was patrolling the back of the midfield, the tactical set-up of using two strikers can be effective, even if there is only one defensive midfielder.
While this writer would like to see DeAndre Yedlin or Andrew Farrell, Shane O'Neill, and Chris Klute filling the remaining spots in the Back Four, certainly using Eric Lichaj, Steve Cherundolo, or Jonathan Spector at right back over Yedlin or Farrell would also make sense – as would starting John Anthony Brooks instead of Shane O'Neill.
Finally, Klinsmann would be remised to not test out different combinations of Juan Agudelo, Aron Jóhannsson, Jozy Altidore, and Terrence Boyd before the World Cup.
Altidore and Jóhannsson would pose a real threat to opposing defenses, but there is a need to see how well different two-man combinations of those four strikers can perform.  Having all four strikers at the ready and used to playing with one another will be a useful tool at the World Cup.
What would starting two center forwards look like? This writer would support seeing the following Starting XI as one of multiple options:
HOWARD; FARRELL, CAMERON, O'NEILL/BROOKS, KLUTE; BRADLEY; CORONA, DISKERUD/FEILHABER, DEMPSEY; ALTIDORE, JÓHANNSSON.