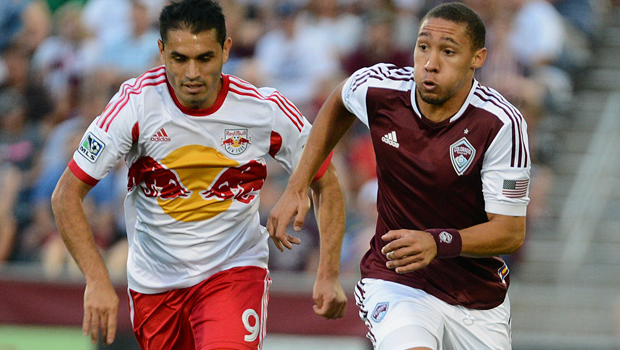 Jürgen Klinsmann and the coaching staff of the United States Men's National Team called up to the January Camp a number of players that can shore up positions where the United States is weak.
Most notabaly, Chris Klute, DeAndre Yedlin, Shane O'Neill, Benny Feilhaber, Mix Diskerud, and Dax McCarty were called up.
Klute and Yedlin address the United States' major problems at the outside back positions, and Feilhaber, Diskerud, and Gil address the United States National Team's inability to keep possession and break down opposing defenses.
All of these players will have to compete to make it past the first cut to take the roster down to 23 players, but the players mentioned above are particularly important for the future of the United States Men's National Team.
Both Klute and Yedlin are vital to the future of the USMNT because they are two-way outside backs with all the tools needed in outside backs in the modern game.
Top national teams use technically-skilled and fast outside backs with the ability to both defend and attack.
Klute and Yedlin are inexperienced at the international level, but they have the qualities needed for the USMNT to field outside backs who can keep pace with international attackers, defend those attackers, and surge forward in the attack.
Amobi Okugo and Andrew Farrell were snubbed, as both players have technical, defensive, and athletic qualities that the United States can use.
Okugo plays as a center back or as a defensive midfielder, and he brings a lot more athleticism than players like Kyle Beckerman or Clarence Goodson.
Farrell is equally as deserving of a spot as either Chance Myers or Seth Sinovic, who both are certainly worthy of a call-up. Farrell is in the same category as Klute and Yedlin, and Farrell also is a center back who can bolster the speed, skill, and defending of the center of the American defense.
Dax McCarty is a solid box-to-box midfielder whose overall passing ability and quick passing in tight spaces are underrated. The USMNT has had defensive midfielders but not too many of the box-to-box variety. McCarty can also play in almost any position in the midfield as he provides good skill on the ball and good defending. He has an excellent engine, and players like him provide a link between defensive midfielders and attacking midfielders.
The inclusion of Diskerud, Feilhaber, and Gil is a good sign that Klinsmann is placing a higher premium on playmakers, and Diskerud has been the playmaker that Klinsmann has been using in national team games.
Feilhaber is a known-commodity with plenty of experience and strong performances against top national teams , and his creativity and skill-set (like Diskerud's) are important qualities that allow regulars like Clint Dempsey, Landon Donovan, and Jozy Altidore to play their best.
Playmakers are essential to keeping possession and playing final balls, and playmakers allow regulars such as Dempsey, Donovan, Altidore, and Jóhannsson to receive better service to score.
Juan Agudelo was initially listed on the roster, but some sort of potential club transfer seems to have caused U.S. Soccer to remove his name from the initial roster. Agudelo would have been another excellent player to include on this roster, but finding a club for himself after his work permit to play in England was denied is more important for him and the USMNT.
Shane O'Neill was a player that Jürgen Klinsmann needed to call up, and he was brave to do so, as many people considered him too young and only promising.
Tab Ramos might have had a major influence in convincing Klinsmann to include O'Neill who is a complete center back and defensive midfielder who arguably brings better defending and a better combination of skill and athleticism than Omar Gonzalez or Matt Besler bring to the national team, and O'Neill can also play as a right back or as a left back.
O'Neill will have to prove his worth, but he's certainly a player with all of the tools to improve the center of the American defense.
Finally, the inclusion of Tally Hall allows Klinsmann to look at another goalkeeper in addition to Nick Rimando, Bill Hamid, and Sean Johnson who he has frequently included.
Given the skill and athleticism of the best regular players that Klinsmann calls up to the national team, this January Camp roster includes most of the players that can complement players like Tim Howard, Brad Guzan, Geoff Cameron, Michael Bradley, Jermaine Jones, Clint Dempsey, Landon Donovan, Jozy Altidore, and Aron Jóhannsson.
The presence of O'Neill, Klute, Yedlin, Feilhaber, Diskerud, Gil, and McCarty on this January 2014 Camp roster is a sign that Klinsmann is looking to strengthen the ability of the United States to defend, keep possession, and attack high-caliber teams in the 2014 World Cup.
Group G is a dangerous World Cup group to be in, and the reality of the skill-level of those teams may have forced Klinsmann to call up some young players to this particular January Camp roster.
Time will tell who impresses Klinsmann, and time will also tell how players like Joe Corona who is playing in Mexico will factor into Klinsmann's plans.