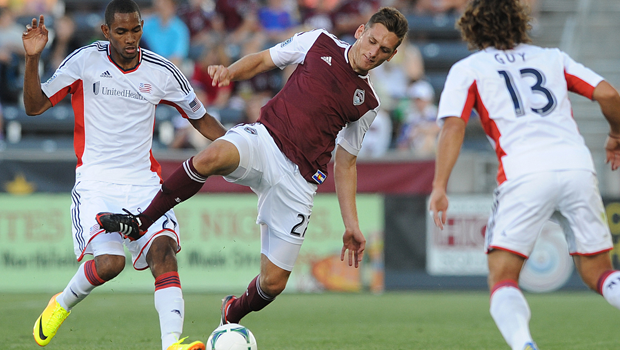 Jürgen Klinsmann did a good job of selecting players to try to improve positions where the United States Men's National Team needed to improve. World Soccer Source applauds him for calling up players such as Chris Klute, DeAndre Yedlin, Shane O'Neill, Dax McCarty, Benny Feilhaber, Mix Diskerud, Luis Gil, and Tally Hall.
While this writer feels that both Andrew Farrell and Amobi Okugo deserved call-ups, the German's picks showed a willingness to look at new talents in order to improve the overall technical ability and athleticism of the USMNT.
Thus, here is World Soccer Source's Preferred USMNT XI for the match against South Korea after the January Camp:
Formation: 4-1-3-2
GOALKEEPER: Bill HAMID
RIGHT BACK: DeAndre YEDLIN
CENTER BACK: Omar GONZALEZ
CENTER BACK: Shane O'NEILL
LEFT BACK: Chris KLUTE
DEFENSIVE MIDFIELDER: Dax MCCARTY
RIGHT ATTACKING MIDFIELDER: Luis GIL
CENTRAL ATTACKING MIDFIELDER: Mix DISKERUD
LEFT ATTACKING MIDFIELDER: Benny FEILHABER
FIRST STRIKER: Eddie JOHNSON
SECOND STRIKER: Landon DONOVAN
USMNT XI: HAMID; YEDLIN, GONZALEZ, O'NEILL, KLUTE; MCCARTY; GIL, DISKERUD, FEILHABER; E. JOHNSON, DONOVAN.
Rationale:
This Starting XI proposal isn't a prediction of what Jürgen Klinsmann will do, but it is an opinion on a certain combination of players that allows for the maximum amount of new or different players to be evaluated in a game against a very technical South Korean side.
The defense is made up of the new crop of MLS defenders minus Andrew Farrell and Amobi Okugo who were excluded from the roster, and so Yedlin, O'Neill, and Klute are all included in the starting line-up.
One of the primary goals has to be to improve the American Back Four, so it's time to test out Yedlin, O'Neill, and Klute.
In the Front Six, McCarty is proposed as the defensive midfielder behind Gil, Diskerud, and Feilhaber in order to see if the U.S. can produce some quality passing and keep possession, in addition to creating scoring chances for Eddie Johnson and Landon Donovan.
McCarty is the proposed defensive midfielder not because he truly excels as the lone defensive midfielder but because his defensive and passing abilities as a box-to-box midfielder would serve the U.S. well.
McCarty is really more of a number 8, but starting Beckerman as the defensive midfielder seems to be without much purpose as Beckerman won't be able to keep up with the speed of play at the 2014 World Cup.
It would be better to see how McCarty does since he is a player who could partner with Michael Bradley, Jermaine Jones, or Geoff Cameron.
With regulars like Tim Howard, Michael Bradley, Geoff Cameron, Landon Donovan, Clint Dempsey, and Jozy Altidore likely to start in the World Cup, the USMNT needs to test out playmakers, outside backs, and center backs.
Assuming Klinsmann starts Howard, Cameron, Jones, Bradley, Donovan, Dempsey, and Altidore in the World Cup, the U.S. needs to fill the right back spot, the center back spots, the left back spot, and the central attacking midfielder role.
Klinsmann is likely to start a two-man defensive midfield made up of Jones and Bradley in the World Cup, but in theory Cameron could start and probably deserves to start with Bradley deep in the midfield.
In addition to starting the best regulars in the World Cup, the U.S. National Team could really use Yedlin, O'Neill, Klute, Feilhaber, and Diskerud (and Joe Corona for that matter), so why not start Yedlin, O'Neill. Klute, Feilhaber, and Diskerud against South Korea?
Hypothetically, this game could create a scenario where the following Starting XI soon becomes the favored XI:
Howard; Yedlin, O'Neill, Brooks, Klute; Bradley, Cameron; Donovan, Feilhaber or Diskerud, Dempsey; Altidore.
That Starting XI has the ability to perform well at the 2014 World Cup, and from an American perspective, American fans should hope that Yedlin, O'Neill, Klute, Diskerud, and Feilhaber do well because the USMNT will need them next summer to play with the likes of Howard, Brooks, Cameron, Bradley, Donovan, Dempsey, Altidore, Jóhannsson, and Agudelo.