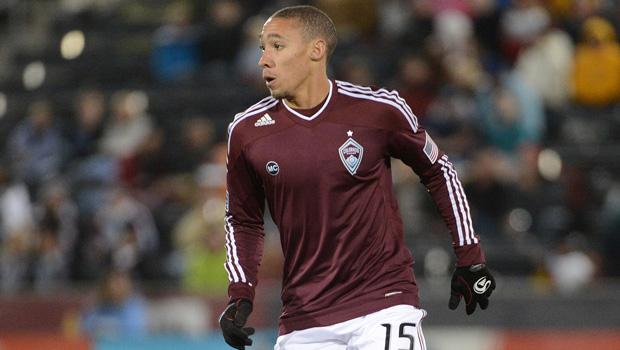 As the United States Men's National Team is currently involved in its January Camp, now is the time for American soccer fans to support giving Chris Klute, Shane O'Neill, and DeAndre Yedlin roster spots on the United States Men's National Team because all three played as well as Brad Evans, Omar Gonzalez, and Matt Besler in Major League Soccer, and the latter three have failed to truly impress against strong competition.
Besler, Gonzalez, and Evans are good MLS players, but their amount of experience at the international level doesn't outweigh the superior technique, speed, defending, and aggressive play of Klute, Yedlin, and O'Neill.
The important thing to keep in mind about the new crop of Major League Soccer defenders is that they aren't just promising players who showed glimpses of international ability, but rather they are players who started and played almost every minute of every game of the 2013 MLS season where they played better than Evans, Gonzalez, and Besler.
One of the points commonly made is that Yedlin started over Evans for the Seattle Sounders, so there is strong evidence that a reputable MLS coach considered the 20-year-old Yedlin to be the best right back option for the Seattle Sounders.
Therefore, Klinsmann's practice of starting Evans over Yedlin when the skill-level goes up at the international level makes little sense.
Evans certainly displays a solid foundation of technical ability, defensive instincts and fundamentals, and a respectable level of athleticism, but Yedlin is just a much more electrifying player with a greater capacity to make an impact at the international level, even if he is inexperienced.
Turning to Chris Klute, Eric Wynalda told everyone in the American soccer community that Klute was a special talent with the ability to play at a high level, and Klute's first season in MLS confirmed this.
At a certain point, you have to play the players with the greatest potential to be able to compete against elite competition and just accept the outcome knowing that you played the players with the best qualities and physical gifts. There's nothing more that Klinsmann can do, and Klute is far too talented and fast to merely support because of the dearth of left back options.
The Colorado Rapids left back deserves more credit than that because skill and athleticism is more important than international experience, especially when someone like Fabian Johnson doesn't particularly excel at tracking back on defense, marking, or tackling (but he does excel as an attacking midfielder deployed as a winger).
Coach Tab Ramos is the primary backer of Shane O'Neill, and given Ramos' playing resume combined with his clear ability to judge talent and field good line-ups, O'Neill should be considered a serious starting center back option for the United States, especially given his excellent season in MLS playing with Chris Klute.
One of the main criticisms of using these new MLS defenders is the disruption of the chemistry of the American Back Four, but the reality is that O'Neill and Klute have good chemistry, whereas the American Back Four has constantly been changed and tweaked.
If Klinsmann is wise enough to not cut Klute, Yedlin, and O'Neill, the coach of the United States has a month to build chemistry between the three defenders while considering who the center back partner for O'Neill should be.
World Soccer Source has long supported Klute, Yedlin, O'Neill, and Andrew Farrell, and the primary reason for this writer's support of these players is that they have displayed over an entire season that they bring a combination of skill on the ball, speed, defensive ability, and youth that is greatly needed on the United States National Team.
There are no guarantees in a World Cup, and continuing to use Evans, Gonzalez, Besler, and Beasley doesn't ensure that the United States will have a strong enough defense to perform well against Germany, Portugal, and Ghana.
Five months is a long time before the World Cup, and CONCACAF experience isn't a vaccine against the nerves that will be felt in the USMNT's first game of the 2014 World Cup, which will be against a very technical and creative Ghana side that brings truly exceptional speed, strength, and agility found in players like Kevin-Prince Boateng, Sulley Muntari, Kwadwo Asamoah, and Asamoah Gyan.
Americans shouldn't underestimate Ghana, and the next group stage games against Portugal and Germany will also require the use of defenders with the tools to have a chance of competing and beating either national team.
A Back Four made up of Evans, Gonzalez, Besler, and Beasley won't cut it in the World Cup, but that doesn't mean that any of those players aren't solid professionals who have done a good job in World Cup qualifying.
If Yedlin and Klute start as the right back and left back respectively with O'Neill as one of the center backs , the USMNT has a variety of center backs who can partner with O'Neill such as Geoff Cameron, John Anthony Brooks, Michael Orozco, and Andrew Farrell.
If you support starting Cameron as the midfield destroyer half of the defensive midfield partnership with Michael Bradley, then starting Farrell, Brooks, or Orozco at center back makes more sense because all three bring a better combination of defensive ability, skill on the ball, and athleticism than Gonzalez, Besler, or Clarence Goodson display.
This new USMNT Back Four would look something like this:
YEDLIN, O'NEILL, BROOKS, KLUTE
OR
YEDLIN, OROZCO, O'NEILL, KLUTE
OR
YEDLIN, FARRELL, O'NEILL, KLUTE