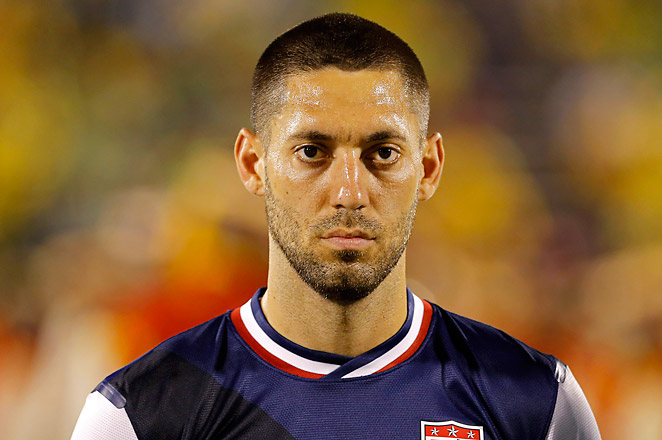 The current USMNT January Camp appears to be one of the very first times that Jürgen Klinsmann is bringing in young, new American talents and seeing how well they do, and he should be applauded for doing this. This camp should give many of the new American talents a chance to impress the coach of the United States.
Nevertheless, some American soccer fans really bought into the default United States Men's National Team XI from 2013 because they saw that everyone in the American soccer media just repeated it over and over so much so that suggesting that there might be a higher level at which the the United States could perform with a different starting line-up evoked mostly ridicule and accusations of being crazy or unrealistic.
A USMNT XI on XI match would provide a lot of answers about the abilities and readiness of many American players, and below is a look at the Standard Jürgen Klinsmann USMNT Starting XI along with a possible XI on XI match up:
For many Americans this USMNT Starting XI is the only legitimate one:
Tim HOWARD; Geoff CAMERON, Omar GONZALEZ, Matt BESLER, DaMarcus BEASLEY; Jermaine JONES, Michael BRADLEY; Landon DONOVAN, Clint DEMPSEY, Fabian JOHNSON; Jozy ALTIDORE.
*Note: Many observers, including this writer, believe Geoff Cameron should be the defensive midfield partner for Michael Bradley.
Looking at the Starting XI listed above, probably eight of the eleven starters are players of unquestionable talent and athletic ability who all have a track record of being able to perform well at the international level, even against elite national teams, but part of the Back Four (excluding Cameron) makes the entire Starting XI unsound and not good enough for World Cup success.
Furthermore, the Starting XI has two defensive midfielders who don't communicate well or play as a unit, and the Starting XI lacks a playmaker to not only link the defensive midfielders to the attack but also to foster quality possession and set up goals.
Therefore, the Starting XI is close to be a solid one, but it should be noted that many ex-players, soccer writers, soccer pundits, soccer fans, and coaches expressed concerns with not only the Back Four (Evans, Gonzalez, Besler, Beasley) but also in the poor quality of passing, the disharmony between Jones and Bradley, and the lack of a sufficient amount of goal-scoring opportunities.
These problems are not problems that only a few people noticed. Well-known names in American soccer expressed concerns about the ability of that Starting XI to succeed in Group G of the 2014 World Cup.
It's fair to question the validity of the USMNT XI that many people consider to be the strongest and the most experienced, so let us question it.
There's no Brad Evans, Kyle Beckerman, DaMarcus Beasley, Graham Zusi, Omar Gonzalez, or Matt Besler in this "Hypothetical USMNT XI on XI Thought Exercise."
Fabian Johnson also wasn't included in this thought exercise, but Johnson has certainly proven his abilities as a winger and less so as an outside back. He was excluded only to fit Benji Joya onto the hypothetical second team,
This is a glimpse at what sort of competition and match ups one could see by pitting one USMNT XI versus another USMNT XI, and there are no real conclusions that can be drawn from this thought exercise beyond just getting a look at all of the players that need to be tested against one another.
Many of these players are not Jürgen Klinsmann regulars or even popular players amongst much of the American soccer fan base, but the purpose here is to just look at the line-ups in one place and consider all of the useful information that could be garnered by seeing these 22 players face off against each other.
If these 22 players were to play each other in a match or scrimmage, American soccer fans could see how new or newish players stack up against proven veterans, and American soccer fans could get a sense of which players stand out from the crowd.
Furthermore, American soccer fans could consider which players could be fielded together to form a new United States Men's National Team Starting XI that showcases better technical ability, better ball movement, and more advanced and effective defending.
Here are the two teams:
First Team:
GK: Tim HOWARD
RB: DeAndre YEDLIN
CB: Andrew FARRELL
CB: Shane O'NEILL
LB: Chris KLUTE
DM: Geoff CAMERON
DM: Michael BRADLEY
RM: Landon DONOVAN
CAM: Benny FEILHABER
LM: Clint DEMPSEY
S: Jozy ALTIDORE
Formation (4-2-3-1):
HOWARD
YEDLIN FARRELL O'NEILL KLUTE
CAMERON BRADLEY
DONOVAN FEILHABER DEMPSEY
ALTIDORE
Second Team:
GK: Brad GUZAN
RB: Kofi SARKODIE
CB: Gale AGBOSSOUMONDE
CB: John Anthony BROOKS
LB: Greg GARZA
DM: Amobi OKUGO
RM: Benji JOYA
CAM: Mix DISKERUD
LM: Joe CORONA
S: Juan AGUDELO
S: Aron JÓHANNSSON
Formation (4-1-3-2)
GUZAN
SARKODIE AGBOSSOUMONDE BROOKS GARZA
OKUGO
JOYA DISKERUD CORONA
AGUDELO JÓHANNSSON
Conclusion:
No real conclusions can be drawn from a hypothetical match up that hasn't happened, but seeing the list of 22 names separated into two teams gives a sense of some of the new talent available to the United States Men's National Team.
Really testing out many of the new Americans talents is something that Jürgen Klinsmann hasn't done until this current January camp in Brazil.
Once again here are the First Team and the Second Team listed one on top of the other:
First Team
HOWARD; YEDLIN, FARRELL, O'NEILL, KLUTE; CAMERON, BRADLEY; DONOVAN, FEILHABER, DEMPSEY; ALTIDORE
Second Team
GUZAN; SARKODIE, AGBOSSOUMONDE, BROOKS, GARZA; OKUGO; JOYA, DISKERUD, CORONA; AGUDELO, JÓHANNSSON.