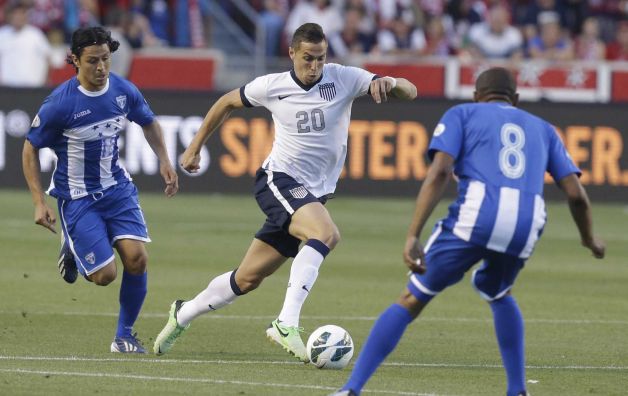 Jermaine Jones is too talented, too athletic, and too valuable to drop from the United States Men's National Team roster, but Jürgen Klinsmann needs to use the time before the 2014 World Cup to build up some strong chemistry between Geoff Cameron and Michael Bradley as a two-man defensive midfield partnership.
Jones' talent is undeniably, and he displays a level of size and athleticism that is impressive even by world football standards. Despite these realities, Cameron and Bradley seem to perform remarkable better as a two-man defensive midfield, even if they only started together in one game in this capacity.
Despite some criticism of the two defensive midfielders from the media, for this writer, Cameron performed quite well with Jones when the two started together in a World Cup qualifying lose to Costa Rica in September of 2013.
Many observers feel that Jones needs to always be the more stay at home defensive midfielder so that Bradley can be more involved in the attack, but Jones doesn't necessarily need to just hang back deeper when he plays, as he should also be allowed to pick and choose his opportunities to advance forward in the attack.
The problem with the Bradley and Jones partnership is that Jones often doesn't drop back to cover for Bradley when Bradley makes marauding runs, but Jones should still be able to make his own runs with the confidence that Bradley will cover for him defensively.
Bradley and Jones tend to both attack together leaving a hole behind them, or Bradley is too often having to provide all of the defensive coverage in front of the USMNT's Back Four instead of Bradley and Jones sharing this responsibility.
Starting Cameron with Bradley would likely produce a more organized and effective two-man defensive midfield where the two defensive midfielders provide excellent passing and quality defending as well as serving as dependable passing outlets for the United States' defenders to pass out of their own final third.
Omar Gonzalez and Matt Besler are likely Klinsmann's favored center back duo, but even if Cameron is a better center back than either player, Cameron is needed in the midfield where he can use his skill, his running, his passing, and his overall athletic ability to cover lots of ground in the midfield and all over the field.
Gonzalez and Besler may or may not be the best American center backs, but the United States should still use Cameron as something along the lines of a midfield destroyer with perhaps some two-man combination of Shane O'Neill, John Anthony Brooks, Michael Orozco, and even Andrew Farrell as the center backs.
Cameron isn't just valuable because he covers for Bradley and provides quality defending in the back of the American midfield, but he is also a very technical and smooth player who excels at spraying passes around the field with both feet in addition to facilitating quick one-to-two touch passing amongst his teammates. Cameron is something of an tall athletic specimen and an intimidating defensive midfielder, but he is also a player who is skilled enough on the ball to do much more than just play horizontal or back passes from the defensive midfielder role.
With Cameron and Bradley patrolling the back of the American midfield, Landon Donovan, Benny Feilhaber, Clint Dempsey, and Jozy Altidore have more license to aggressively attack and put defensive pressure on the opposition's defense, as opposed to being asked to constantly track way back on defense.
While Jones and Bradley are an intimidating and skilled two-man defensive midfield to be reckoned with, a partnership made up of Cameron and Bradley is a better one for the United States Men's National Team because of the better communication between the two players and because of the passing ability and skill on the ball that Cameron and Bradley bring to the national team.