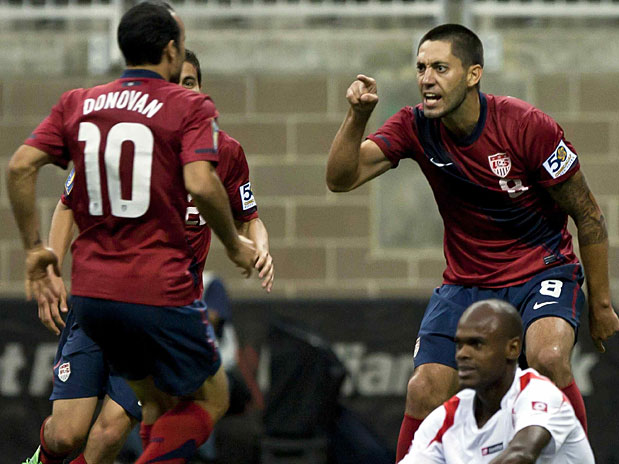 This is a roster prediction as opposed to a list of World Soccer Source's preferred USMNT 2014 World Cup roster.
World Soccer Source has decided to cast the cowrie shells and divine Jürgen Klinsmann's United States Men's National Team 23-man 2014 World Cup roster.
What Klinsmann says he will do and what he does are two different things, and the coach of the United States has frequently made line-up changes and seemingly totally changed his mind about players on the basis of one game; other players have remained fixtures on the roster for no apparent reason.
Finally, there is nothing about Klinsmann's tenure as coach to suggest that there is any way to be absolutely certain about his opinion of a player, with the exception of Jermaine Jones who is an excellent midfielder who starts every game whether he played well or poorly the previous game.
Five months before the selection of the 2014 United States Men's National Team's World Cup roster is a long time, and Klinsmann could change his mind about a number of players.
DISCLAIMER:
World Soccer Source's predictions are based on the opinion that Klinsmann has recognized the need to up the collective skill-level and athleticism of his squad, which was evidenced by the inclusion of players like Shane O'Neill, DeAndre Yedlin, Chris Klute, Benny Feilhaber, and Luis Gil in the January camp.
This belief is based on Klinsmann's comments about the Gold Cup and the World Cup qualifiers not being a very accurate indicator of the teams' ability to play in the World Cup.
Klinsmann said the following to U.S. Soccer:
"The level in the World Cup is two or three levels higher, and the reality is that the last two years of World Cup qualifying and the Gold Cup don't give you the real picture. The global picture is facing the strongest nations in the World Cup, and you need to be prepared. It's not easy to put a number on it, but it requires at least 30 to 40 percent more than what we have needed so far."
Klinsmann also said the following in regards to Benny Feilhaber, which makes this writer think that he may be changing his mind about the American playmaker:
"There is no doubt Benny is very talented," the US coach said. "What we are working on is having him be more consistent and having an impact on games for 90 minutes."
Without further ado, here is World Soccer Source's prediction of Jürgen Klinsmann's USA World Cup roster, and it may be totally wrong, partially wrong, or a close approximation:
GOALKEEPERS: Tim HOWARD, Brad GUZAN, Nick RIMANDO
DEFENDERS: Matt BESLER, Omar GONZALEZ, Shane O'NEILL, John Anthony BROOKS; Geoff CAMERON; Chris KLUTE, DeAndre YEDLIN, Eric LICHAJ.
-Fabian JOHNSON is listed as a midfielder, but he also plays as a left back and right back.
– Steve CHERUNDOLO will also likely be on the roster if he stays injury free before the World Cup.
– Greg GARZA could easily be selected as one of outside backs.
– Michael OROZCO could also be selected over Gonzalez.
– Timothy CHANDLER will be selected if Klinsmann decides that he's committed to the USMNT.
– Brad EVANS and DaMarcus BEASLEY continue to be shocking inclusions on the USMNT.
-Andrew FARRELL is likely more than ready for international play as an outside back or as a center back, but Klinsmann snubbed him from the January camp.
-Amobi OKUGO is in the same boat as Farrell. Okugo excels as a center back or as a defensive midfielder, but Klinsmann has never used him.
MIDFIELDERS: Michael BRADLEY, Jermaine JONES; Clint DEMPSEY, Landon DONOVAN, Fabian JOHNSON, Joe CORONA; Benny FEILHABER, Mix DISKERUD.
-Julian GREEN will be on the World Cup squad if he commits to the United States, but Green, who was born in Tampa, has spent his entire life since he was two years old in Germany where he learned his football. Green is something of a prodigy who is in the picture for Bayern Munich, and that has to be taken very seriously.
-Geoff CAMERON is listed as a defender, but he also excels as a defensive midfielder.
-Stuart HOLDEN if deemed fit to play would likely be selected, unless he was deemed too injury prone.
-Maurice EDU could possibly make his way back into the fold as defensive midfielder and center back.
-Graham ZUSI is held in high esteem by Klinsmann for his work rate and attitude, so he is a likely inclusion as well, but Corona, Diskerud, and Feilhaber might just be too good.
-Kyle BECKERMAN is a Klinsmann favorite, but the defensive midfielder is very, very slow and unathletic by international standards.
-Paul ARRIOLA is a dark horse candidate despite his youth.
-Benji JOYA would be a super dark horse candidate if he starts to see playing time for Santos Laguna.
-Freddy ADU is a figure that many Americans and non-Americans alike love to mock, but he is also a polarizing figure with plenty of supporters as evidenced by the number of his Twitter followers.
As a footballer, Adu's talent can't be question, and he excels at a position that few Americans can play well: trequartista. Adu's 1v1 abilities and his creative technical ability is perhaps the highest of any American player.
Other Americans just can't do the things that Adu can do, even against elite international soccer stars. Adu should be taken seriously because no other American can pass or play final balls like he can or take quality defenders off the dribble and accelerate away. Adu is also a dead ball specialist, and he knows how to score.
STRIKERS: Jozy ALTIDORE, Aron JÓHANNSSON, Juan AGUDELO, Terrence BOYD.
-Herculez GOMEZ is a very capable striker who could easily be selected over Boyd or possibly Agudelo.
-Eddie JOHNSON has been a major part of the USMNT picture, and his skill, speed, experience, aerial ability, and athleticism might make him ahead of Agudelo or Boyd in the pecking order in Klinsmann's eyes.
-Mario RODRIGUEZ is another totally unlikely roster selection unless he starts playing for Borussia Mönchengladbach's senior squad.
-Tony TAYLOR is another American striker playing in Europe with almost no chance of being selected by Klinsmann, but his name merits mentioning because anything could happen with the striker pool.
The Balance of the Roster:
-Despite the amount of players that can play multiple positions outlined below by position, this roster (officially) contains three goalkeepers, four center backs, three outside backs, 1 outside back/center back/defensive midfielder, 3 defensive midfielders, 5 attacking midfielders (including three playmakers), and four first strikers.
– 3 Goalkeepers: Howard, Guzan, Rimando
– 5 Center Backs: Besler, Gonzalez, Cameron, O'Neill, Brooks
-6 Outside Backs: Klute, Yedlin, Lichaj, Johnson, Cameron, O'Neill
-4 Defensive Midfielders: Bradley, Jones, Cameron, O'Neill
-3 Playmakers: Feilhaber, Diskerud, Corona
-6 Attacking Midfielders: Dempsey, Donovan, Feilhaber, Diskerud, Corona, Johnson
-4 Wingers/Outside Midfielders: Donovan, Dempsey Johnson, Corona
-4 First Strikers: Altidore, Jóhannsson, Agudelo, Boyd
-5 Second Strikers: Dempsey, Donovan, Jóhannsson, Agudelo, Corona
Once again, here is World Soccer Source's Prediction of the 23-man USMNT World Cup roster five months from now:
GK: Howard, Guzan, Rimando.
D: Besler, Gonzalez, O'Neill, Brooks, Cameron, Lichaj, Klute, Yedlin.
MF: Bradley, Jones, Dempsey, Donovan, F. Johnson, Feilhaber, Corona, Diskerud.
S: Altidore, Jóhannsson, Agudelo, Boyd.