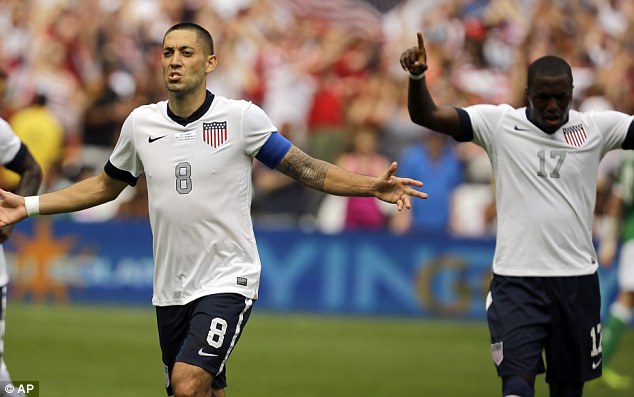 In World Soccer Source's previous article, this writer proposed a United States Men's National Team Starting XI that this writer believes can improve the overall quality of the United States and make the USMNT more competitive in the World Cup, but this article attempts to predict a more-likely Starting XI, even if some of the picks aren't players who have been Jürgen Klinsmann regulars.
The philosophy behind this Starting XI prediction is that Klinsmann will make some adjustments to better address the reality of the skill-level of the United States' opponents.
Here is World Soccer Source's prediction of a USA XI that Klinsmann could possibly field for the 2014 World Cup:
GOALKEEPER: Tim HOWARD (Everton)
The customary caveat is that Tim Howard and Brad Guzan are probably equals as goalkeepers, but Howard remains the first-choice option and the default option because he hasn't done anything to warrant losing his starting spot. Howard has a history of saving the United States from losing and keeping the United States in the game with what Ray Hudson calls "jungle cat quickness."
RIGHT BACK: Fabian JOHNSON (Hoffenheim)
Fabian Johnson is two-footed, and he's played as a right back for the United States before. The assumption with the logic of using Johnson as a right back is that Geoff Cameron's skill set and athleticism is needed in the center of the defense and that, by the time the World Cup rolls around, Chris Klute will be ready to be the starting left back.
CENTER BACK: Shane O'NEILL (Colorado Rapids)
Shane O'Neill is a talented up and comer whose inclusion in the January camp indicates that Klinsmann rates the 20-year-old center back. For this writer, O'Neill will outplay both Omar Gonzalez and Matt Besler and win Klinsmann over by the time of the World Cup. O'Neill is a more complete footballer than Gonzalez and Besler, and O'Neill's defensive instincts and fundamentals are first rate. O'Neill has a better combination of lateral quickness, speed, and two-footed skill than Gonzalez and Besler.
CENTER BACK: Geoff CAMERON (Stoke City)
Geoff Cameron is playing against better competition than Gonzalez and Besler, and Cameron is quite simply a much better soccer player. Cameron also brings more intensity and athleticism than the default center back duo of Gonzalez and Besler, and when the prospect of facing Ghana, Portugal, and Germany really kicks in, Klinsmann will likely take his chances with a center back with Cameron's defensive and technical skills along with his physical gifts, which have been routinely tested in a top European league.
LEFT BACK: Chris KLUTE (Colorado Rapids)
Left back is a problem spot for the United States, and Chris Klute is a good man-marker with incredible speed. When it's time for the World Cup, Klute's ability to storm up and down the sideline with the two-footed skill to defend and attack elite athletes may possibly earn him the World Cup start. Klute is considered inexperienced and not ready by many, but he is just the type of player that improves the United States' ability to compete with elite opponents.
DEFENSIVE MIDFIELDER: Jermaine JONES (Schalke)
If Jermaine Jones drops back when Michael Bradley attacks and if Michael Bradley drops back with Jermaine Jones attacks, then this two-man defensive midfield is really one that brings a lot of intimidation, a lot of running endurance, a lot of speed, and a lot of technical ability by defensive midfield standards. Jones and Bradley aren't Arturo Vidal, Paul Pogba, Paulinho, Luiz Gustavo, or Blaise Matuidi, but Jones and Bradley are defensive midfielders that invoke fear.
BOX-TO-BOX MIDFIELDER: Michael BRADLEY (Toronto FC)
Michael Bradley is a smooth passer, a tireless running, a fairly fast player, and a defensive force to be reckoned with, but his ability to seize goal-scoring opportunities or play final balls still isn't on par with players like Vidal, Pogba, Paulinho, and Ramires, no matter how unfair those comparisons are. That's the next level for Bradley, and if Bradley can show more ability and willingness to play final balls and look to hit accurate shots when the opportunities present themselves or when he creates the opportunities for himself, then he will have reached that next level. Bradley is a formidable central midfielder by European and international standards that also excels as a dead ball specialist from corner kicks, and it's important to remember that Roma did not want Bradley to leave and that famous and excellent European club teams likely wanted him. Calling Bradley technically better with the ball than Dempsey and Donovan is a big stretch, but he is a technically-skilled midfielder that is close to being a complete midfielder.
RIGHT ATTACKING MIDFIELDER: Landon DONOVAN (LA Galaxy)
Landon Donovan was essentially the first American soccer player to be considered truly talented by global audiences, but Donovan perhaps lacked some of the ruthless competitive mentality that he needed to combat critics who labeled him as an American player that couldn't cut it in Europe. When fired up, Donovan is an effective attacking midfielder who excels either as a winger or as a second striker.
CENTRAL ATTACKING MIDFIELDER: Benny FEILHABER (Sporting Kansas City)
Benny Feilhaber should really be the default American playmaker unless some other American playmaker outplays him in the central attacking midfielder role. Feilhaber has shown what he can do against top opponents, and with two defensive midfielders behind him, Feilhaber is the logical choice to orchestrate the passing and attacking play of the United States, and Jozy Altidore, Landon Donovan, and Clint Dempsey need Feilhaber's creativity and passing ability to set them up to score on a consistent basis. Feilhaber's verbal outbursts on the field should be thought of as evidence of the fire with which he plays as opposed to whinning.
LEFT ATTACKING MIDFIELDER: Clint DEMPSEY (Seattle Sounders/Fulham)
Clint Dempsey hasn't really been misused as a second striker, but he has been misused as a second striker who is expected to provide the final balls and playmaking for the United States instead of using him as a strike partner for a first striker with a playmaker behind them. Dempsey excels out left where he is free to go where he sees fit and combine with his teammates to create scoring chances for himself and others. The left attacking midfielder role is a good place for Dempsey to have the freedom to play his game.
STRIKER: Jozy ALTIDORE (Sunderland)
Despite Jozy Altidore's lack of goals for a pedestrian Sunderland side, Altidore's two years spent in Holland really refined his technical ability and made his technique closer to his incredible physique and athleticism. Altidore has shown that he is a more clinical finisher with both feet and his head, and Altidore has become a more aggressive and effective striker. Juan Agudelo and Aron Jóhannsson would have no problem starting for the U.S. in the World Cup, but Altidore still deserves the start.
USA XI (4-2-3-1):
HOWARD; JOHNSON, O'NEILL, CAMERON, KLUTE; JONES, BRADLEY; DONOVAN, FEILHABER, DEMPSEY; ALTIDORE.
How the USA could line-up:
HOWARD
JOHNSON O'NEILL CAMERON KLUTE
JONES BRADLEY
DONOVAN FEILHABER DEMPSEY
ALTIDORE