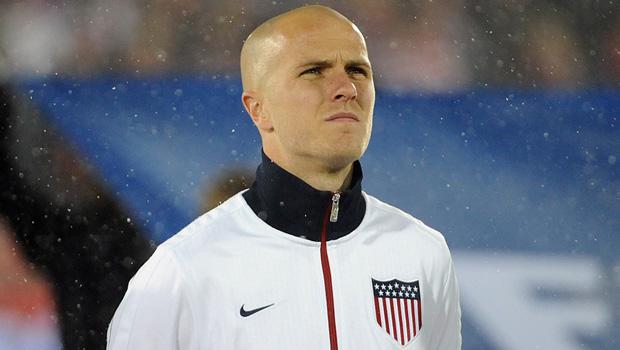 Who should start and who will start are obviously two different things, but this is a World Soccer Source proposal for a 2014 World Cup Starting XI for the United States Men's National Team.
This Starting XI attempts to propose an American line-up that is based on a  Front Six compressed of proven players with a proven goalkeeper – but with a totally new Back Four.
There are no guarantees in soccer, and the 2014 World Cup won't be a tournament where the United States can attempt to control the outcome by just fielding a Starting XI that resembles the line-ups seen in World Cup qualifying.
Jürgen Klinsmann won't field this Starting XI, but it is an attempt to support a set-up that can strengthen the United States' defense with an inexperienced Back Four while using a logical and balanced Front Six made up of: Geoff Cameron, Michael Bradley; Landon Donovan, Benny Feilhaber, Clint Dempsey; Juan Agudelo.
Here is World Soccer Source's 2014 World Cup USMNT XI Proposal:
GOALKEEPER: Tim HOWARD (Everton)
Tim Howard and Brad Guzan are probably goalkeeping equals, but Howard has made so many seemingly impossible saves over the years for the United States that Howard should be the default U.S. keeper.
RIGHT BACK: DeAndre YEDLIN (Seattle Sounders)
DeAndre Yedlin is a bit of a gamble, but Yedlin is a very exciting prospect who played a full 2013 MLS season where he impressed almost everyone following MLS.
A two-way right back with the youth of Yedlin just might be the United States' best option at right back in the 2014 World Cup. Yedlin is a better defender than he gets credit for, and his ability to tackle, keep pace with attackers, and bomb up the sideline in the attack is something the United States needs. The young right back has the technical ability to dribble and pass out of trouble, and it's time for the United States to let Steve Cherundolo's successor take the reins to avoid the risk of using a now injury prone Cherundolo.
CENTER BACK: Andrew FARRELL (New England Revolution)
Andrew Farrell is a better defender than DeAndre Yedlin while being just as fast and about as technically-skilled, but playing Farrell at his natural center back spot allows Farrell to help cover for Yedlin on the right side of the defense. In a World Cup with so many attacking threats, having a technical center back with blazing speed and excellent tackling and marking is a smart move for a national team that will face serious attacking threats. Farrell is inexperienced, but it's necessary to field a technically-skilled and defensively-skilled center back that can keep pace with the speed of players like Cristiano Ronaldo.
CENTER BACK: Shane O'NEILL (Colorado Rapids)
Shane O'Neill is only 20 years old, but his positional sense, skill on the ball, overall defensive ability, and good size and athleticism will be sorely needed in Group G, which is one of the Groups of Death along with Group B. O'Neill was called into the January camp, and O'Neill appears to be a more complete center back package than Omar Gonzalez and Matt Besler.
LEFT BACK: Chris KLUTE (Colorado Rapids)
The United States could start Eric Lichaj, Timothy Chandler, or Fabian Johnson at left back, but Chris Klute looks way too fast and skilled of a defender to not use to track World Cup attackers and storm down the sideline in the attack. Klute is a two-footed outside back who excels at 1v1 defending, tracking attackers down, and delivering crucial tackles that are clean; the Colorado Rapids left back is also an excellent crosser of the ball, and he has knack for setting his teammates up to score. Klute has too much athletic ability and skill to not start in the World Cup against some scary opponents. His inexperience may scare many USMNT fans, but with Fabian Johnson and Edgar Castillo being wingers, Klute is the left back with the tools to be best prepared to perform at the World Cup. The one caveat is that both Chandler and Lichaj could hold their own at left back at the World Cup.
DEFENSIVE MIDFIELDER: Geoff CAMERON (Stoke City)
For a long time, Geoff Cameron's size, speed, tackling, and technical ability seemed like the answer to the United States' problems in the center of the defense, but all of these qualities can be showcased more as a defensive midfielder, which is a key role to protecting the center of the American defense. With Jermaine Jones not communicating well with Michael Bradley, Cameron is the logical choice to play the more stay at home defensive midfielder, which actually requires a lot of running, technical skill, and defensive savvy.
BOX-TO-BOX MIDFIELDER: Michael BRADLEY (Toronto FC)
Michael Bradley has developed into a quality box-to-box midfielder over time, and it was a shame to see him leave such a storied and elite club like AS Roma. Nevertheless, Bradley and Cameron form a nice partnership, and with Cameron covering for Bradley when Bradley makes attacking forays, the United States has a formidable two-man defensive midfield that brings a level of athleticism, intensity, and technical ability that even top national teams have to respect, even if they can still break it down.
RIGHT ATTACKING MIDFIELDER: Landon DONOVAN (LA Galaxy)
Landon Donovan really asserted himself in the 2010 World Cup where he demonstrated more fire and toughness against non-CONCACAF opponents, and he's too talented and too fast not to be considered the default right winger or right attacking midfielder for the 2014 World Cup. Donovan is still a very fast player that can disrupt the defensive shape of opponents by running at them at pace or with combination play. In the 2010 World Cup, Donovan explained his goal against Slovenia where he had no angle by saying that he decided to strike his near post shot straight at the keeper's head. Of all of Donovan's goals, that was the most ruthless one. This sort of mentality will be needed in Group G and perhaps beyond.
CENTRAL ATTACKING MIDFIELDER: Benny FEILHABER (Sporting Kansas City)
Benny Feilhaber (along with Freddy Adu and possibly Mix Diskerud) is the one American playmaker whose ability to perform and create against elite opponents isn't questioned, even if his ability to perform for 90 minutes is. Playing Feilhaber as a central attacking midfielder between Donovan and Dempsey and with Cameron and Bradley deeper seems like a no-brainer that should have been used a long time ago by Klinsmann. Feilhaber can help the United States to keep possession and create scoring chances, and without him or some other playmaker, the United States will struggle to break down its Group G opponents and keep possession.
LEFT ATTACKING MIDFIELDER: Clint DEMPSEY (Seattle Sounders/Fulham)
Clint Dempsey is the obvious choice to start as the left attacking midfielder, and he is the main attacking and scoring threat for opposing teams. His skill, brazen play, irreverence towards famous teams and players, and his burning desire to win should help the USMNT to produce quality soccer in addition to drawing defenders away from other American attacking players. Both Dempsey and Donovan will be the focus of the United States' opponents defensive pressure, and this should allow space for Feilhaber to receive passes that he can turn into final balls for his teammates in the final third.
STRIKER: Juan AGUDELO (Stoke City/Utrecht)
With all the talk about Jozy Altidore or Aron Jóhannsson or both as the starting strikers for the U.S. national team, Juan Agudelo might be the most dangerous, the most athletic, the most skilled, and the craftiest of the bunch.
Even as a teenager, Agudelo showed that he was capable of scoring at the international level outside of CONCACAF, and he showed that his involvement in USMNT games created more of a scoring threat. Agudelo simply is more capable and willing to try creative and difficult things and execute them than other American strikers are.
Agudelo has a certain quality that allows him to disrupt defenses and open up games like no other American striker can, and Agudelo is a striker whose skill, size, and speed has to be taken seriously.
In a tournament when just one play in the blink of an eye can change the outcome of games, Agudelo is the American striker who poses the biggest threat to opponents by not only forcing them to mark him and chase him down but also because he frees up Dempsey and Donovan to score.
The ability of Donovan, Dempsey, and Agudelo to draw defenders to them gives the United States three attackers that can each draw more than one defender toward them when they receive the ball in the final third or the attacking half.
The use of Agudelo forces opponents to not just focus on Donovan and Dempsey, and Agudelo is better at taking the game to the opponent than either Altidore or Jóhannsson are.
USMNT XI (4-2-3-1):
HOWARD; YEDLIN, FARRELL, O'NEILL, KLUTE; CAMERON, BRADLEY; DONOVAN, FEILHABER, DEMPSEY; AGUDELO.
How they line up:
HOWARD
YEDLIN FARRELL O'NEILL KLUTE
CAMERON BRADLEY
DONOVAN FEILHABER DEMPSEY
AGUDELO