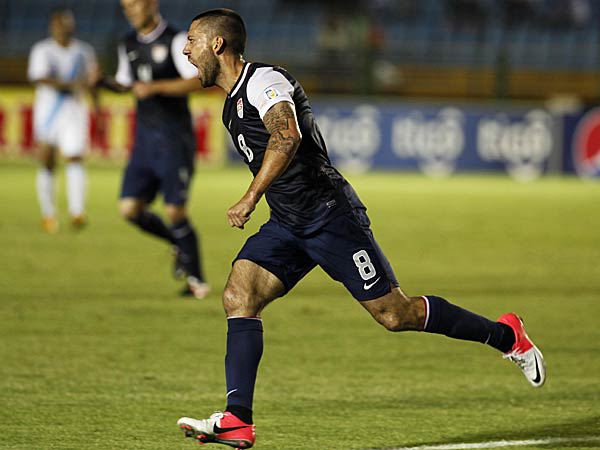 By: Colin Reese 
Change is scary, and risk is scary.
But, that USA loss to Ukraine had to be alarming for American soccer fans because the first Ukrainian goal wasn't some careless mistake made in the back – Ukraine just played a nonchalant chip over the American Back Four like it was nothing.
Many American soccer writers and many American soccer fans are of the opinion that starting a USA Back Four consisting of Brad Evans, Omar Gonzalez, Matt Besler, and DaMarcus Beasley is somehow a prudent and sound decision that will minimize risk and use an experienced group of players, but these players are not in fact experienced.
Compared to the skill-level of Ghana, Portugal, and Germany, these four defenders have no real experience defending that caliber of players or teams, and so the American Back Four and the American Front Six will need to change.
The type of change needed is seen by many observers as reckless and experimental use of unproven players who are all hype, but the best thing Jürgen Klinsmann can do at this point is play the players who display the most technical ability and athleticism, regardless of their experience.
There are no guarantees in the World Cup, and starting the Back Four identified above is in fact a willful disregard for the talent level and danger of Ghana, Portugal, and Germany.
For this writer, the fundamental problem with Klinsmann's coaching of the United States Men's National Team has been his insistence on freezing out the American players who are actually the best because he believes that they need to improve certain aspects of their play, but he overlooks the more important fact, which is that those players are his best options.
Just consider how Klinsmann has never started a Front Six comprised of Jermaine Jones, Michael Bradley, Landon Donovan, Benny Feilhaber, Clint Dempsey, and Jozy Altidore.
What possible excuse could the coach of the United States have for doing this?
Furthermore, his insistence on never starting Eric Lichaj with Fabian Johnson as the outside backs is mind-boggling because they are the obvious outside back choices, and Klinsmann has nothing to show for his reluctance to start Lichaj with Johnson.
However, you want to look at it, Klinsmann's rosters and Starting XI decisions have been unbelievably inexplicable for an ex-player with Klinsmann's resume.
The player selections for the USA roster are the most important issue for the success of American soccer in the 2014 World Cup because the players are the ones who can actual affect the outcome and quality of the games, as opposed to the coach who can just sit and watch with the mere ability to make three substitutions.
Once the roster is filled with unqualified players who play an inferior, ineffective, and uninspired brand of soccer with the exception of players like Clint Dempsey, Landon Donovan, Michael Bradley, Tim Howard, Jozy Altidore, and Geoff Cameron, three substations can't correct the major problem, which is the inability to keep possession and produce quality soccer against high-level opponents.
Real success in the 2014 World Cup for the United States Men's National Team  will be winning while displaying that the level of American soccer has improved, and trotting out several of the players that Klinsmann has been keen to use won't be effective against Ghana, Portugal, and Germany.
Real change involves actually changing something, and the United States must call up not only quality footballers that have proven themselves in the past but Klinsmann has refused to use but it will also have to call up young or new players that have displayed the type of ability and athleticism that translates to the international level.
If the United States won't use players that can keep possession with players like Bradley, Dempsey, Donovan, and Altidore, then there's no point in using many of Klinsmann's less-skilled regulars that Americans have grown accustomed to seeing.
While Dempsey, Donovan, Bradley, and Altidore are quality players, the United States Men's National Team is not really very good by any real impressive international standard.
There is a Grand Canyon of a gap between the United States and the likes of France, Germany, Spain, Italy, Argentina, Holland, Chile, and Brazil, and the United States must throw many of the young players into the deep end that is the World Cup roster because they at least are capable of competing with better national teams.
The MLS players there are sub par by international standards won't be able to keep up with the pace of play or the quality of play in the World Cup, and this means that Klinsmann needs to take his best proven players and combine them with the best new or young talents that the United States has to offer.
This means incorporating proven international performers like Benny Feilhaber with new American talents like Chris Klute, DeAndre Yedlin, and Benji Joya.
There is no option, and now without further ado is the 23-man USA roster than Klinsmann should select for the 2014 World Cup:
GOALKEEPERS: Tim HOWARD, Brad GUZAN, Nick RIMANDO.
CENTER BACKS: Geoff CAMERON, Michael OROZCO, Shane O'NEILL, Andrew FARRELL.
OUTSIDE BACKS: DeAndre YEDLIN, Chris KLUTE. Kofi SARKODIE, Greg GARZA.
DEFENSIVE MIDFIELDERS: Michael BRADLEY, Jermaine JONES, Maurice EDU.
ATTACKING MIDFIELDERS: Clint DEMPSEY, Landon DONOVAN, Benny FEILHABER, Joe Benny CORONA, Mix DISKERUD, Benji JOYA.
STRIKERS: Juan AGUDELO, Jozy ALTIDORE, Aron JÓHANNSSON.
USA Starting XI Depth Chart:
GOALKEEPER
FIRST CHOICE: HOWARD
SECOND CHOICE: GUZAN
RIGHT BACK
FIRST CHOICE: YEDLIN
SECOND CHOICE: FARRELL
CENTER BACKS
FIRST CHOICES: OROZCO, CAMERON
SECOND CHOICE: FARRELL/EDU, O'NEILL
LEFT BACK
FIRST CHOICE: KLUTE
SECOND CHOICE: GARZA
DEFENSIVE MIDFIELDER
FIRST CHOICE: BRADLEY
SECOND CHOICE: CAMERON
BOX-TO-BOX MIDFIELDER
FIRST CHOICE: JOYA
SECOND CHOICE: BRADLEY
RIGHT ATTACKING MIDFIELDER
FIRST CHOICE: CORONA
SECOND CHOICE: DONOVAN
CENTRAL ATTACKING MIDFIELDER
FIRST CHOICE: FEILHABER
SECOND CHOICE: CORONA
LEFT ATTACKING MIDFIELDER
FIRST CHOICE: DEMPSEY
SECOND CHOICE: CORONA
STRIKER
FIRST CHOICE: AGUDELO
SECOND CHOICE: ALTIDORE
The World Soccer Source USA XI for the 2014 World Cup:
HOWARD; YEDLIN, OROZCO, CAMERON, KLUTE; BRADLEY, JOYA; CORONA, FEILHABER, DEMPSEY; AGUDELO.