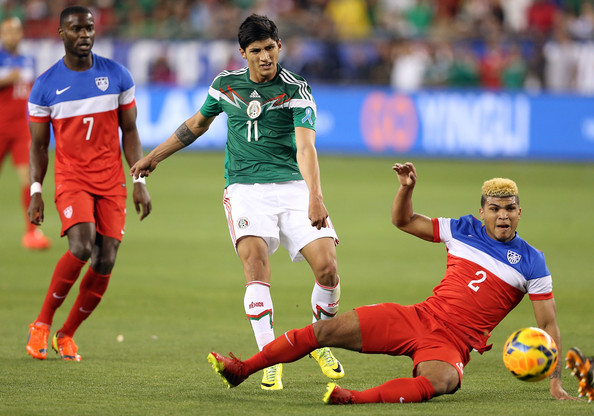 By: COLIN REESE
Against Mexico, DeAndre Yedlin made his case for the starting right back spot for the USA World Cup team. Yedlin's touch, passing, recovery speed, and bombing runs down the sideline were too impressive to ignore. A right back with that ability to track attackers and attack himself displaying excellent speed and electric speed is something the United States needs starting in the World Cup.
Maurice Edu showed how his combination of defending, speed, strength, and technical ability often go underappreciated. A player that can defend speedy and tricky attackers as a center back or as a defensive midfielder is something that this USMNT needs in the World Cup.
Kyle Beckerman is a good enough player, but Edu's ability to keep pace with attackers and defend them combined with solid technical ability make him more useful and effective in a World Cup against Ghana, Portugal, and Germany.
Center Backs like Geoff Cameron and Maurice Edu are exactly what the USA needs, even if Matt Besler is a fairly solid option by American standards, except when compared to past USMNT center backs like Eddie Pope and Jay DeMerit.
Graham Zusi does seem to continue to improve. This writer views him as a technically-sound player that is much better than the majority of the attacking midfielders that the United States had in the past, and although Zusi's game is too heavily based on crossing and long balls, there was a noticeable transition away from this style of play against Mexico where Zusi played quite well.
The only question about Zusi is whether or not he is better than Joe Corona and Benny Feilhaber, and for this writer, the latter two display a clear superiority in terms of technical ability, creativity, the ability to play quicker, and the ability to see the game unfolding quicker.
Nevertheless, Zusi played well last night, and Zusi does play with a lot of fire and conviction; Zusi is definitely a competitor with useful skills and an improving style of play based on one-to-two touch passing.
Julian Green was impressive last night. He shouldn't start over Clint Dempsey, Joe Corona, or Landon Donovan on either of the wings, but he's certainly capable of playing well on the international level with players like Dempsey and Donovan.
Green uses both feet interchangeably, and he uses his speed and quickness not only to try to take defenders off the dribble but also to play quick combination passes with Dempsey and Donovan.
Green is an internationally-ready player who brings lots of qualities that the USA can use in the World Cup such as the ability to get into scoring positions and force defenders to foul him in and around the penalty box.
Although Benny Feilhaber unfortunately seems unlikely to get a World Cup roster spot, if Joe Corona is called up to the USMNT's World Cup squad, then it will be interesting to see how players like Dempsey, Donovan, Corona, and Green play together, and what the best combination is.
This writer hopes to see Benny Feilhaber on the roster, but whether he is or isn't, there are some interesting combinations of attacking midfielders to play in a more advanced role than Michael Bradley that need to be looked it and tested in camp.
Corona is ready to play as the USA's Number 10 in the 2014 World Cup, whether or not Feilhaber is left off the roster. Corona is a very technical and creative player that can play on either wing or as the playmaker in between Donovan and Dempsey.
Joe Corona, Benny Feilhaber, and Clint Dempsey would be a skilled line of three attacking midfielders to deploy in front of one or two defensive midfielders, and, based on what this writer saw against Mexico and based on his reputation with Bayern Munich, Julian Green has the skill and speed to be able to sub in at either wing in the World Cup.
After the tie with Mexico, Yedlin deserves the starting right back spot for the United States, and Edu should be on the roster to play as a defensive midfielder or as a center back.
Based on the poor play of the American defense for some time now, Michael Orozco deserves a World Cup roster spot, and Jürgen Klinsmann should find the best way to use both Geoff Cameron and Maurice Edu.
The United States would benefit from either starting Geoff Cameron or Maurice Edu with Michael Orozco as the center backs with the unused center back playing the defensive midfielder role to allow Michael Bradley to play a box-to-box midfielder role as a position that could better be described as a central midfielder than as a defensive midfielder.
Bradley is not a playmaker, central attacking midfielder, or a Number 10, but he is a central midfielder that is very two-way and has a great ability to use his speed and running endurance to track down attackers or make marauding runs deep into the attack.
In the run up to the roster announcement for the 30-man World Cup Roster Try-Out Camp, the United States seems to have a potentially strong line-up with Tim Howard in goal, DeAndre Yedlin at right back, Geoff Cameron or Maurice Edu at center back with Michael Orozco, Michael Bradley as a central midfielder with either Cameron or Edu, Joe Corona or Landon Donovan on the right wing, Benny Feilhaber as the central attacking midfielder, Clint Dempsey as the left wing, and Jozy Altidore, Aron Jóhannsson, or Juan Agudelo as the striker. Plus, Julian Green is a solid and dangerous option to bring in off the bench.
It's unfortunate that neither Chris Klute or Greg Garza have been given a chance to play left back for the United States yet, but both players are surely better defensively and in the attack than DaMarcus Beasley.
Michael Parkhurst looked solid at left back against Mexico as he always does at any defensive spot, but he seems better suited to play at his natural position, center back. Maybe the United States needs to see Parkhurst at center back with Orozco, Edu, or Cameron before the World Cup starts.
If the right combination of players are used, Team USA could be a solid and technical squad in the World Cup, and new arrivals like Yedlin and Green are ready; attacking midfielders like Feilhaber and Corona are too talented to not be taken to the World Cup, and likewise Juan Agudelo is just too talented, too quick, too creative, and too complete of a striker to not take to the World Cup.