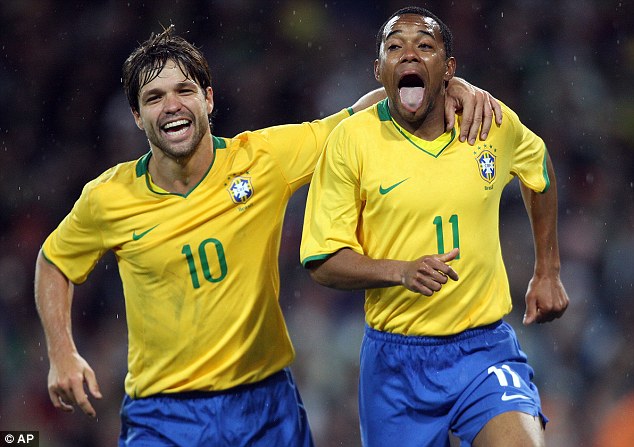 By: COLIN REESE
Oscar of Chelsea – dubbed OSCRAQUE by Neymar – is the starting meia-armador for the Seleção.
Although Neymar has been given the Number 10 jersey for Brazil, Oscar is playing the Number 10 role as the meia-armador, which is the Brazilian Portuguese term for the Number 10 or playmaker role.
In the United States, this position is called the central attacking midfielder, but regardless of the position's name, there is a silent race going on between Ronaldinho and Kaká to be Oscar's back-up, but is there another contender?
Felipão has said that he would call Ronaldinho or Kaká but not both, and either player would be extremely useful and effective for the Seleção. Many people have written both players off as past their prime or too old or lacking the pace that they used to possess, but both players have shown that they aren't just serviceable playmakers but excellent playmakers.
It's possible that neither will make Brazil's World Cup roster, but write off these two footballing masters at your own peril.
Ronaldinho and Kaká play differently and have different ways off orchestrating an attack, but both players are still more talented and effective that most players in world football. It would be a mistake to believe that Ronaldinho and Kaká aren't elite footballers with the skill and vision to destroy opponents.
There is another Brazilian playmaker who is a very experienced and lethal Number 10 that has seen little time with the Seleção because of Ronaldinho and Kaká, and this player is of course Diego Ribas da Cunha, better known as Diego.
While Diego's stunning wonderstrike with the outside of his foot from distance against Barcelona in the Champions League brought Diego back into the news, Diego has always been a magician of a playmaker for all of the clubs that he's played for, and he's played for Brazil as well.
Diego isn't really being considered for a World Cup roster spot by Felipão, but perhaps he should be. By and large, Brazilians don't seem to be big proponents of Diego being placed on the World Cup roster, and in fact, it's not even an idea that's discussed, but it's doubtful that any Brazilian would question Diego's ability or club resume.
But, should Diego be considered for Brazil's World Cup roster, so Oscar has a back-up?
No matter how unlikely Diego's inclusion in the Seleção is, Diego is without a doubt one of the world's best Number 10s, and Diego has an outstanding club resume and level of experience, in addition to being a younger player than both Kaká and Ronaldinho.
The counter argument to the inclusion of Diego is that Ronaldinho continues to show how he still might be the most-skilled player in the world, and he has been delivering in big games. Additionally, Kaká has shown lots of energy, pace, skill, goal-scoring ability, and vision for Milan, so Kaká like Ronaldinho has a strong case for the World Cup roster.
If Diego were considered for the Seleção's World Cup roster, Brazil would be getting a true Number 10 that has no problem meshing with his Brazilian teammates and playing just like they like to play.
Diego can be dismissed by critics and skeptics but Diego is a magician will the skill, workrate, and vision to play as the meia-armador for Brazil. No one is saying that Diego is better than Ronaldinho or Kaká, but he is a phenomenal and world-class playmaker in his own right
If Felipão has reservations about Kaká or Ronaldinho, which would be injuries for Kaká and a perceived lack of workrate from Ronaldinho, then Diego is more than worthy of being considered for the Brazil roster.
While Ronaldinho is likely the most-talented footballer ever and Kaká uses a combination of electric pace, outstanding passing, and excellent scoring ability with both feet, Diego shouldn't be dismissed as an unqualified pick, if both Kaká and Ronaldinho are passed over.
For this writer, Ronaldinho is too good to be left off out of a World Cup in Brazil where he'll play inspired, but Diego deserves recognition for his world-class playmaking abilities and his ample experience.
Whether or not Diego is better than both Kaká and Ronaldinho presently, Diego is a master in his own right and one of world football's only Number 10s.
Diego shouldn't be passed over too quickly when Felipão decides his World Cup roster, which he has likely already mostly picked in his own mind, and Diego is a meia-armador that not only brings the talents associated with his position but he also brings a high workrate and good high pressing.
Diego's wondergoal against Barcelona isn't the reason that he might deserve a Seleção roster spot, but his ability to play Oscar's position very well is.
In a world football landscape without many Number 10s and with Felipão and others seemingly having concerns about Kaká and Ronaldinho, Diego is a legendary playmaker that any national team would love to have, and he should at the very least be considered, even if Ronaldinho is a better playmaker when playing inspired and with a lot of energy.
Oscar is the starter, but Ronaldinho, Kaká, and Diego are all world-class playmakers that can be his back-up. Without a doubt, Diego can play well against anyone, and the big stage won't affect Diego.