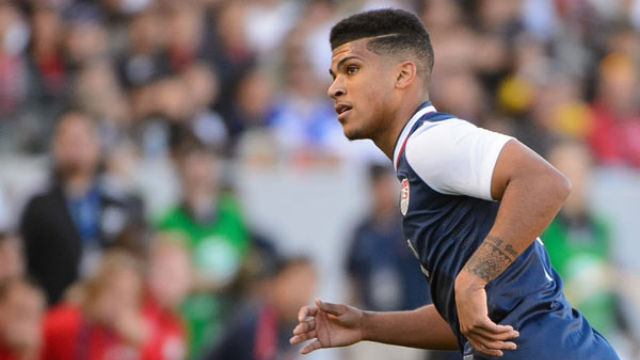 By: COLIN REESE
DeAndre Yedlin has long been regarded as the best right back prospect in the American player pool, and his rookie season in MLS in 2013, in addition to his MLS games this season, have proven him to be the very best American right back.
Although many people have commented on Yedlin's improved defending, Yedlin's ability to bomb up and down the sideline was never questioned, and his two-footed technical ability was never questioned.
After seeing Yedlin play very well against Mexico, it has become clear that a right back with his ability to track down attackers, attack himself, pass and dribble out of trouble, force attackers out wide, and tackle has to be considered the starting right back for the United States Men's National Team.
This gives the United States a right flank that can be better equipped to not get burned by the opposition, and it allows Geoff Cameron to be used as a center back or as a midfield destroyer.
For this writer, both Maurice Edu and Geoff Cameron likely need to start, and with Yedlin at right back, the question should be whether to use Cameron or Edu as the midfield destroyer with the other at center back, so that Michael Bradley can play as a box-to-box midfielder.
Matt Besler will likely be Jürgen Klinsmann's starting left center back, but perhaps a Orozco-Cameron or Edu-Orozco center back pairing would be better equipped to handle the attackers in the World Cup.
Orozco is more technical and defensively-sound than Edu, but Edu is a solid defender with a lot of speed, strength, and quickness, in addition to underrated technical ability.
Edu and Orozco at center back is a center back duo that brings good defending, lots of speed and quickness, and better technical ability than the Omar Gonzalez and Matt Besler pairing brings.
Even Clarence Goodson isn't an improvement over Gonzalez and Besler, but Michael Parkhurst is a better center back than all three; Parkhurst should be considered and tested at center back.
If Yedlin is given the starting right back spot by Klinsmann, then this opens up the possibility for a better USMNT because it moves Cameron to a better position for him, which from an American perspective, would hopefully push both Jermaine Jones and Kyle Beckerman out of the Starting XI.
Yedlin is a needed upgrade to the United States Men's National Team that pushes Brad Evans out of the Starting XI, and Yedlin gives the United States more skill and speed at right back in addition to a good level of defending, which is an element of Yedlin's game that is underrated.
Starting Yedlin at right back is a way for the United States to begin playing like top national teams, which use two-way outside backs that are hard to beat with pace and that can contribute to the attack.
Having fast and skilled outside backs that can force attackers out wide where they can only send in hopeful crosses or get pinned to the sideline is an improvement for the United States, and these types of outside backs also give the wide attacking midfielders more freedom to not be forced to hug the sideline wasting a lot of energy running up and down the sideline too much.
If Jürgen Klinsmann is being objective, then he's realized that Yedlin is just the type of right back that the United States needs to start, and Klinsmann doesn't have a better option.
On the way to the May World Cup Try-Out Camp, Tim Howard in goal with a Back Four of Yedlin, Edu, Orozco, and Fabian Johnson with Geoff Cameron and Michael Bradley as the defensive midfield pairing is a solid group that Americans should be proud of because it's better than the defensive groups the U.S. used in the past.
Yedlin is an example of how one new quality piece to a Starting XI opens up the possibility for the line-up to be improved by better utilizing other players that are either being used out of position or not at all.
Jürgen Klinsmann has a lot of decisions to make in regards to his defense and his Starting XI, but Yedlin should already be considered the starting USMNT right back.
With this in mind, World Soccer Source believes this to be the best USMNT XI  (only using players that Klinsmann seems to rate or likely rates):
(USA 4-2-3-1): HOWARD; YEDLIN, EDU, OROZCO, F. JOHNSON/GARZA; CAMERON, BRADLEY; DONOVAN, CORONA, DEMPSEY; ALTIDORE.