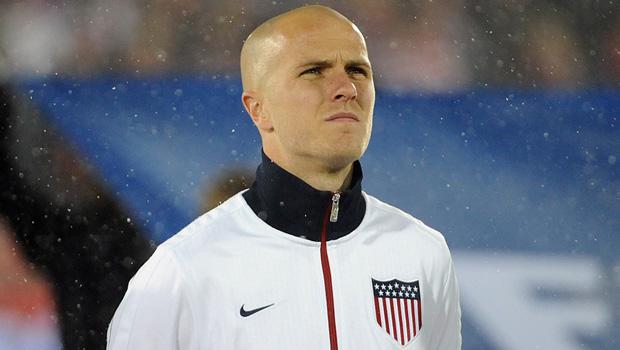 By: COLIN REESE
Almost everyone in world football is using the 4-2-3-1 formation, and for the United States Men's National Team, Michael Bradley should play as the Number 8 in this formation instead of playing as the Number 10.
Against Mexico, Jürgen Klinsmann used a 4-1-2-1-2 diamond formation on paper, and with Jermaine Jones away in Europe, Kyle Beckerman played the Number 6 or midfield destroyer role; it would have been interesting to have seen Maurice Edu start in place of Beckerman.
As was the case in a World Cup qualifier against Panama where Geoff Cameron partnered with Bradley, the use of a defensive midfielder other than Jones allowed Bradley to be more two-way, as opposed to having to play deep as the Number 6.
The important takeaway from the friendly with Mexico was that the United States possessed the ball better when Bradley had more freedom to attack and drop back as he saw fit.
On paper, Bradley was playing as a Number 10, but Bradley's forté is being able to affect the game all over the field, which is a box-to-box midfielder role and not a central attacking midfielder role.
Maurice Edu or Geoff Cameron are the two best defensive midfielders to partner with Michael Bradley because they allow Bradley more freedom to be a two-way player, and between Cameron and Edu, Cameron is the better player. The real question is which of the two to start at center back and which of the two to start as the defensive midfielder.
Clint Dempsey, Landon Donovan, and Michael Bradley have all been incorrectly classified as Number 10s, but with Cameron or Edu partnering with Bradley, Joe Corona, Benny Feilhaber, and Mix Diskerud are the best three options to play the Number 10 role.
Unfortunately, Luis Gil didn't get the start against Mexico, which would have given the USA the chance to see Gil as the Number 10, but the final step of the puzzle for the USMNT is picking a true Number 10 to start with Cameron/Edu, Bradley, Donovan, Dempsey, and Altidore.
The United States gets the most out of Bradley as a box-to-box midfielder because having a player with Bradley's engine, technical ability, and defending is an influential and effective player that helps the United States to try to control the tempo and style of games.
Despite Benny Feilhaber's excellent form, if Klinsmann doesn't want to use him or call him up, then the United States should maximize Bradley's qualities by starting Corona or Diskerud in between Donovan and Dempsey as the line of three attacking midfielders.
It's important that Bradley be freed up to attack more and be more of a two-way central midfielder, but this can best be achieved with Bradley playing as a Number 8 and not as a Number 10.
Bradley is a key component to the USA's attack and midfield, but he isn't a Number 10. Being a two-way midfielder is just as important as being a playmaker, and the United States needs to capitalize on Bradley's qualities and still include a true Number 10 like Corona or Diskerud.
Going into the 2014 World Cup, a Front Six composed of Cameron, Bradley, Donovan, Corona, Dempsey, and Altidore is a skilled group of players that can produce high-level soccer in the World Cup.
Saying that Michael Bradley isn't a Number 10 isn't a criticism of him, but rather it's a tribute to his excellent ability to be a box-to-box midfielder that can help the United States to try to win the all-important battle of the midfield in the USMNT's World Cup games.
Being able to run for 90 minutes and affect the game both in the attack and in the defense is a rare and important quality.
World Soccer Source's USMNT Front Six for the 2014 World Cup (factoring in the likelihood that Jürgen Klinsmann won't select Benny Feilhaber):
Geoff CAMERON, Michael BRADLEY; Landon DONOVAN, Joe CORONA, Clint DEMPSEY; Jozy ALTIDORE.