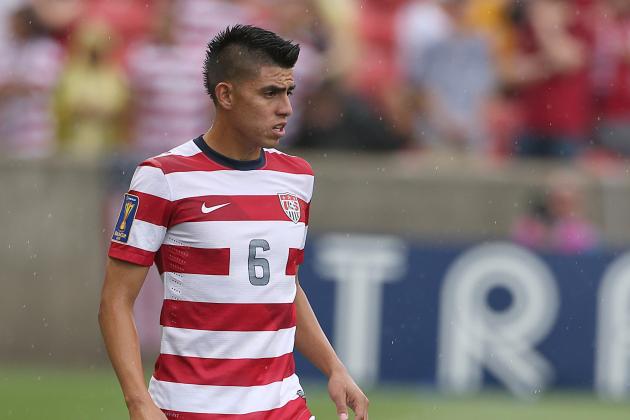 By: COLIN REESE
There's a trend in the American soccer media to write that any opinions about the United States Men's National Team except for Jürgen Klinsmann's are irrelevant.
This writer has never seen such a phenomenon in any sports writing about other sports in the United States or in any soccer writing in other countries.
The first thing the Brazilian press does when the Seleção rosters are announced is ask the coach why certain players were excluded or included.
If Jürgen Klinsmann's opinions about players and tactics for the USMNT were so set in stone and knowable, then why did he fire Martín Vasquez?
The coach of the United States said that he would be selecting 30 players for the May Try-Out Camp for the World Cup roster because he wasn't certain about which 23 players that he would select for the final roster.
There are clearly many decisions still being made about players and tactics.
World Soccer Source is assuming Michael Orozco (center back and outside back) and Maurice Edu (defensive midfielder and center back) will make the World Cup roster, so then the United States will still need some key players to field a strong Starting XI and to form a strong 23-man roster.
For World Soccer Source, here are those five needed fringe players:
1. DeAndre YEDLIN (Right Back; Seattle Sounders)
With Geoff Cameron needed at center back or as the defensive midfielder to allow Michael Bradley to play as a box-to-box midfielder, the United States Men's National Team doesn't have a quality starting right back except for Fabian Johnson who seems to play better as a winger (where he's excellent), and Johnson is likely needed at left back, as the United States has no better starting left back. It would be surprising to see Jürgen Klinsmann actually start DaMarcus Beasley at left back in the World Cup when it comes time to actually pick a Starting XI.
2. Joe CORONA (Attacking Midfielder; Tijuana)
Clint Dempsey and Landon Donovan are wings or wide attacking midfielders (plus second strikers), and if either player is suspended, the United States only has Fabian Johnson to play on either wing – and he's likely needed to start at left back. Joe Corona is a wing and Number 10 that actually possesses the technical ability, quick feet, and experience against top-level competition to perform at the World Cup. Corona should be a roster lock.
The USMNT also has no Number 10. None.
3. Juan AGUDELO (Striker; Stoke City/Utrecht)
The idea that the United States is good enough to omit a striker like Juan Agudelo from the World Cup roster is a fantasy. In addition to all of the technical, physical, and creative gifts that Agudelo brings to the front of the attack, the American Number 9 opens up games and fosters an atmosphere where the United States starts creating more scoring chances. Agudelo shouldn't be dismissed lightly. The striker is a very skilled player that's tall, quick, and fast. Jozy Altidore is sometimes criticized for not being technical enough, and Aron Jóhannsson is sometimes criticized for not being physical enough and lacking the hold up play of Altidore. Agudelo can't be criticized for any of those things.
4. Benny FEILHABER (Attacking Midfielder; Sporting KC)
You can't just call any technically-skilled midfielder a Number 10 or a playmaker, but that's exactly what Jürgen Klinsmann has done with Michael Bradley, Clint Dempsey, and Landon Donovan. Benny Feilhaber actually is a Number 10, and he improved the areas that he was asked to improve: his fitness, his intensity, his consistency for 90 minutes, and his defense. Feilhaber did exactly what was asked of him while still playing with the creativity and skill on the ball that made him valuable. The Occam's Razor for the USMNT is to start Bradley, Donovan, Feilhaber, and Dempsey together in the midfield. No good World Cup team or Champions League team has no playmakers on the roster.
5. Chris KLUTE (Left Back/Right Back; Colorado Rapids)
In terms of his defending and attacking, Chris Klute is the best left back in MLS by some margin, and he plays exactly like DeAndre Yedlin who has been almost universally received as a breath of fresh air and an upgrade for the USMNT. Using Yedlin and Klute as the outside backs is the only real option for the United States with the caveat that Fabian Johnson can play as both a right back and as a left back. Klute also plays both right back and left back because he is very two-footed. Starting Beasley at left back in the World Cup is a risky crap shoot anyway, so how is putting the best left back in MLS any more risky? We already know that Beasley can't defend Thomas Müller, Cristiano Ronaldo, and Kevin-Prince Boateng anyway. Klute is even faster than Beasley with better defending.
Conclusion:
The five fringe players listed in the paragraphs above each add something to the puzzle that is the USMNT. Yedlin and Klute add modern outside backs to the team, and Corona and Agudelo add needed attacking players to the roster or Starting XI. Given his current form, not to mention his skill and proven-ability, Feilhaber is just a criminal snub.
World Soccer Source would like to see this Starting XI:
Howard; Yedlin, Edu, Orozco, Klute; Cameron, Bradley; Corona, Feilhaber, Dempsey; Altidore.
Those 11 players are certainly better than any combination of players the United States has used before.