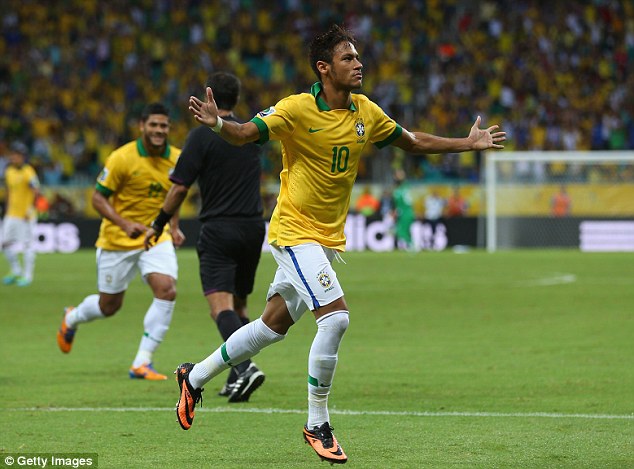 By: COLIN REESE
Below is World Soccer Source's Best Seleção XI for the 2014 World Cup. Two positions (right back and right wing) differ from Felipão's first choices.
Brazil's Starting XI is well-known, but World Soccer Source's version offers a few changes along with some comments and observations about each Starting XI spot.
Here is Brazil's Best XI for the 2014 World Cup:
GOALKEEPER: Júlio CÉSAR (Toronto FC)
Júlio César is still the best Brazilian goalkeeper, and the concerns over his form are overrated. Júlio César always seems to play well for O Canarinho.
RIGHT BACK: MAICON (Roma)
Daniel Alves is a phenomenal right back that is everyone's pick as the starting right back for Brazil. World Soccer Source favors Maicon, nicknamed "The Colossus." Maicon the Marauder is an absolute beast of a right back who is a better defender than Daniel Alves. Maicon bombs down the sideline with even more conviction than Daniel Alves, and The Colossus is more effective at sprinting straight through and around defenses. Maicon is a creature of the outside of the right foot that only scores golaços.
CENTER BACK: THIAGO SILVA (PSG)
The best center back in the world. Thiago Silva is nicknamed O Monstro (The Monster). "Monster" is a term frequently used in Brazil to describe phenomenal footballers, but Thiago Silva is "The Monster."
CENTER BACK: DAVID LUIZ (Chelsea)
Dante of Bayern Munich has a bone to pick here, but David Luiz is a fantastic center back (also a defensive midfielder) that ran amok during the 2013 Confederations Cup. Easily one of the top five center backs in the world, and he's used to playing with Thiago Silva.
LEFT BACK: MARCELO (Real Madrid)
Marcelo, along with David Alaba and Philipp Lahm (who plays on both sides and as a defensive midfielder), is the best left back in the world. Marcelo used to be one-footed but not for a few years now. Marcelo is excellent at collecting the ball out of the back and immediately torching opponents down the sideline. Marcelo scores goals as well. Marcelo's speed is almost unmatched in world soccer.
DEFENSIVE MIDFIELDER: LUIZ GUSTAVO (Wolfsburg)
Fernandinho has a strong case for this spot. Paulinho and Luiz Gustavo have strong chemistry, and Luiz Gustavo is a true defensive midfielder unlike Fernandinho who is more of a box-to-box midfielder. Luiz Gustavo is a disciplined defensive midfielder who stays deep without exposing his back line by making attacking forays. The left-footed player is an excellent tackler and defender who plays his position like it's supposed to be played. Luiz Gustavo allows Paulinho or Ramires the freedom to roam and attack.
CENTRAL MIDFIELDER: PAULINHO (Tottenham)
Paulinho isn't necessarily better than Ramires who brings so much skill, defending, non-stop running, and some ridiculously good goals. Maybe Brazil should start Paulinho and Ramires together with no midfield destroyer like Luiz Gustavo. Paulinho and Ramires are pretty equal, but Paulinho has been used more frequently by Brazil. Paulinho and Ramires are an embarrassment of riches at the central midfielder position. Two excellent footballers with no weaknesses.
RIGHT WING: WILLIAN (Chelsea)
Hulk is the actual Felipão starter at this position, but Willian has been torching people for Chelsea with incredible two-footed skill and electrifying speed and quickness, and for World Soccer Source, the Brazilian winger is just way too good to not start.
NUMBER 10: OSCAR (Chelsea)
A few years ago, Ganso seemed destined for this role, but then Oscar emerged and blew every Brazilian playmaker away. Oscar is the clear starter for Brazil, and the Chelsea playmaker is a goal-scoring playmaker who combines very well with Neymar. Neymar and Oscar communicate telepathically. Neymar wears the Number 10 jersey, but Oscar is the Number 10. Oscar was dubbed "OSCRAQUE" by Neymar.
LEFT WING: NEYMAR (Barcelona)
Arguably the world's best player, Neymar is a one-man show that delivers in the big games with dribbling, passing, and amazing goals. The best Brazilian since Ronaldinho. Neymar's career could eclipse Lionel Messi's, even if the stats don't.
STRIKER: FRED (Fluminense)/JÔ (Atlético Mineiro)/LEANDRO DAMIÃO (Santos)
Take your pick.
Fred is the first-choice Number 9 for Brazil by default, but Leandro Damião and Jô are quite good in their own right. The most talented, the fastest, and the most ruthless Brazilian Number 9 is still the young Pato who is a very dark horse contender for the Seleção roster. Fred is an excellent striker even by Brazilian standards, but Pato is a prodigy.