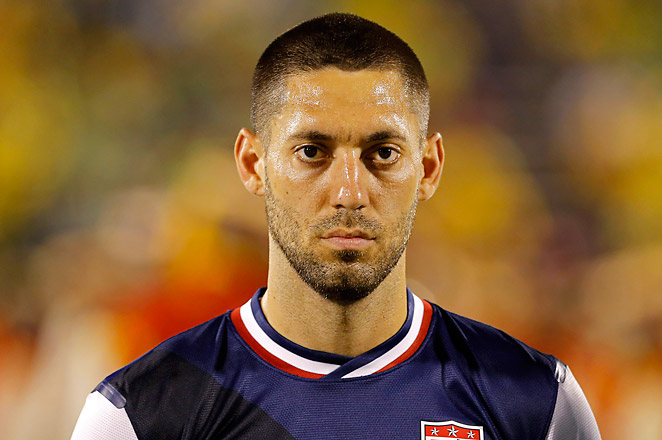 By: COLIN REESE
Here is World Soccer Source's best guess at Jürgen Klinsmann's 23-man USA World Cup roster, but keep in mind that Klinsmann has publicly stated that he will be selecting 30 players for the May Camp to try out for the 23 World Cup roster spots.
GOALKEEPERS (3): Tim HOWARD, Brad GUZAN, Nick RIMANDO
Jürgen Klinsmann's goalkeeper selections are common knowledge.
DEFENDERS (8): Geoff CAMERON, Matt BESLER, Michael OROZCO, John BROOKS, Fabian JOHNSON, DaMarcus BEASLEY, Michael PARKHURST, DeAndre YEDLIN
Only DeAndre Yedlin, Michael Orozco, and John Brooks are very debatable here. Klinsmann clearly rates Orozco at center back, and after the 2-2 friendly tie with Mexico, Klinsmann cited both Cameron and Brooks by name as center backs that he'd consider trying with Matt Besler.
MIDFIELDERS (8): Michael BRADLEY, Jermaine JONES, Landon DONOVAN, Graham ZUSI, Maurice EDU, Mix DISKERUD, Joe CORONA, Julian GREEN
Maurice Edu and Joe Corona are the debatable names here.
Maybe Klinsmann considers Edu a player that should be listed as a defender, and maybe he rates Kyle Beckerman higher than Edu.
Alejandro Bedoya is the player that seems to be ahead of Joe Corona based on national team appearances, but Klinsmann clearly holds Corona in high esteem as he should given his club and international performances. Corona plays on either wing and as a Number 10.
FORWARDS (4): Clint DEMPSEY, Jozy ALTIDORE, Aron JÓHANNSSON, Juan AGUDELO
Juan Agudelo is fighting a silent war with Terrence Boyd, Eddie Johnson, and Chris Wondolowski for the final Number 9 spot (Dempsey is a second striker or attacking midfielder).
Agudelo is a better and more lethal striker than Boyd and Johnson, while still bringing excellent athleticism and size.