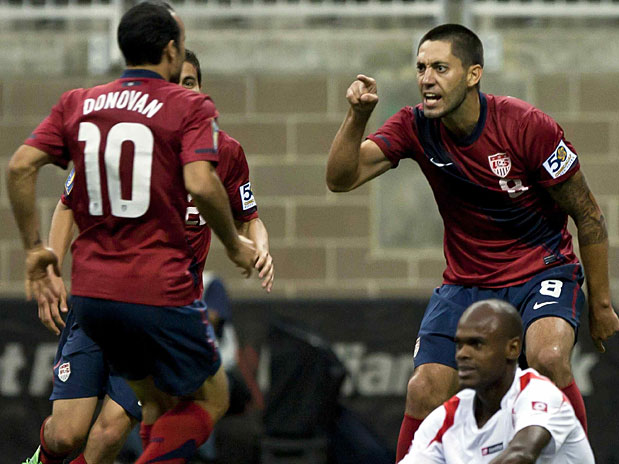 By: COLIN REESE
Jürgen Klinsmann has been making changes and rethinking his United States Men's National Team XIs and his roster selections.
Nevertheless, this is World Soccer Source's best guess of the USA XI for the World Cup including two players that are possible starters based on this writer's educated guess that Tab Ramos might be able to convince Klinsmann to start them: DeAndre Yedlin and Joe Corona.
Players like Tim Howard, Geoff Cameron, Matt Besler, Fabian Johnson, Jermaine Jones, Michael Bradley, Landon Donovan, Clint Dempsey, and Jozy Altidore all feature on World Soccer Source's predicted USA XI.
Given a fair shot during the May camp, Yedlin can win the starting right back spot, and Corona can win the starting Number 10 spot, thus pushing Dempsey to his natural left wing position.
Without further ado, below is World Soccer Source's predicted USA XI (in a 4-2-3-1 formation) with the two dark horse starters, which were described above:
GOALKEEPER: Tim HOWARD (Everton)
RIGHT BACK: DeAndre YEDLIN (Seattle Sounders)
CENTER BACK: Geoff CAMERON (Stoke City)
CENTER BACK: Matt BESLER (Sporting KC)
LEFT BACK: Fabian JOHNSON (Hoffenheim)
CENTRAL MIDFIELDER: Jermaine JONES (Besiktas)
CENTRAL MIDFIELDER: Michael BRADLEY (Toronto FC)
RIGHT WING: Landon DONOVAN (LA Galaxy)
NUMBER 10: Joe CORONA (Tijuana)
LEFT WING: Clint DEMPSEY (Seattle Sounders)
STRIKER: Jozy ALTIDORE (Sunderland)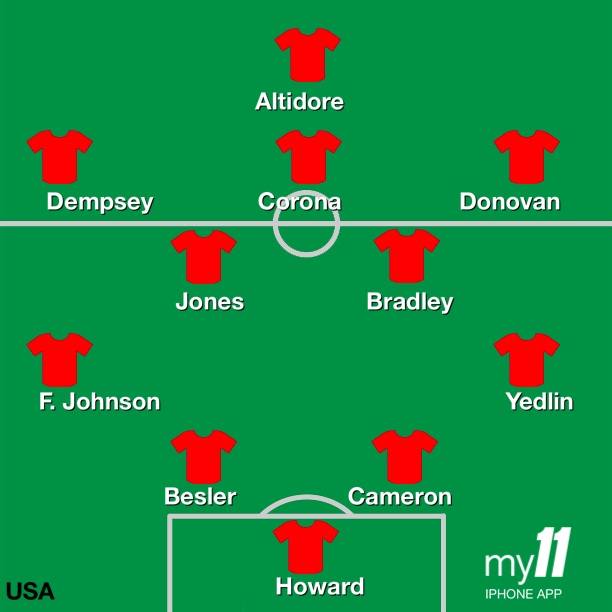 Rationale:
World Soccer Source tried to predict starters that seem the most likely to be fielded by Jürgen Klinsmann, but World Soccer Source is gambling on the possibility that Yedlin is too good not to start at right back as Fabian Johnson is needed at left back.
Furthermore, Joe Corona's club form and proven-ability, both of which Klinsmann has seen first-hand, might just prove to be too much for Klinsmann to ignore. Corona is a better player than Zusi, and Corona plays the style of 1-2  touch soccer that Bradley, Donovan, Dempsey, and Altidore want to play better than Zusi plays it.
If Corona does in fact start, it's possible that Clint Dempsey will start in the Number 10 role with Corona and Donovan on the right and left wing; both can play well on either wing. The line of three attacking midfielders is a fluid interchange of positions.
In the defense at this point, the smart money is on Geoff Cameron being given the other starting center back spot to partner with Matt Besler, and the emergence of Yedlin makes this possible and the wise tactical decision.
Klinsmann never used Chris Klute or Greg Garza, so the smart money is on Fabian Johnson starting at left back instead of as a left winger, which is a better position for Johnson. No matter what he says, the prospect of DaMarcus Beasley starting at left back in the World Cup has to be concerning to Klinsmann.
Although most Americans and observers of American soccer agree that Jermaine Jones is probably not the best central midfield or defensive midfield partner for Michael Bradley because of similar styles of play, as opposed to some technical or athletic deficiency. If Jones and Bradley can work together to cover for each other defensively with only one of them making attacking forays at a time, then the Jones-Bradley duo can be formidable and effective.
Given enough service and players to combine with, Jozy Altidore is a quality international Number 9 that is much more talented than the current criticism of him reflects. Just looking at one example, Altidore's free kick golazo against Bosnia and Herzegovina was a stunning reminder of just how technically-skilled the American Number 9 really is, and almost no one is going to muscle Altidore off a ball in and around the area.