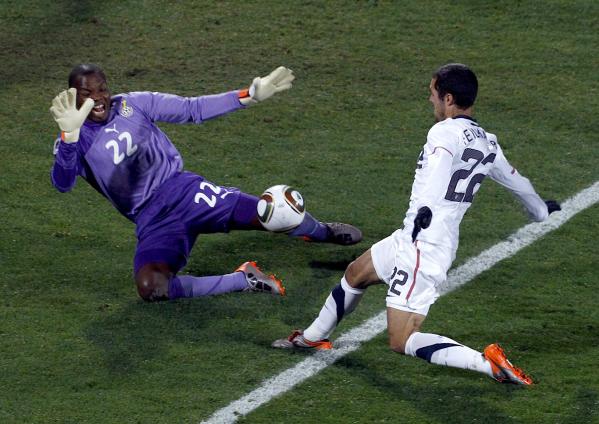 While many people will use the United States' victories over Mexico and Italy as evidence that Jürgen Klinsmann is coaching well, the reality is that the United States has not passed well or played technically advanced soccer in any of their games under Klinsmann.
Many of the players used by Klinsmann are excellent soccer players, but as long as Klinsmann continues to use the same starting line-ups, the United States will not even be a first or second tier team in terms of international soccer. So far, the United States has played better soccer under Bruce Arena and Bob Bradley, and there is one year's worth of video evidence of the low level of collective, team play of the United States under Klinsmann.
However, Klinsmann does have the ability to dramatically improve the quality of soccer that the United States play with just five starting line-up changes. If he makes these five starting line-up changes, then he will be able to field a starting line-up with 11 technically skilled and athletic players. He needs a right back, a center back to partner with Geoff Cameron, two attacking midfielders, and another striker, as opposed to just starting one.
Klinsmann needs to eliminate Kyle Beckerman, Maurice Edu, Danny Williams, Jermaine Jones, and José Torres from the starting line-up, but Jones should be starting if Michael Bradley is injured. Additionally, Edu and Jones should certainly be among the 23 players on the roster for the World Cup qualifiers against Jamaica, and starting Edu or Jones as a center back with Cameron would be preferable to starting Carlos Bocanegra or Clarence Goodson.
Klinsmann should continue to use Tim Howard as a goalkeeper, Geoff Cameron as a center back, Fabian Johnson as a left back, Michael Bradley as the lone defensive midfielder (unless he's injured), Herculez Gomez or Terrence Boyd as a striker, and Clint Dempsey as a free-roaming attacking midfielder.
At forward, Klinsmann needs to start two of the following three strikers at the same time: Juan Agudelo, Terrence Boyd, and Herculez Gomez. Gomez played very well against both Brazil and Mexico, and a strong argument can be made that Gomez has earned one of the two starting line-up spots as evidenced by his play against Brazil where he forced Santos' and Brazil's goalkeeper, Rafael, to make several very difficult point blank saves. That being said, Klinsmann has yet to test out Agudelo and Boyd together, and they might complement each other well as Boyd is more of an out-and-out striker that goes straight to goal. Regardless of which two strikers are started, Klinsmann should start two of the three strikers mentioned above at the same time.
Klinsmann needs to introduce Benny Feilhaber and Freddy Adu as dual-playmakers and free-roaming attacking midfielders to play with Dempsey. At right back, Klinsmann needs to start Eric Lichaj, and if he is unavailable, Zach Loyd or Sheanon Williams. Finally, Klinsmann needs to start Jay DeMerit, Omar Gonzalez, or George John as the second center back to play with Geoff Cameron. Among those three, DeMerit is the one that has proven himself on the international level the most with his effective and imposing defensive performances in the 2009 Confederations Cup and the 2010 World Cup. Between Gonzalez and John, Gonzalez might be quicker and more agile that John, but Klinsmann has not tested out either Gonzalez or John with Cameron to see which center back performs the best at the international level.
The five changes to the starting line-up advocated for above should be used against Jamaica, and if those changes are made against Jamaica, the United States will have, for the first time ever, 11 technically skilled and athletic starters in their line-up. Never before has the United States had the ability to field 11 technical skilled and athletic starters, and the United States now actually have more than 11 players that fit those criteria.