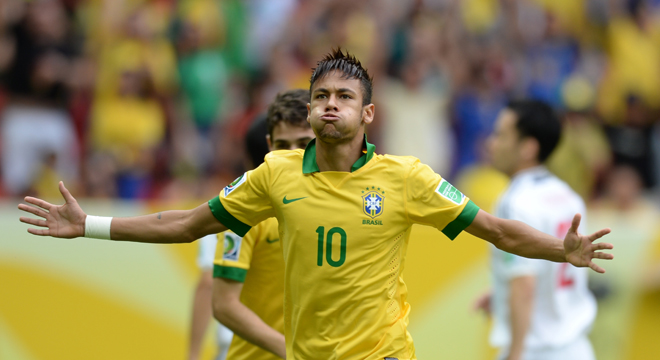 Neymar silenced his critics with a half-volley golaço in the third minute of Brazil's opening Confederations Cup match against Japan in Brasilia.
On a field that resembled a slip 'n slide, Brazil's three goal victory over Japan was exactly the sort of emphatic win that Brazil needed to get their foreign and domestic critics off their backs.
All three Brazilian goals were golaços, which gave the Seleção the satisfaction of knowing that they not only defeated Japan easily, but that the goals were electrifying enough for a not easily impressed Brazilian public.
Brazil's first goal came courtesy of a Marcelo cross, which was chested down to Neymar by Fred, and Neymar half-volleyed Fred's chested pass into the upper 90.
It was a goal that showed why Neymar's technical ability is so revered worldwide. Neymar's golaço registered high on the difficulty scale, and it will likely lift some of the pressure off his shoulders and allow him to play with more joy in Brazil's upcoming games.
The second Brazilian goal was scored by Corinthians' goal-scoring box-to-box midfielder, Paulinho (a player heavily linked with Inter Milan), and the goal off the half-turn showed his ability to score goals from the midfield.
While Neymar's goal was the most riveting of the three goals, the third goal where Jô megged the Japanese goalkeeper was an example of Oscar's excellent passing ability, as Oscar threaded an expertly-weighted pass through the Japanese defense. Both Oscar's pass and Jô's finish were equally artistic.
Japan is a technically-skilled team, but this game against Brazil offered little in the way of highlights or positive points for Japan. The grass was way too soft, wet, and slippery for both teams, so the field conditions weren't really the main problem with Japan's play. Japan is a team that played well-below its ability, and this loss should provide the Japanese coaching staff with plenty of video evidence of areas that need to be improved in the upcoming games.
This was an important statement game for both Neymar and the Seleção, and Brazil's convincing victory was just what the Brazilian national team needed to build up some new hope and confidence, in addition to gaining the respect of its fans again.